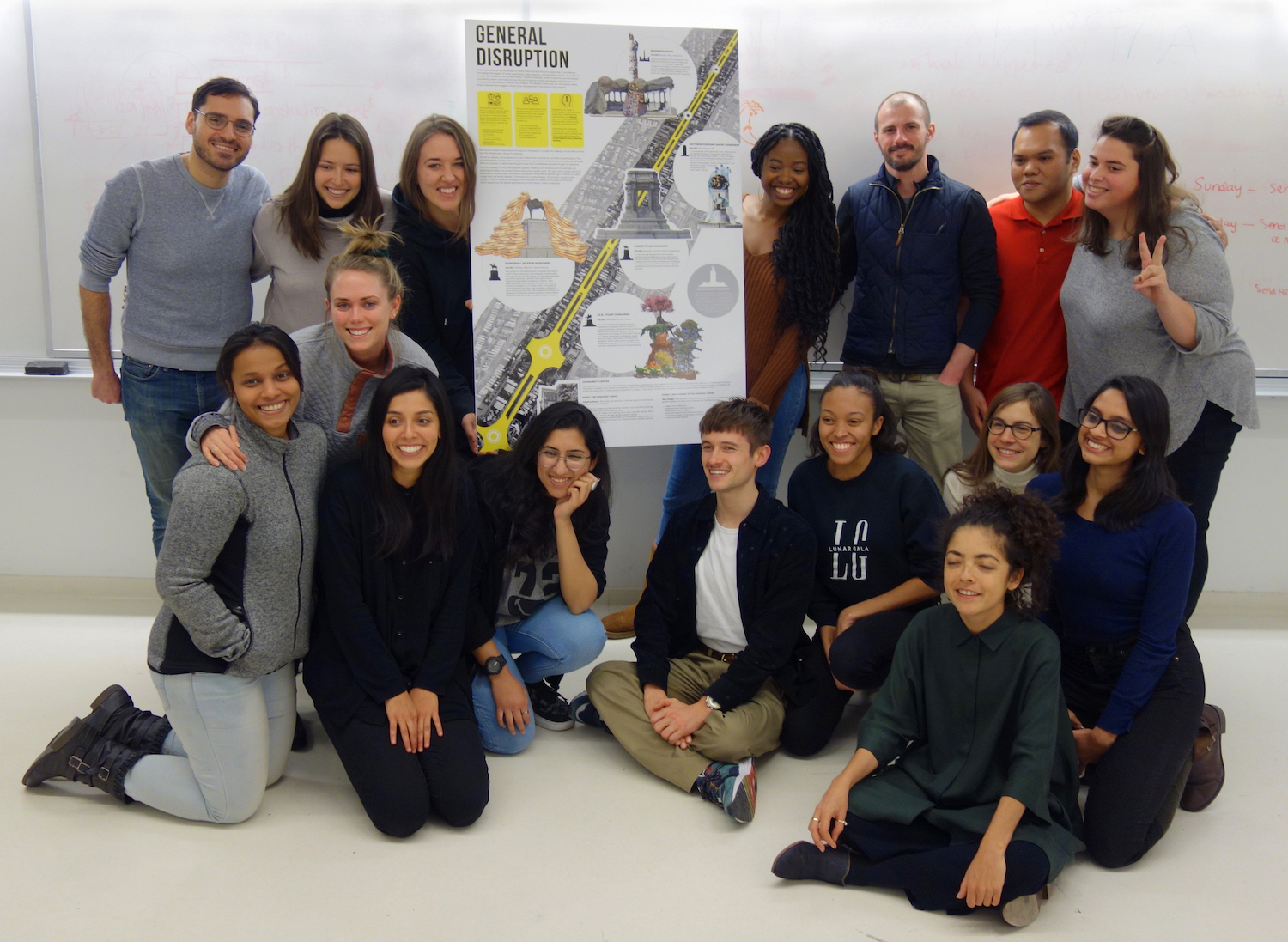 Parsons Urban History Students are Finalists in Contest to Reimagine Confederate Statues
Students from the Parsons Urban History Lab have been named as finalists in a national competition to reimagine Monument Avenue in Richmond, Virginia, a street lined with historic statues memorializing Confederate leaders. The nationally landmarked thoroughfare includes statues of Robert E. Lee, Jefferson Davis, and Thomas "Stonewall" Jackson.
The competition is seeking to take another look at these controversial men and the monuments that pay tribute to them.
As part of the contest, the 17 students enrolled in the Fall 2018 lab produced a 300-word statement and a 32" x 48" poster for an entry they called "General Disruption." The competition's theme is called "General Devotion, General Demotion."
Their entry proposes a series of interventions that would dissemble and fracture the statues in order to inscribe new meanings in the landscape without erasing the traumatic histories that the statues represent. For example, the J.E.B. Stuart monument would be transformed into an overgrown, ever-changing vertical garden with flowering vines, epiphytes, bromeliads, mosses, and other native plants. The Jefferson Davis monument, with its tall column, would be chipped, chiseled, and converted into a playground and climbing feature.
"The students worked very hard on this project, and brought a lot of passion and creativity to it," says Joseph Heathcott, an associate professor of urban studies who teaches the Urban History Lab, a graduate course for students in the MA in Theories of Urban Practice and the MS in Design and Urban Ecologies programs. "This competition isn't just about some Confederate statues on one street in one city.  It's about how we reckon with deep histories of racism reflected in our urban landscapes. Students wrestled with a basic conundrum: to tear the statues down erases a violent and oppressive past.  But to leave them standing leads to further trauma.  In the end, they opted to transform the statues so as to open up new meanings while still recognizing their terrible histories."
The winners will be announced in November. The finalists' entries are on display at the Valentine Museum in Richmond until December 21st.