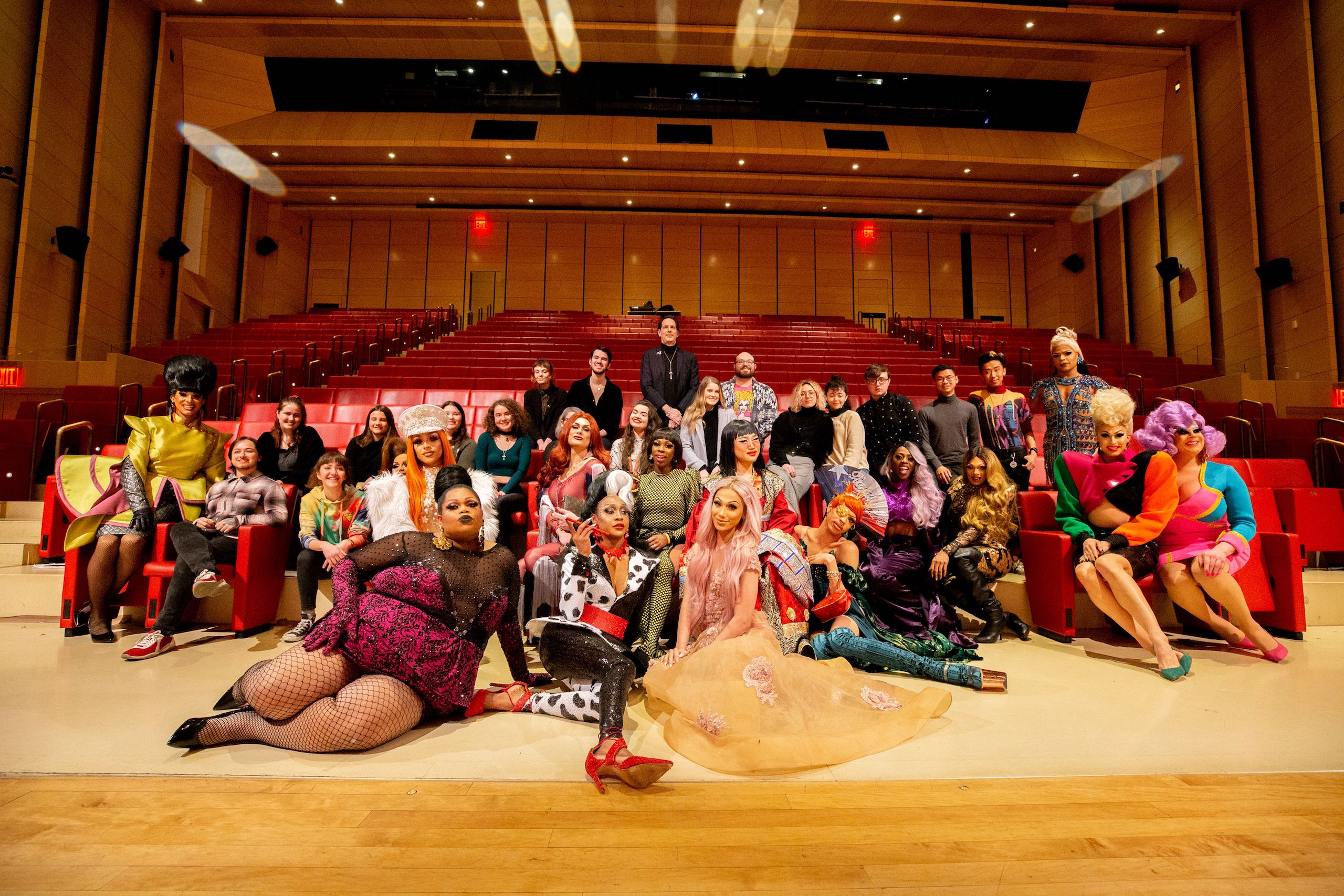 Seeing Reality Through Reality Television
The reality show RuPaul's Drag Race has become a landmark of not just LGBTQ culture but mainstream culture as well. With 23 Emmy Award nominations and nine wins and with former contestants starring on Broadway and appearing in Oscar-nominated films, the program has become a pop culture juggernaut. In RuPaul's Drag Race and Its Impact, a class offered at Eugene Lang College of Liberal Arts, undergraduate students are using the show as a means to explore our society. While this theater class may sound like a ball, it actually takes a serious historical and critical look at drag as an artform.
Led by drag historian Joe E. Jeffreys, the class is an academic exploration of female impersonation and representations of gender, race, body image, and community. "Once you get beyond the glitz and glamour, the show reflects back major trends that are happening in mainstream culture," said Jeffreys. "This show is one of the few places where drag performers will talk about their experiences with gender, class, race, and body image firsthand."
Having been on the air since some of the students were eight years old, Drag Race has permeated culture for a significant portion of their lives. Jeffreys notes that the students have an encyclopedic knowledge of the program that allows them to look beyond the surface entertainment and investigate it at a deeper level. That background also made the surprise visit of all 15 contestants from the new season of RuPaul's Drag Race all the sweeter.
"We were all gagged!" student Elliott Ryan told Entertainment Television during the queens' visit. "As a queer person, it's amazing to see the titans of the queen community, drag queens, producers — the people that make it happen."
With season 11 currently airing, students are applying a scholarly eye to what they are viewing. Jeffreys has designed the class to mimic the reality show, with students engaging in mini-challenges – where shorter tasks are performed with varying requirements and time limitations – and main challenges – longer assignments that test knowledge and skills of different aspects of drag.
Of course, in keeping with the New School ethos, these challenges are both creative and academic. Students are immersing themselves in the subject, reading academic anthologies and watching documentaries like The Queen, Paris Is Burning, and Queens at Heart that present issues of racial and transgender identity through the experiences of drag queens. Final projects will range from written papers to multimedia productions critiquing the new season.
In classroom discussions, students critically assess how the show affects culture through the way it presents the drag queens. Having met the current cast, students can compare the people who visited the class with the characters of the performers as they are shown on television. The students are also examining the changing racial and ethnic composition of the cast over the seasons, how transgender people have influenced the language used on the program, and how storylines are developed through editing. Theater major Mateo Roska points out that Black performers are sometimes made to fit the angry Black woman stereotype, noting that "it is interesting because they're not even women; they're men in wigs." And creative writing student Kristiana Stitt observes that out of 14 winners from RuPaul's Drag Race and its spinoff, RuPaul's Drag Race: All Stars, "there has not been a plus-sized winner, period."
While students are critiquing the current season, they are also learning to place drag in a historical context. Although female impersonation as an artform can be traced back to ancient Greece, the course begins by looking at the use of drag in vaudeville from the Civil War era through the 1930s. Students are also learning about its place in 20th-century culture, as in New York City's underground scene and mainstream movies like Tootsie, Some Like It Hot, and Tyler Perry's Madea movies.
With 11 movies featuring his Madea character, Tyler Perry, not RuPaul, may seem like today's most successful drag performer, but students are quick to challenge that notion. "Audiences don't see Madea as drag, because there's no queer context to it. Also, it's played for comedy; it's not serious," said Roska.
Jeffreys' goal is for students to gain a better understanding of drag and its origins as well as the impact of pop culture on society.
"Pop culture is something that is serious and should be looked at to gain greater insight into what's going on in the world right now," said Jeffreys.