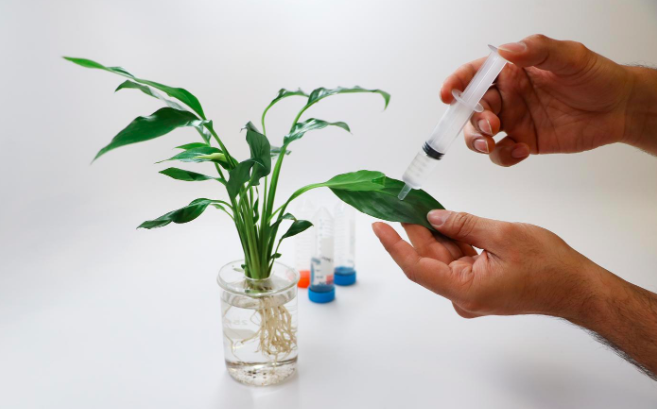 The New School + #SXSW: Parsons Professor Harpreet Sareen Wins Innovation Award in Speculative Design
A new water monitoring device named Argus has been named the #SXSW Interactive Innovation Award winner in the Speculative Design category. Created by Parsons assistant professor Harpreet Sareen, Argus is a plant with DNA nanosensors inside the leaves that are capable of detecting lead in water in real time.

"We have been working on this project for close to two years, so being at #SXSW with other people who have had similar experiences has been great," said Sareen. "Winning this award is incredibly validating, but it also tells me I should keep going."

Sareen's project was exhibited during the #SXSW conference in Austin, Texas, where he was able to engage with industry experts about his hopes for the future of Argus.

"Being at #SXSW has helped me realize that the mode of production is important, because I have people asking us how they can buy the device, and how they can use it," he said. "Maybe in the future, someone can buy the sensors from us and use them with their own plants."

The most crucial application of the device is to detect lead in water, so that the type of crisis that occured in Flint, Michigan, does not happen again. Sareen is also exploring other uses for Argus, and plans to keep working with students and faculty at Parsons to make those ideas a reality.

"We are currently trying to detect bacterial infections in water, and working on detecting pollution," he said. "With my other projects, like Elowan, we are pairing robots with plants. Plants are self-growing, so we are looking at the capability of using plants to grow things like furniture."