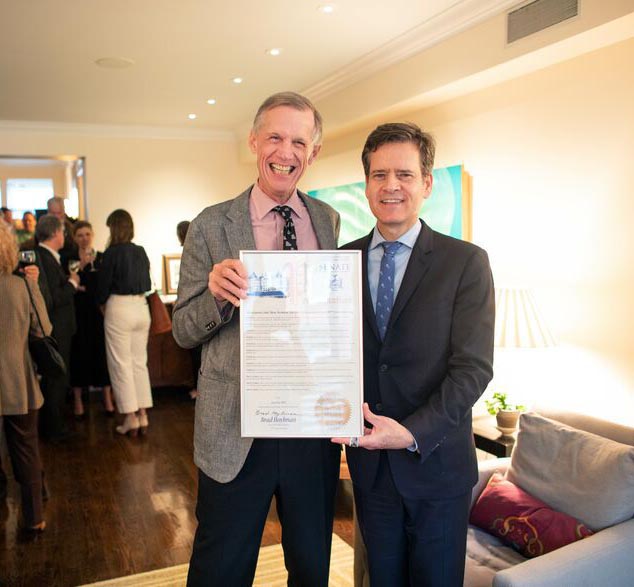 Greenwich Village Community Reception Celebrates New School Centennial
The New School hosted a reception for members of the Greenwich Village community to celebrate the university's Centennial. Hosted by President David Van Zandt, the event brought together various community neighbors ranging from non-profit organizations to local businesses to share in this milestone year and extend their well wishes.
President Van Zandt welcomed guests and shared his appreciation for the Greenwich Village community and the deep bond developed by the university and its neighbors over the past 100 years. From keeping the neighborhood's infrastructure strong to working to keep the community safe and partnering with The New School on many initiatives and events, President Van Zandt emphasized how the university has benefitted from being situated in this vibrant neighborhood of New York City.

New York State Senator Brad Hoylman presented The New School with a proclamation "Honoring The New School on the Occasion of its 100th Anniversary." The proclamation acknowledges that "students of The New School are taught to challenge the status quo and embrace radical thought, creativity, and innovation in the attempt to create a population that can adapt to an ever-changing world; and The New School takes an approach prioritizing humanity and culture within its educational model to promote social engagement and students who are dedicated to the public good."

Among those in attendance were Manhattan Borough President Gale Brewer, Congressmember Jerry Nadler, Union Square Partnership Executive Director Jennifer Falk, Jefferson Market Garden Vice Chair Elizabeth Butson, Cardozo Law School Dean Melanie Leslie, New School Senior Vice President for Social Justice Maya Wiley; Schools Of Public Engagement Executive Dean Mary Watson; School of Jazz Dean Keller Coker; and Center for New York City Affairs Executive Director Kristin Morse.