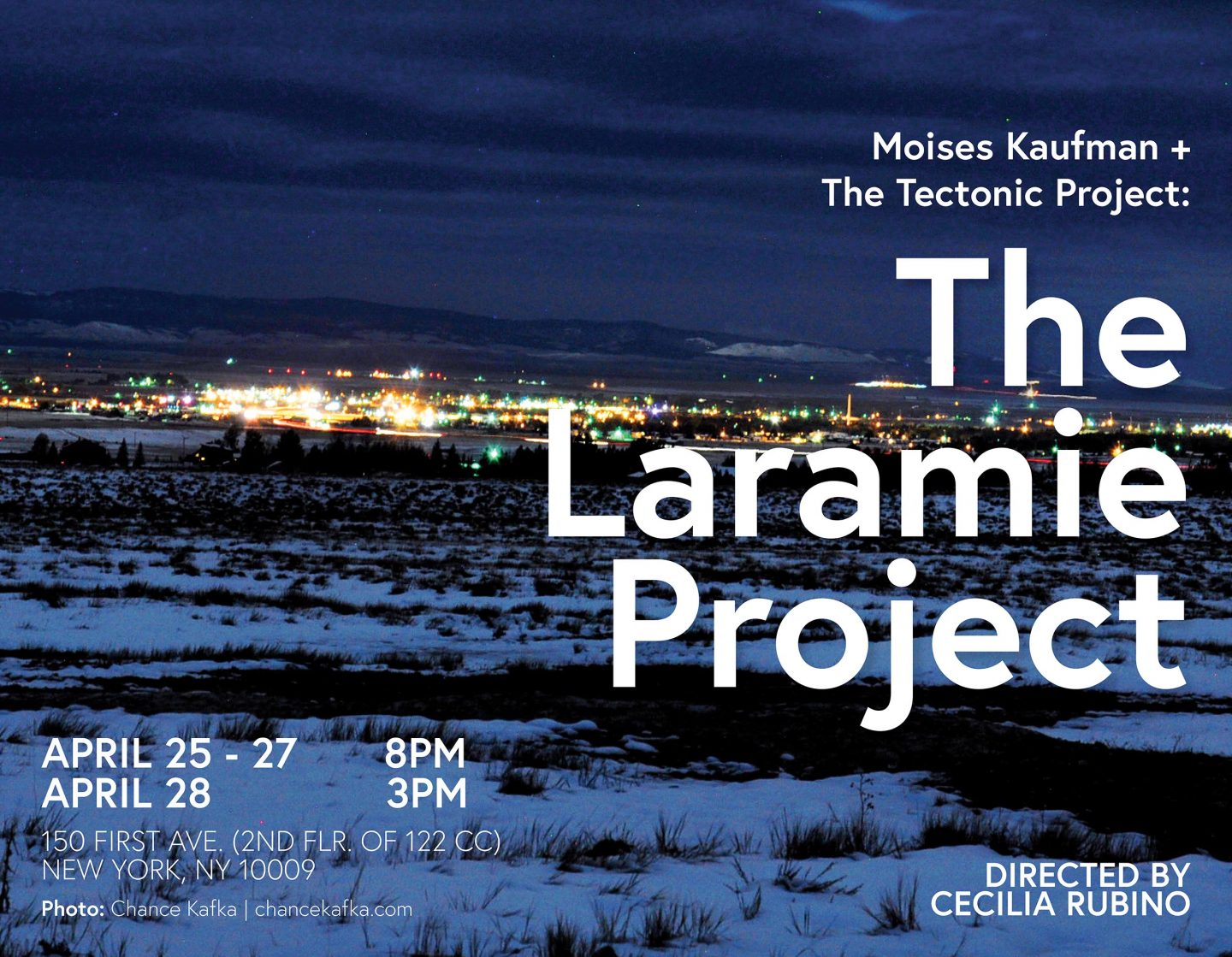 Eugene Lang Students Experience the Emotional Impact of Documentary Theater
Nearly 20 years ago, a play premiered documenting the aftermath of a hate crime that made the small town of Laramie, Wyoming, the focus of national news stories. Based on interviews with local residents, the play examined their reactions to the brutal beating and murder of Matthew Shepard, a University of Wyoming student who was attacked because he was gay. This year — the tenth anniversary of the signing of a federal hate crime law named in part for Shepard — Eugene Lang College of Liberal Arts will present The Laramie Project as its spring theater production.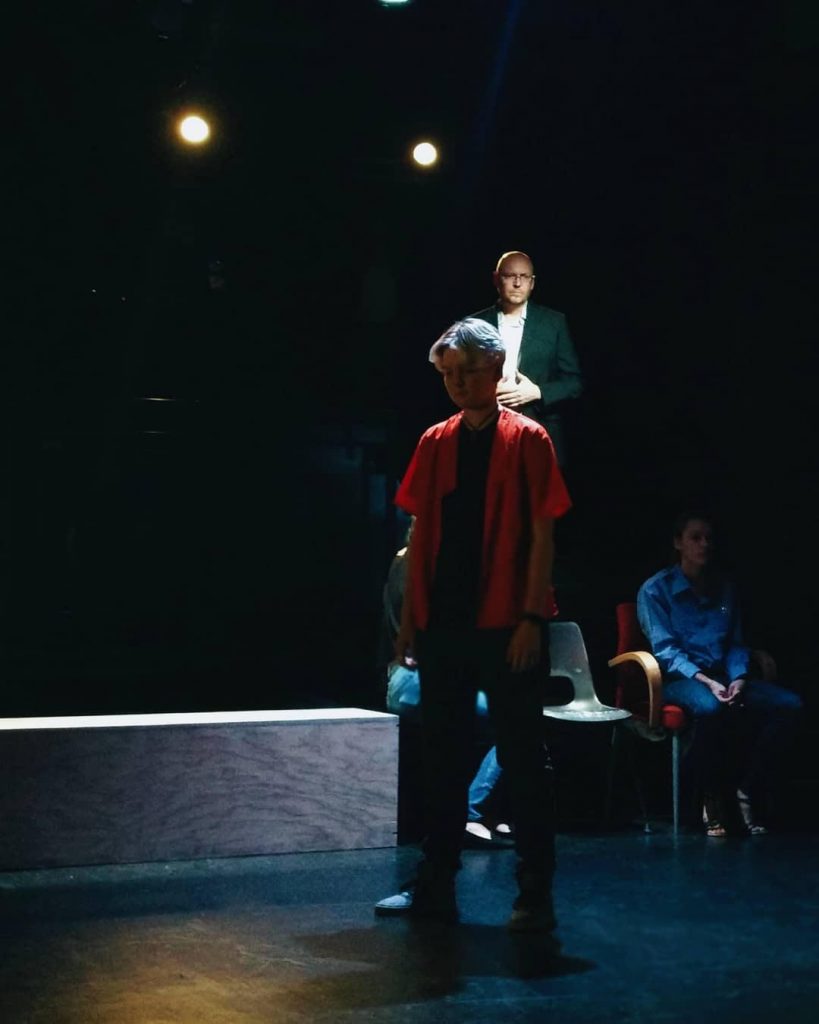 Typically the selection of the spring performance piece is left to the professor, but this year, the choice was made by Lang students. "Students were really invested in this work because it feels timely and important," said Cecilia Rubino, an associate professor of theater and director of the Lang spring production. "This is a reinvestigation of a critical human rights issue, and it's interesting to explore the parable of the story, since so many of these issues are still so current."
The Laramie Project is a seminal piece of documentary theater, a type of performance that tells stories about real events by using the actual language from documentary material such as interviews, newspapers, letters, and journals. The play was created by Moisés Kaufman and members of the New York–based Tectonic Theater Project, who traveled to Laramie after Shepard's death. There they conducted more than 200 interviews with residents of the town, which form the basis of this theater piece. Earlier this year, students in a Lang scene study class had the opportunity to work with Tectonic Theater Project members and learn about their work process. "The Tectonic members did a workshop with students on the process called 'moment work' that was used to develop The Laramie Project," said Rubino.
Since its premiere, The Laramie Project has become one of the most frequently produced plays in the United States; several New School students participated in productions when they were in middle and high school. "I performed in The Laramie Project once when I was younger, and it's the kind of play that once you do it never leaves you," said actor and Lang student Jade Crenian.
Crenian's view of the play was strongly influenced by her move from Canada to the United States, the country where the murder took place. "It's so much more real when you are where it happened. It just made all the people much more real… All the words in the show have been said by real people. You want to do it justice."
In producing The Laramie Project, students are learning how theater can respond to real events – how a play can examine an incident from multiple angles and ask an audience to engage with moral and ethical questions. This production is truly an ensemble effort, bringing together 45 students from Lang and the Schools of Public Engagement. While the actors are the most visible — 16 students portray 50 characters in the play — other students with interests in research and documentary theater are handling critical behind-the-scenes work.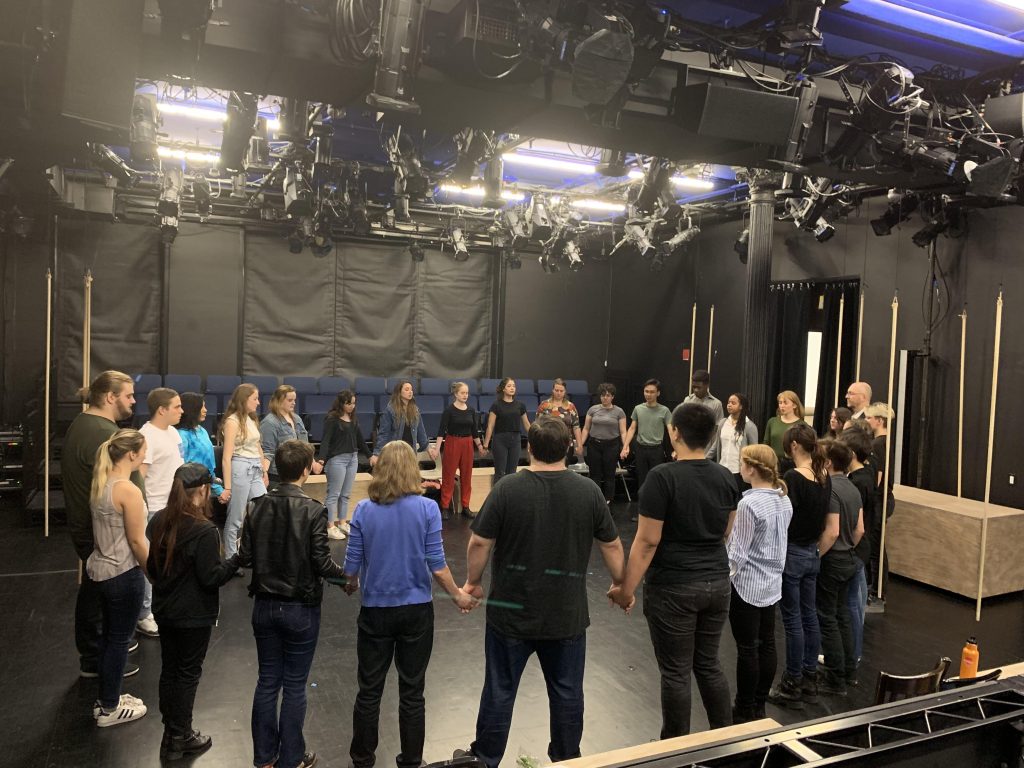 "The dramaturges have been doing research for the actors around the history of documentary theater, its political messages, and its importance in American history," said Rubino. "The play was written right after the event happened in 1998 and feels very much of its time, but it's very important to examine when communities have these moments of real pivot and change. Why was this event a catalyst, as opposed to all of the other events that happened? That's been a moving thing to explore."
Learning the technical aspects of producing theater, like blocking and staging, is also part of the process for students. "I started as an understudy, which is challenging because not only is it my responsibility to be present and engaged, but I have to make sure the other actors are blocked – knowing when and where the actors are moving from one point to another," said Lang student Natalie Ivonne. "I had to make sure everyone was clear on what was decided on in previous rehearsals and that everyone was ready."
Having read the play in middle school, Ivonne had a general understanding of but not an emotional connection to the event. Working on the theatrical production has made the story resonate more for her. "I've gotten emotional during rehearsals. It's definitely a timeless message; it's also infuriating that it's still a topic that needs to be addressed. It's a message that's going to keep on until change occurs."
The Laramie Project opens on Thursday, April 25, and runs through April 28 at 150 First Avenue in New York City.