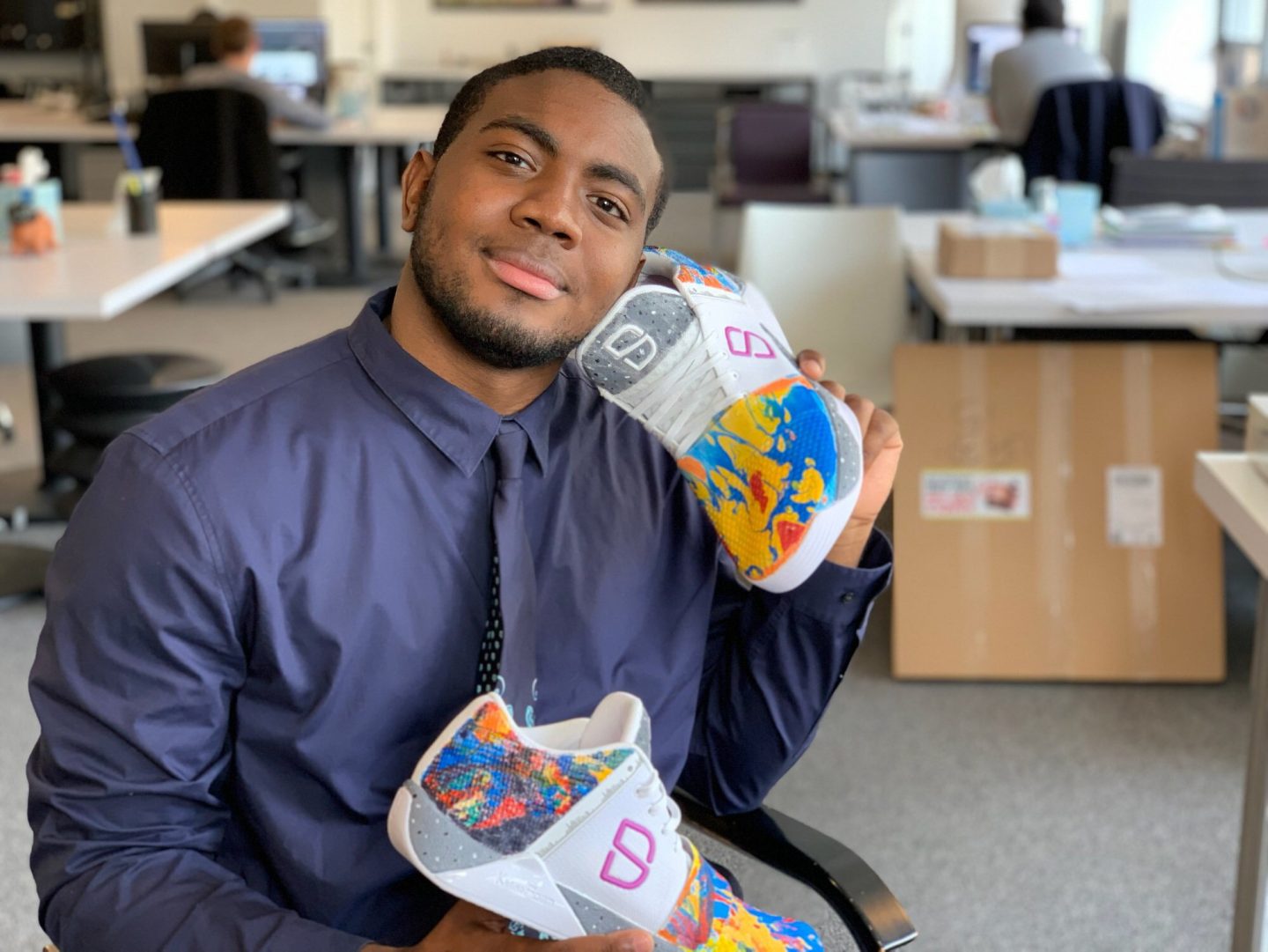 Jahkill Rashad, Illustration '19, Designs Sneaker for Brooklyn Nets Star
On March 30, Jahkill Rashad, a BFA Illustration student at Parsons School of Design and fledgling sneaker designer, fulfilled one of his lifelong dreams: To see athletes play in shoes that he had created.
Rashad, Illustration '19, was chosen by the Parsons Scholar Program, who ultimately connected him with Brooklyn Nets player Spencer Dinwiddie to create the design for a pair of the point guard's K8IROS 8.1 custom-line sneakers.
Dinwiddie wore the sneakers designed by Rashad on March 30, during the team's game against the Boston Celtics at The Barclays Center in Brooklyn. Before the game, Rashad was able to meet Dinwiddie court-side as he was warming up. Rashad created the "Brooklyn Sunrise & Sunset" concept, then designed and painted the shoe. His design was the first to be created by someone other than the Los Angeles sneaker designer Kickasso.
"I enjoyed every moment of it," Rashad said several days after attending the game. "I just enjoyed the fact that Spencer was playing in the shoes–and he liked the design. I would like to experience more events like the one I experienced on Saturday night."

During the 2018-2019 season, Dinwiddie has worn a different design for every game, and then auctioned the shoes, donating the proceeds to a variety of charitable organizations. The proceeds of Saturday's auctions (in which the most recent bid on Rashad's sneaker is $402) will go to the Parsons Scholars Program.
Parsons Scholars Program is a three-year college access art and design program for NYC public high school students. Students from a wide range of high schools spend their Saturdays and summers to building art and design skills and exploring related college and career paths. The Parsons Scholars Program centers people of color from low income backgrounds who are first generation college students, acknowledging the obstacles and the strengths associated with these identities.

The connection to Parsons Scholars is a powerful one for Rashad. Now a senior at Parsons and an Illustration major, he is a graduate of Parsons Scholars, a program he credits with transforming his life by making him aware of his talent as an artist and nurturing his desire to continue his studies, and ultimately to become a professional artist.

Rashad, who grew up in Harlem and the Bronx, had found it difficult to relate to others as a child and was able to connect creatively with his peers only through illustration. Still, his decision to become an artist surprised his family, friends, and classmates.
"Being a Parsons Scholar meant giving up my Saturdays, and my friends and my family didn't understand it," Rashad recalls. "I became so dedicated to my work; I began to eat, drink and sleep, art."

As he prepares to graduate, Rashad is aiming high. As part of a collective called FREAKS (Fellow Radical Engaging Artists Killing Shit), he coordinates and curates pop-up art shows at galleries throughout the city, showcasing work by little-known artists of color. He also plans to design his own sneaker line.

The sneakers Rashad designed for Saturday's game were inspired by the sunrises and sunsets he observed as he walked along the Brooklyn Bridge. After making small watercolor observational sketches to crystallize his ideas, he used Marabu marbling inks in orange, blue, yellow, and red hues to depict the sky and an abstract sunrise and sunset.

"Thinking of myself as a Parson Scholars Alumni I wanted my design on the shoes to demonstrate what I learned from being in the program and how being in the program has impacted me," Rashad said. "I also walked the Brooklyn Bridge getting a first person perspective on what the vibes are like on the bridge, and what I would witness. And what I saw was people of all walks of life taking pictures of the bridge, trying to capture the sunset."

The sneakers Rashad designed for Dinwiddie were not the first footgear he has created. In 2016, he custom-designed shoes for the Vans custom culture competition and in 2017 (he didn't win the competition) worked on designs for the Yeezy 350s.
Parsons Scholars director Nadia Williams, who has known Rashad for many years, said that he stands out from the crowd.

Nancye Green, a Parsons trustee and director of Donovan Green, a New York based graphic design company, asked Williams for someone proficient enough to work with Dinwiddie, who is one of her clients. Williams recommended Rashad.

"Jahkill's passion for art and design has been clear since he was a 10th grader," said Williams. "He's always been extremely open to the challenge of exploring new techniques and fields, and his incredibly generous nature is always evident, from his role as a mentor or just simply bringing his positivity to all of the spaces he inhabits. We're so fortunate to count him as part of our Parsons community, and we couldn't be prouder of his work on this collaboration."