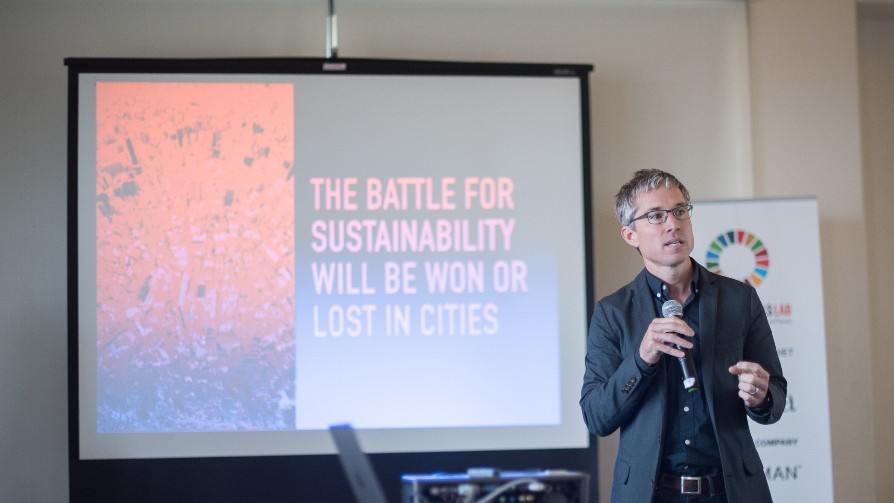 Professor Timon McPhearson Wins Two 2019 Ecological Society of America Awards
Timon McPhearson, an associate professor of Urban Ecology and Director of the Urban Systems Lab, recently was awarded both the Sustainability Science Award and the Innovation in Sustainability Science Award by the Ecological Society of America. (ESA)
"McPhearson and colleagues provide an international perspective on how ecological research focused on urban areas can improve sustainability," according to the ESA. "Urban areas are expected to be highly at risk from global environmental changes and this article highlights the need for a conceptual synthesis that allows urban residents to make better decisions concerning their environment and the social relations within it."
The Sustainability Science Award recognizes the authors of the scholarly work that makes the greatest contribution to the emerging science of ecosystem and regional sustainability through the integration of ecological and social sciences. The Innovation in Sustainability Science Award recognizes the authors of a peer-reviewed paper published in the past five years exemplifying leading-edge work on solution pathways to sustainability challenges.
"This recognition from the Ecological Society of America is an important signal of the advances interdisciplinary urban ecology has brought to urban planning, policy, and management for improving both ecosystem health and human health and wellbeing, says McPhearson. "It is such an incredible honor for me to receive these awards but also to be able to collaborate with such amazing colleagues in the U.S. and around the world."
McPhearson was the lead investigator collaborating with nine other researchers on the paper "Advancing urban ecology towards a science of cities" that was highlighted in the National Science Foundation's 2018 report titled "Sustainable Urban Systems: Articulating a Long-term Research Agenda."
One of the papers conclusions was to "suggest that empirical and conceptual advances within urban ecology, as well as the diversity and increasing size of the field, have created the potential to transform urban ecology into a robust, more holistic science of cities, which may be more important now given the rapid urbanization of the planet."
To win the Innovation in Sustainability award, McPhearson collaborated on a paper called "Bright spots, seeds of a good Anthropocene" published in the journal, Frontiers in Ecology and the Environment.
"Bennett (Lead investigator E.M. Bennett) and colleagues provide compelling examples drawn from around the globe of concrete ways to improve sustainability and resilience through environmental innovations, reconfigurations of social-ecological relationships, and effective engagement with local stakeholders," according to the ESA.
The awards ceremony will be held on August 12th in Louisville Kentucky, during the ESA's annual meeting.