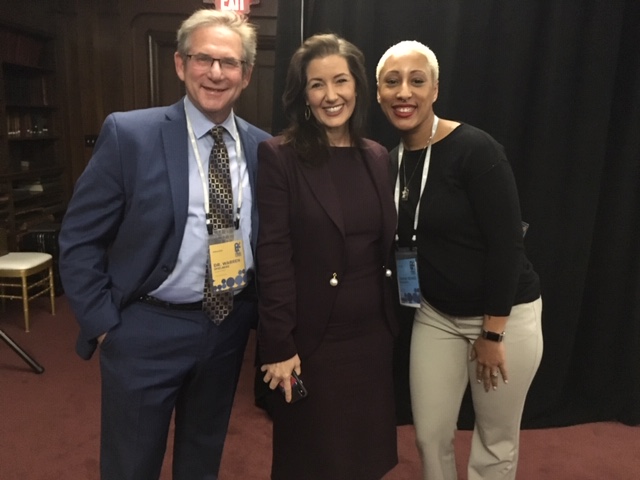 Professor Warren Spielberg Chosen to Address My Brother's Keeper Conference
Warren Spielberg, an associate teaching professor of psychology at The New School, was recently chosen to speak at the My Brothers Keeper's (MBK) Rise Conference in Oakland, California that also attracted President Barack Obama, NBA star Stephen Curry, and Musician, John Legend as participants.
My Brother's Keeper is an initiative launched by President Obama in 2015 and is dedicated to improving the lives of boys and young men of color by "taking steps to connect young people to mentoring, support networks, and the skills they need to find a good job or go to college and work their way into the middle class." About 250 municipalities participate in the MBK initiative providing educational support, mentoring, and vocational counseling.
"I was asked to speak at the conference, due to my expertise on boys and men, my research with African American boys and their families, and because of my work at the New York City mayor's Young Men's Initiative," Spielberg says. "I also am known to the Obama Foundation because of my book – I am co-editor of "The Psychology of Black Boys and Adolescents "- (Two volumes, Praeger, 2015) This book is based on original qualitative research with black young men and their families."
Spielberg's talk at MBK was entitled "Boys: A Tale of Three Traumas" and he discussed the needs of boys in early childhood, the way boys are traumatized "by the depriving and punitive way we raise them," and how boys and young men of color are traumatized at school. He addressed over 50 mayors, policy makers, and Obama staff members, about the psychological and educational needs of boys and young men.
"In many ways, our society robs the boyhood of boys and young men of color and this is a national travesty," Spielberg says. "I ended my discussion by calling for programs to help boys in school, fatherhood initiatives, early childhood preventative programs supporting mothers, and media campaigns to address the way we view boys and young men of color in our society."
Spielberg is continuing to work with MBK and other organizations to develop a national seminar
series and think tank that will "address best practices for raising boys and young men assisting them in school and helping them to cope with the impact of racism and poverty and embrace gender equity in the current era."
Spielberg was also appointed to the American Psychological Association's (APA) task force on "Treatment Guidelines for Boys and Men." He says the new guidelines were a major effort by the APA to update the psychological and institutional treatment for boys and young men. The report was released in February.
"These guidelines have been updated to address issues of race, gender non-conformity, male privilege, and a strong critique of dysfunctional aspects of masculinity," Spielberg says.