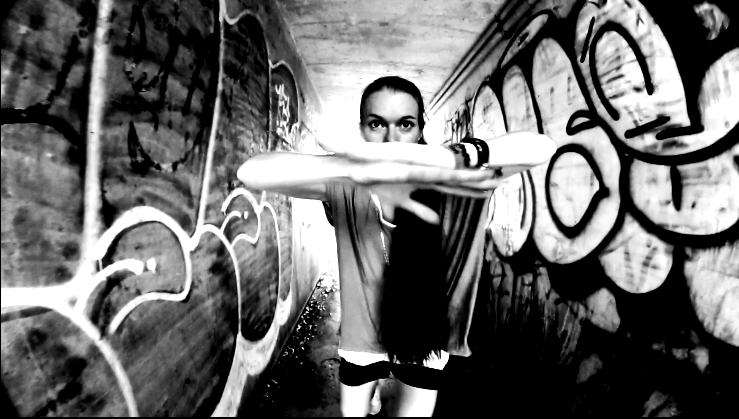 Ragnhild Bruland, PhD Student Psychology, Uses "Bone-Breaking" Dance as Backbone for Youth Development Program
Dance can be a physical expression of a person's feelings, thoughts, and beliefs. This form of non-verbal language has the ability to cross cultures, ethnicities, and countries; and it is bridging the gap between Norwegian Ragnhild Bruland and kids in New York City.
Bruland, a PhD student in Cognitive Social and Developmental Psychology at The New School for Social Research, was inspired to use dancing as a method for working with youths years ago, when she moved from Norway to New York. After being introduced to flex dancing – a rhythmic contortionist style of street dancing sometimes referred to as "bone-breaking" – she decided to create a program that would use this form of dancing to provide mentoring and personal development opportunities for youths in secure detention centers.
The FLEX program employs renowned dancers from the local community to work with students on choreographing dance routines; stimulating students' creativity while also helping them to develop their self-esteem, cooperation, and communication. Currently there are two modules of the program, "FlexIN" which works with students on-site in secure detention centers, and "FlexOUT" which provides free workshops for students in community centers in New York City.
"I strongly believe in the value of artistic expression and its positive effects on mental health," said Bruland. "Through dance, we're able to work with these youths on developing their own identity, and building their resiliency and coping skills."
While Bruland's background growing up in Norway differs from the young participants, she finds it important for the program to offers mentors with similar backgrounds as the students.
"We match participants with 'authentic' role models, many who have experienced the same challenges as the participants," said Bruland. "Through their similar experiences, the mentors are able to help the kids learn how to build resiliency while teaching them how to work collaboratively to develop these inventive dance routines."
FLEX has already garnered a wide array of support. Bruland was a featured speaker at the 2018 A3C Festival and Conference – an annual culture event held in Atlanta for the hip-hop community – and FLEX was the recipient of a $10,000 award at the A3C's Action Summit, which works with organizations using hip-hop music and culture to advance social justice.
Currently, Bruland is using her expertise to provide a critical basis for programs such as FLEX. Working with a team of 10 graduate students from The New School for Social Research and the Schools for Public Engagement, along with her advisor, Psychology Professor Howard Steele, they will investigate the efficacy of this mentoring style and the effects of having a safe space where one can explore through artistic means. The program is engaged in fundraising to expand the program and fund the research project.
"The initial evaluation is a six-month process and we will use the results to assist with our development and expansion of the program to reach more youth and engage more teaching artists," said Bruland.