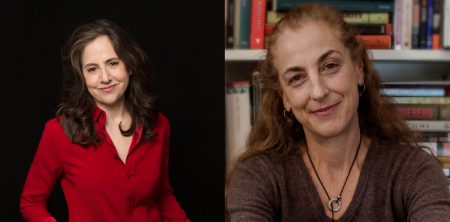 Two New School Writing Professors Awarded 2019 Guggenheim Fellowships
On Wednesday, April 10, the John Simon Guggenheim Memorial Foundation announced its list of 2019 Guggenheim Fellows. Among those honored with the prestigious fellowship are two professors of writing and literature at The New School: Helen Schulman, professor of writing and chair of Fiction in the MFA Creative Writing Program at the Schools of Public Engagement, and Alexandra Chasin, associate professor of literary studies at Eugene Lang College of Liberal Arts.
Guggenheim Fellowships are awarded to individuals who have demonstrated an exceptional capacity for productive scholarship or exceptional creative ability in the arts. Schulman was awarded for her fiction writing, while Chasin was awarded for her work in nonfiction.
Schulman, whose latest book, Come with Me (Harper, 2018), was named a Best Book of the Year by the San Francisco Chronicle and a New York Times Book Review Editors' Choice, has been on the faculty of the Creative Writing Program for the past 15 years. She has mentored countless students in their careers in writing and literature and serves as executive director of WriteOn NYC, an organization that makes literature more accessible to children in New York City, both as readers and writers
In addition to writing Come with Me, Schulman is the author of This Beautiful Life, A Day at the Beach, P.S., The Revisionist, Out of Time, and the short story collection Not a Free Show. P.S. was made into a feature film starring Laura Linney, with a script by Schulman and Dylan Kidd. Along with Jill Bialosky, Schulman also edited the anthology Wanting a Child. Her fiction and nonfiction have appeared in such publications as Vanity Fair, TIME, Vogue, GQ, the New York Times Book Review, and the Paris Review.
"All of us in Creative Writing are thrilled that Helen has been awarded a Guggenheim Fellowship, one of the top honors awarded to active scholars and artists," said Laura Cronk, director of the MFA Creative Writing Program. "This major award is much deserved and recognizes both her achievements to date and her unique potential to produce important new work."
A description of Schulman's work is available on the Guggenheim Foundation's website.
Chasin, who has served on Lang's faculty for 13 years, is the author of two books of nonfiction, Selling Out: The Gay and Lesbian Movement Goes to Market and Assassin of Youth: A Kaleidoscopic History of Harry J. Anslinger's War on Drugs, as well as two books of fiction, Kissed By and Brief, which was first released as an interactive app. Her shorter works have appeared in a number of journals, including AGNI, Fence, Hotel Amerika, hyperallergic, Post Road, the Brooklyn Rail, and Denver Quarterly, and have been reprinted in several anthologies. Chasin also founded and served as artistic director of Writing On It All, a writing project open to the public that was housed in a space on Governors Island from 2013 to 2018.
Chasin is currently writing The Family of UnMan, a book about the social, environmental, and spiritual costs of the modern Western commitment to distinguishing between humankind and all other species.
"I am thrilled that the Guggenheim Foundation is supporting Alexandra's brilliant current project, which asks important and provocative questions about notions of humans and humanity," said Lang dean Stephanie Browner. "Lang is lucky to have such a versatile and original thinker as part of our community, and we are so pleased that her work has been recognized in this way."
More information on Chasin's latest book is available on the Guggenheim Foundation's website.