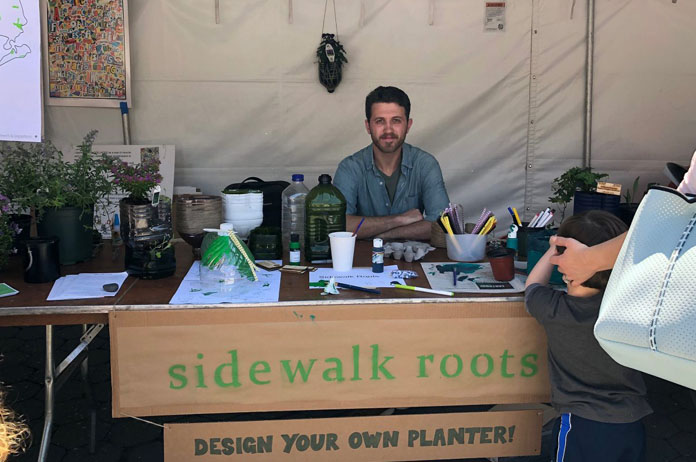 Evan Landau, MFA Industrial Design, '2020 Creates Sidewalk Roots Project to Greenify NYC Neighborhoods
Evan Landau, a first-year student in the MFA Industrial Design program, spent much of the spring semester working on a project called Sidewalk Roots, in which he used upcycled waste materials from local businesses, city compost, and native plants to create outdoor planters. He also led workshops in which he taught community members how to make the planters.
"It's a labor of love, something that I'm passionate about," Landau says about Sidewalk Roots. "I thought, why can't we take trash and turn it into something that's not an eyesore? I wanted to make it into something beautiful or something that greenifies the neighborhood."
Landau began working on the project in Local Design Studio, a class taught by Dan Michalik,  an assistant professor of product and industrial design. In developing the project, he partnered with a handful of city-based nonprofit agencies including the Gowanus Canal Conservancy, Garden Train, Newtown Creek Alliance, and the District 39 Block Association in Brooklyn.
Landau, a Brooklyn resident, found material for upcycling by visiting neighborhood shops, collecting inner tubes from a Crown Heights bicycle store, egg cartons (providing biodegradable paper filler for soil) from a local bakery, and grapeseed oil containers from a Brooklyn coffee shop. He used the oil containers to create the planter vessels, "cutting them in half, turning the top upside down and either hanging them up or putting them in the bottom half as a base," and cut the inner tubes into thin strips that he used to mount the planters. GrownNYC provided compost from its activity garden in McCarren Park in Williamsburg, and the Gowanus Canal Conservancy worked with him to find "hardy yet aesthetically pleasing flowers and herbs," including anise hyssop, wild bergamot, purpletop tridens, eastern purple coneflower (echinacea), and catnip.
An important part of the project is education. Working with several of the nonprofits, Landau presented workshops on local plant life, waste streams, upcycling, and community engagement. He intends to continue leading workshops throughout the summer. Landau also provides instructions for designing planters on the project website.
Landau set up a booth exhibiting his Sidewalk Roots project at Union Square's Earth Day Initiative event on April 23. At the booth, he provided educational and interactive materials on the city's native plant life, local waste streams, and upcycling. Visitors to the booth designed and created their own planters using materials provided by Landau and voted on locations for the planters throughout the city. (Planters have been placed in Brooklyn neighborhoods such as Park Slope, Gowanus, Crown Heights, and Prospect Lefferts Gardens and in front of The New School's University Center on 13th Street.) At the event, he was approached by teachers who wanted to incorporate the project into their curricula. The same month, Landau held a well-attended workshop with Garden Train at the Brooklyn Public Library.
Landau's ultimate goal is "greening city blocks in an informed, respectful, and productive way by locally crowdsourcing the program's design strategy."
"It's a school project, but I'm working with real people and real organizations making an impact in some little way," he says.