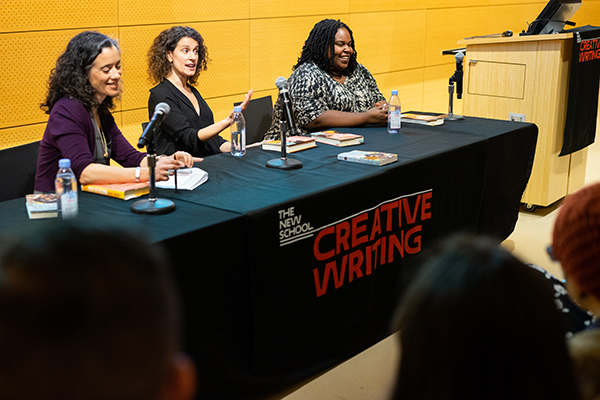 New School Alumni Publish Young Adult Novel for Rising Activists
When New School alumni come together, they are capable of creating remarkable work. And that was exactly the case when New York Times bestselling author Renée Watson (BA Liberal Arts '09) and poet Ellen Hagan (MFA Creative Writing '03) joined forces to write Watch Us Rise (Bloomsbury, 2019), a young adult novel about two rising feminists who through poetry, art, and community activism, learn to raise their voices and claim their place in the world.
"The issues in the book are inspired by the young people we've met, the schools we've taught in together, and the conversations we've had about girls and mentorship and what's happening in the world right now," said Watson, whose 2017 YA novel Piecing Me Together (Bloomsbury) received a Coretta Scott King Award and Newbery Honor from the American Library Association of America. "We ask: What does it mean to be an artist that's also an activist, and how do you merge those two worlds? The themes in the book felt very much in line with who we are."
Though they're both New School alumni, Watson and Hagan said they didn't meet at the university. They met while working for the Community-Word Project, an arts-in-education organization based in New York City that provides children in underserved communities with alternative learning strategies for writing and creative expression.
"We started teaching together and became friends," Hagan said. "We began having so many of the same conversations that are in the book. Conversations about girlhood, about media and how the media portrays women. About what it means to be a woman in the world. We had these conversions endlessly, and, as we taught these young people, we were figuring out what they needed, what they wanted to talk about, and how to be their mentors."
A truly collaborative process, the authors said they wrote Watch Us Rise almost entirely in the same room. They would spend a few minutes talking about the book, examine the carefully crafted timeline they created, and then began writing. It was a process that was new to both of them.
"When I'm writing my solo work I don't necessarily plot out the whole thing and think about, chapter by chapter, what's going to happen," Watson explained. "I usually just get pen to paper and start writing. But when you're working with someone, we needed to have a vision and figure out where we were going, figure out what it was that we were creating."
The book is written from the perspective of its two main characters, Jasmine, written by Watson, and Chelsea, written by Hagan. Along with the main storyline, the book serves as a collection of poems and blog posts.
"We would be writing, then turn around and say, 'I can't wait to read your next ten pages!'" Hagan added. "It was great for me, and really taught me a lot."
Since its publication in February 2019, Watson and Hagan have traveled across the U.S. holding readings at high schools and spending time speaking with the young people they've reached. On April 30, the duo returned to The New School to share Watch Us Rise and talk to students of the MFA Creative Writing Program.
"It feels really special to be back," Watson said before spending more than an hour sharing her knowledge of writing and publishing with New School students. "I remember those first few months being here, being so nervous and scared and excited all at once and wondering: Where is my career going? What am I going to do with my life? So to be back here at The New School with a book in hand and with a very good friend, it's special. It's feels very full circle."