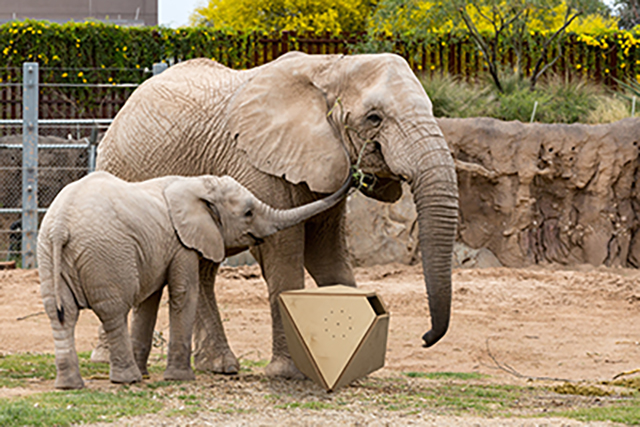 Parsons Students Taking "Design in the Wild" Class are Creating Projects to Improve Animal Welfare and Protect Wildlife
Sofia von Hauske Valtierra, a student in the MFA Design and Technology program at Parsons School of Design, spent the spring semester designing a machine inspired by the way foxes hunt insects. Yating Wu, another MFA Design and Technology student, produced an automatic music box to provide environmental enrichment for zoo-housed elephants. Other students worked on projects designed for lemurs, orangutans, bumblebees, and African dwarf frogs.
The students developed these projects, aimed at animals both in captivity and in the wild, for Design in the Wild, a class taught by assistant professor of interaction and media design Harpreet Sareen.
Sareen, who is also a research affiliate at the MIT Media Lab, continually breaks new ground in his research, which focuses on design involving animals and plants. He is motivated by a desire to create a better world for nonhumans and the humans who interact with them.
"This course challenged the students to look at the fundamentals of  interaction design and how it surfaces through solid observation and validation," said Sareen. "From the beginning to the end, the biggest delta I saw in the students was how to shun anthropomorphism to come with ideas from an animal's perspective."
The students studied animal behavior throughout the semester, making a trip to the Central Park Zoo to observe the animals.
"I didn't know what to expect from the class, because we live in New York City, so I thought, 'How much exposure to animals can we really get?'" von Hauske Valtierra said. "But having animal experts come to class and talk about their work made up for that fact. The class pushed me to look at animal behaviors through a new lens, which allowed me to break them down and better understand them. I now notice little things that I wouldn't have noticed before."
For her final project, von Hauske Valtierra created a movable device that can be placed anywhere in a zoo, hidden in plants or grass. The device emits low-frequency sounds much like those made by insects. If a fox treads close to the device, it shoots out a treat. The device is designed to elicit natural species-specific behavior: Motivated by the reward, foxes use their hearing to "hunt" the machine as they would insects in the wild.
Wu's music box for elephants is a wooden polyhedron with photoresistors installed on the surfaces. When elephants manipulate the device with their trunks and feet, they expose different surfaces to the light, causing the device to respond by playing different pieces of music or no music at all. The design enables elephants to control the music or turn it off entirely. Research has shown that music calms and soothes elephants in captivity.
Sareen set up a class partnership with the San Diego Zoo, and last week, research and development scientists from the zoo came to New York to observe and assess the students' work. The zoo plans to invite several students from Sareen's class to the San Diego Zoo Innovation Lab to implement their ideas.
"When Professor Sareen and I first discussed the idea of a course designing for animal interaction, we didn't dream that the term would conclude with so many promising prototypes," said Gabriel Miller, who directs research and development at The San Diego Zoo Global as a senior scientist in population sustainability. "After hearing from numerous experts, the students proposed inspired and creative approaches to engaging and protecting wildlife, and their projects were thoroughly researched and wonderfully animalcentric. We'd love to see more designers follow in these students' footsteps to benefit biodiversity. I believe many of their diverse designs have real-word applications for animal welfare."
Sareen plans to teach two courses similar in theme to Design in the Wild in future semesters: Design in Forest, exploring design with trees and other plants, and Design in Oceans, focusing on design for sea animals and plants.
"I intend to consolidate a framework around nature-based interaction design; more so non human species are a stakeholder in our practice," Sareen says.