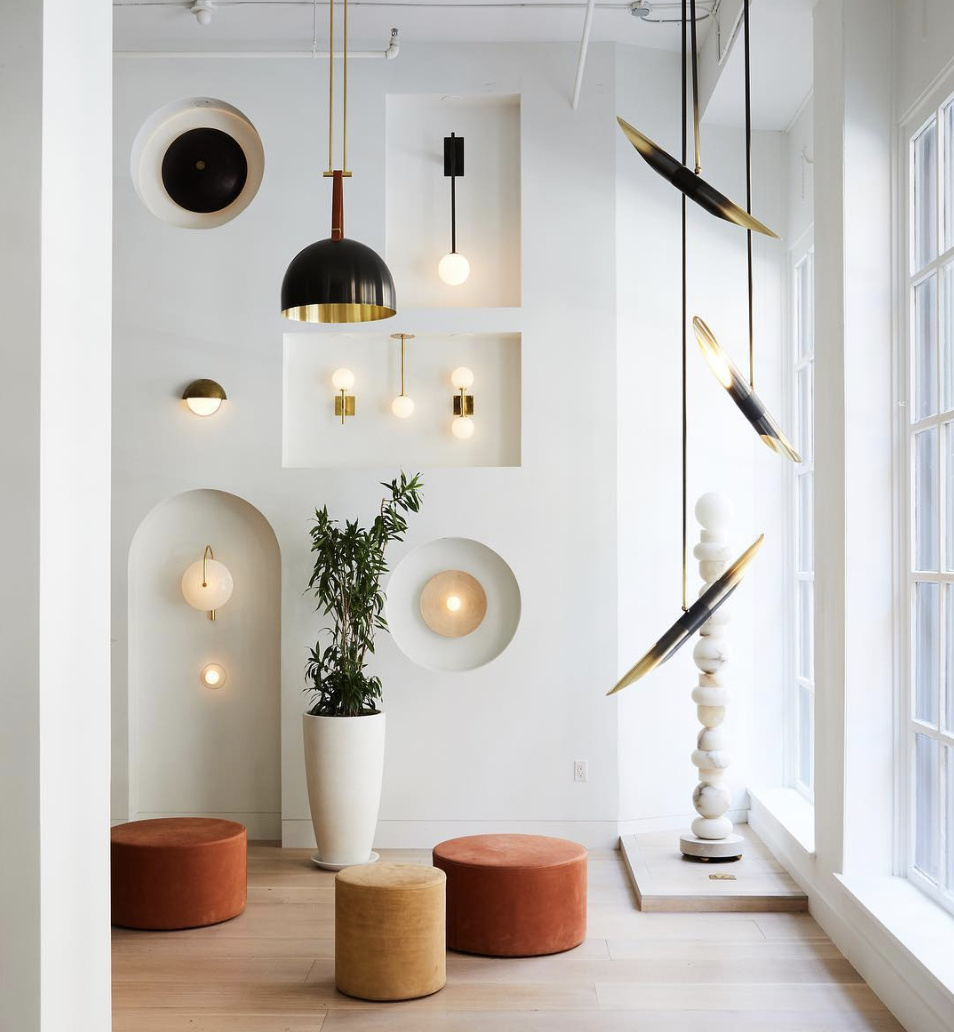 Ryden Rizzo, Product Design '12, Creates Unique Lights with Allied Maker
When Ryden Rizzo, BFA Product Design '12, began his studies at Parsons School of Design, he planned to become a Web designer. He left Parsons as a lighting designer and soon after founded Allied Maker, which he started as a solo studio for woodworking in a garage on the North Shore of Long Island. Now the brand he founded just seven years ago employs more than 40 people and creates more than 1,000 custom-designed pieces and parts.
Rizzo's interest in lighting grew out of an obsession with maker culture that developed while he was researching techniques for his thesis project.
"I was watching videos of people making knives, bags, furniture, whatever, which eventually led to teaching myself woodworking and metalworking by challenging myself to build two new products a week," he says. "Eventually I made my first lighting fixture, which felt the most interesting and exciting to produce."
Professors from New School programs including Media Design and Media Studies also played a part in steering Rizzo into lighting design.
"They challenged me to explore new ideas and mediums and exposed me to platforms to communicate and execute those ideas within a community," says Rizzo. "The influence was monumental."
While Allied Maker is still a relatively young brand, it is has already become part of the New York design scene. Rizzo and his team are constantly refining and adjusting their methods and approaches and learning valuable lessons about the entire spectrum of design along the way.
"I've grown to really enjoy the process of organizing and documenting the details for production as much as the initial conceptual design work," he says. "Our biggest challenge and biggest success was setting Allied Maker up as not only a design studio but a respectable and organized manufacturer. It's very fulfilling to know that our inventory purchases contribute to the growth and refinement of American manufacturers producing high-quality parts for our fixtures."
Rizzo is just one of several alumni from Parsons' School of Constructed Environments who are making an impact in the world of design. Lisa Marks, MFA Industrial Design '17, was recently named a Lexus Design Award finalist for the three-dimensional lace bra she designed for breast cancer survivors. Material Lust, a design brand and artist collective founded by Christian Swafford, BFA Product Design '08 (now a faculty member), and his partner, Lauren Larson, BFA Interior Design '08, debuted at the recent Independent art fair. And Brooklyn-based furniture and design brand Souda, founded by Luft Tanaka, Product Design '13, and Shaun Kasperbauer, Product Design '12, has become a favorite among interior designers.
Parsons was founded on the idea that art and design can be used to address pressing social problems and bring about change. Allied Maker's values align with the school's guiding principles, including its commitment to protecting the environment.
"Sustainability is a core value of Allied Maker," says Rizzo. "We design and build products that were never meant to be thrown away and use organic and recyclable materials, such as wood and brass. We are always working hard to integrate the best sustainable practices into our business."