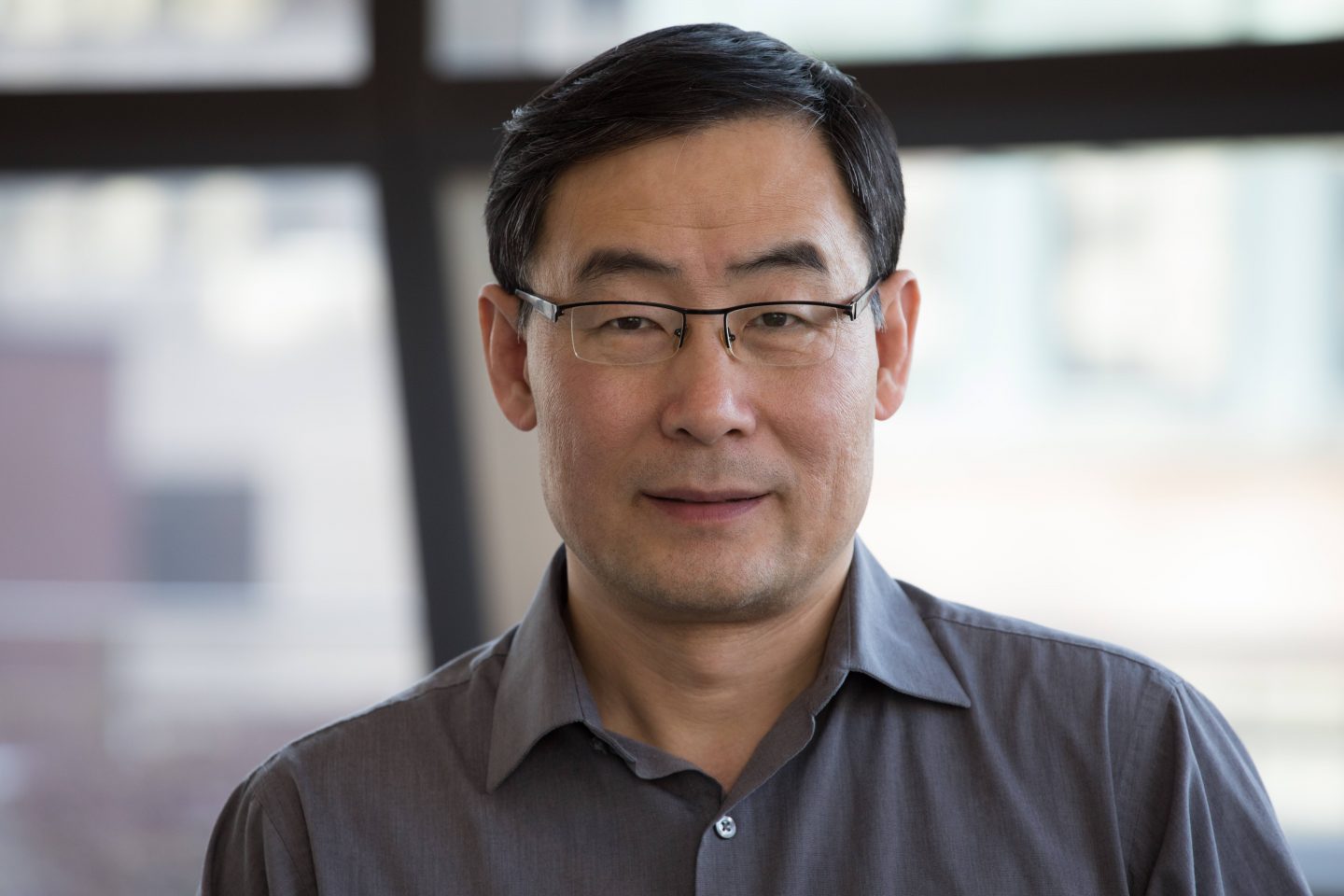 The Intersection of Technology and Education
Wi-Fi should flow like air on campus. Printers should be located in places where students congregate. Faculty and staff shouldn't have to bring their own dongles to classrooms — the rooms should already contain ones that are compatible with their laptops. These are a few of the goals Lin Zhou, the university's new chief information officer (CIO), discussed during his 100-Day Town Hall on April 9, 2019. Actually held on his 96th day, the town hall gave Zhou an opportunity to share with faculty and staff his thoughts on enhancing IT capabilities at The New School.
As CIO, Zhou is charged with leading and implementing strategy for technology services and systems for both academic and administrative needs. Because of the vast array of technological needs, Zhou decided to spend time during his first months on campus speaking with students, faculty, staff, and board of trustee members to obtain their insights into the campus IT systems. "At The New School, we provide services to three main cohorts — students, faculty, staff — so it's important for IT staff to talk with others," said Zhou. "We have been viewed as a service provider, but the exciting part is becoming a partner with all of the university's constituents. Let's jointly identify the problem and jointly put a solution together. It's a more enriched experience and improves the communication between IT and the rest of the university." He especially enjoyed speaking with New School students. "They are the people who have no boundaries in how they think things should work. I draw a lot of creative ideas from students, and their energy is tremendous."
During his short time at the university, Zhou has already implemented several changes: Arnhold Lab has been upgraded with Adobe Creative Cloud, Wi-Fi has been improved in Parsons East, and universal connector rings have been placed in select high-use classrooms. Zhou is quick to credit the IT team for what it accomplished before his arrival, and he's eager to build on the successes of the department and the university. "The New School is a very unique place. It was set up to transform education. I think that spirit has carried over the past 100 years through leadership, faculty, staff, and students. Everybody is so passionate in making things happen in a faster and more efficient manner to make student life easier."
Zhou hopes to replace one-off services for specific needs with a single platform, avoiding "siloed solutions". He uses the difficulty many New Schoolers have in accomplishing online tasks to show how service could be streamlined.
"When I came onboard, I heard from faculty and staff that there is platform fatigue. To register students, you use Banner. To take attendance, you use Starfish. And to evaluate faculty performance, you use Literati. There are so many different systems," said Zhou. "We don't have platform fatigue, because we don't actually have a platform. What we have is application fatigue."
Zhou uses e-commerce websites as an example of a classic platform that uses one webpage as a single entry point. Regardless of what you want to do — create a wish list, make a purchase, or list something for sale — you can always start at the same page. Zhou's plan is to create the same kind of service for The New School. "My vision for The New School is that everything you need to do will have one entry point. Then, depending on what you want to do, there will be different capabilities offered. So instead of needing five or six different applications that each do one thing, it will be one platform capable of doing five, six, or more different things."
Before joining The New School, Zhou served as the program director and innovation leader for IBM Watson Education and as a professor at Marist College in Poughkeepsie, New York. Zhou's experience in industry and academia puts him in a unique position to understand the demands, needs, and capabilities of both. "In my previous job, I worked with many CIOs in K-12 and college education to see how technology could improve the education model," said Zhou. "Through that process, I saw there were lots of opportunities the CIOs could have leveraged to improve school systems, and thought that's a great opportunity to see how much difference I can make with our next generation of leaders. I love that I get to be a part of that process."