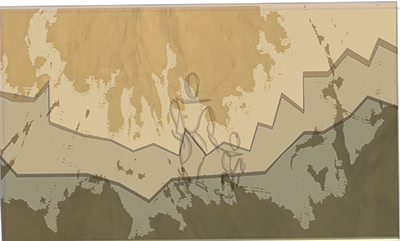 Bahata Saha, BFA Architecture Design, '19, Wins Swarovski "Brilliance of Design Competition."
Bahata Saha, BFA Architecture Design, '19, recently won the Swarovski "Brilliance of Design" competition for her architectural surface prototype called "Crystal Marble Lantern." The wall panel she designed for the world-renowned Austrian producer of crystal jewelry can potentially be used in multiple ways: as an interior wall to divide rooms; as a wall on a storefront; as an exterior wall to let in sunlight; and at night as a "luminous lantern to brighten the space around it. Saha was awarded $5,000 to create future crystal projects.

The panel structure is intended to be created from off-white translucent vein marble with a compound of Swarovski crystals embedded between the gradient veins of the marble." The Swarovski crystals were used to "mimic the color gradient and thickness of the translucent vein marble."
The design was partially inspired by a salt lamp in Saha's bathroom to create a "peaceful and harmonious ambiance the juxtaposition of shadow and light creates."

"I want to share that same experience in a bigger space," she said. "I decided to find materials that can mimic the salt lamp attributes."

To find the right materials, Bahata went to Parsons Healthy Material Lab to research sustainable materials and determined that marble was the best choice for the design. She performed light studies to find the lifespan for other materials such as limestone and pyrasied. The competition was intended to push student potential in three categories: lighting, home decor and architectural surfaces. Entries for the competition came from countries throughout the world.

"The contest really gave me the opportunity to explore luxury architecture," Bahata says.