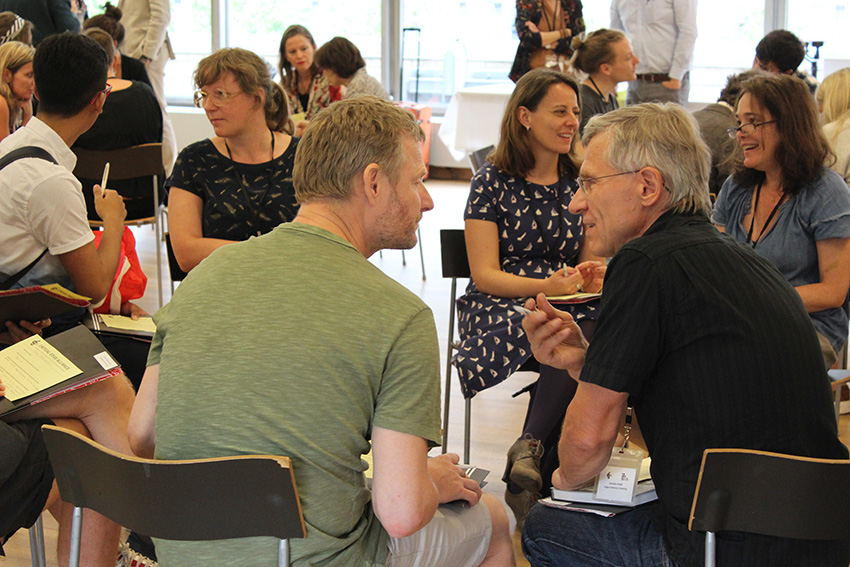 The Critical Edge Alliance Conference Brings its Innovative Approach to Higher Education to The New School
Founded in 2014 by The New School and Roskilde University, the Critical Edge Alliance (CEA) gathered for its annual meeting at The New School June 6-9. The CEA is a global partnership of innovative universities from Denmark, Morocco, India, Colombia, Brazil, France, and the U.S. that according to its mission statement, focuses on "student-centered learning, critical thinking, interdisciplinary teaching and research, and social engagement."
This fifth annual CEA conference explored "Boundary Crossings in Culture, Power, and Experience: Reimagining Higher Education." Workshop and panel leaders proposed innovative educational approaches to advance learning across geographies and disciplinary practices.
"The future of higher education is critical: creatively reflective, generative in focus, and pressing for collective action on the most pressing issues of our time," said Mary Watson, CEA conference chair and executive dean of the Schools of Public Engagement. "If our institutions are to create the change the world needs and that learners require, we must reimagine our shared impacts, financial models, and embodied purpose."
This year's conference was dedicated to the memory of L.H.M. "Lily" Ling, Professor of International Affairs, in The New School's Julien J. Studley Graduate Programs in International Affairs, who passed away suddenly in 2018. Ling, a founding member of the CEA, was a scholar whose theory of Worldism is reshaping the field of international relations through its focus on non-Western approaches. In April of 2018, Ling was honored as Eminent Scholar by the Gender Theory and Feminist Studies Section of the International Studies Association, and then by the Global South Caucus of the Association, posthumously in 2019.
In the opening session, Kasper Risbjerg Eskildsen, current president of the CEA and an associate professor of history of science at Roskilde University in Denmark, discussed how he and Ling laid the foundation for what became the CEA after meeting in 2014. "Lily was very persuasive," Risbjerg Eskildsen recalled. "That she's not with us when we finally bring the conference to New York and to The New School is a sad moment indeed." In tribute, alliance leaders who were close to Ling collectively honored her legacy by performing her one-act play, "A Fairy Tale of Science: Playing With Hayward Alker."
Over the three days, participants engaged topics ranging in theme from "Redefining University as Communities" to "Student Activism for Academia in Transition" and "University as Locus for Knowledge Production." Michele Kahane, associate dean of educational innovation and social engagement and professor of practice in management and social innovation at the Milano School of Policy, Management, and Environment, hosted a session with The New School Collaboratory titled "Community Partnerships as Co-Education and Co-Creation." During this panel discussion, community partners discussed their diverse approaches to social engagement.
The design of the alliance is unique to educational settings: a non-hierarchical collaboration among student activists, university executive leadership, and faculty leadership that engages creative practice, critical scholarship, and community partnerships in its learning model. Faculty, students, and senior university leadership, share board governance and set strategy.
The opening session, "Socioeconomic Marginalization as Boundary in the University Setting" featured students from five CEA Universities discussing student access and wellbeing. Sadia Hussain, a student from India, held a session titled "New Directions in Inclusion, Power, and Pedagogy" that focused on the intersections of gender, religion, and class among Muslim women in Kashmir and its impact on their higher education. Students from Paris 8 produced a fanzine on power dynamics.
To learn more about pedagogic methods used on The New School campus, participants visited the University Art Collection, in a tour curated by Carin Kuoni, director and chief curator of the Vera List Center for Art and Politics, the Parsons Making Center, and the XReality Center. At the XReality Center, students and educators sampled virtual reality experiences with The Oculus Quest, Magic Leap One, and the Oculus Go. In recognition of World Pride, the group visited the Stonewall Inn and New York City AIDS Memorial.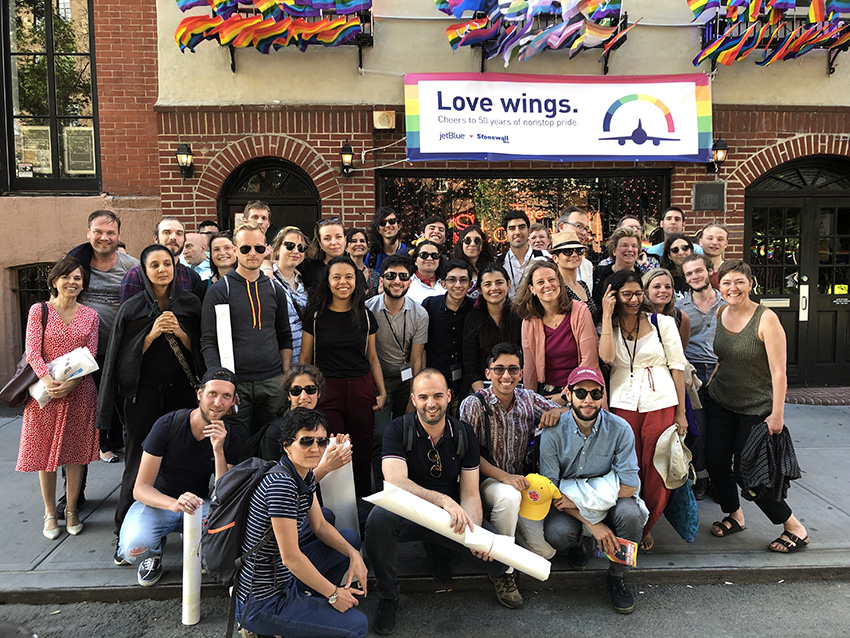 In addition to The New School, the CEA includes seven other member universities: Al Akhawayn University in Morocco, Evergreen State College in Washington State, University of Paris 8 in France, Pontifical Catholic University of Rio de Janeiro in Brazil, Roskilde University in Denmark, Tata Institute of Social Sciences in India, and Universidad de los Andes in Colombia. Previous CEA conferences have been held at the universities in Morocco, Denmark, India, and Columbia. Each annual conference, and the shared courses and projects that take place throughout the year, aims to address and cross not only political and geographical boundaries, but also the boundaries that exist between faculty, staff, and students and between society and universities.
"The beauty of this university alliance is that engages co-creation of initiatives with faculty, students, and leadership," said Watson. "Our collective future requires courage, inclusion, and bold action to advance the knowledge creation and democratic practice that existential challenges like global climate threat necessitate."
To read more about the conference and the impact its sessions had on the students, faculty, and community members in attendance, please click here.