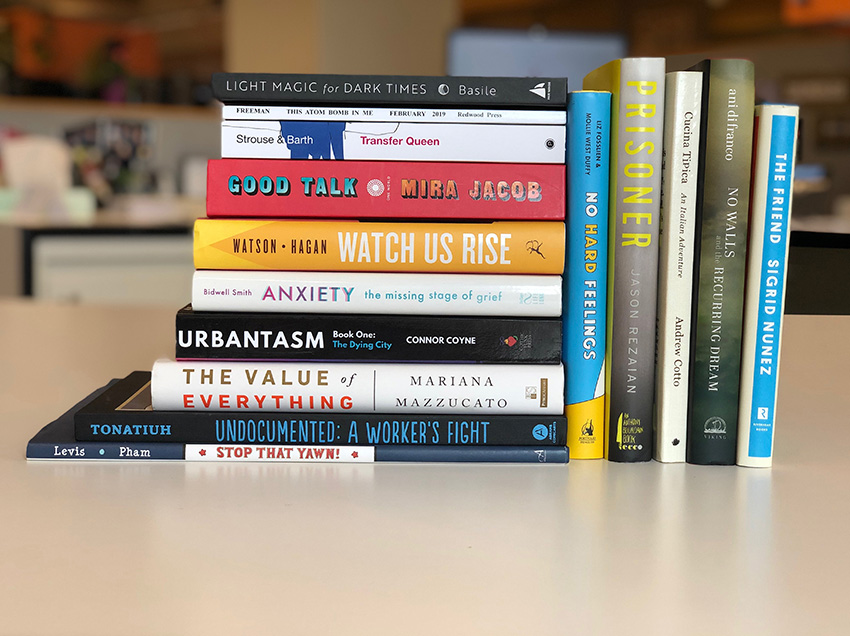 The New School's Academic Year in Books 2018-19: Alumni
The 2018-2019 academic year was another successful one for The New School's alumni authors, who published dozens of compelling works that resonated with audiences throughout the world.
From the harrowing account of imprisonment in Jason Rezian's, '01, Prisoner: My 544 Days in an Iranian Prison–Solitary Confinement, a Sham Trial, High-Stakes Diplomacy, and the Extraordinary Efforts It Took to Get Me Out, to the fascinating journey and self-reflection of Musician Ani DFranco, non-conferred '91, No Walls and the Recurring Dream: A Memoir, alumni authors created stories that received both significant critical and commercial attention.
Other works that captivated readers this year include Astra Taylor's '03, Democracy May Not Exist, But We'll Miss It When It's Gone, and Mira Jacob's '10 Good Talk: A Memoir in Conversations.
The following is a list of books written by alumni, organized by genre and released over the 2018-19 academic year. It will continue to be updated as more titles are submitted for inclusion. (email koeppeld@newschool.edu).
Memoir
Lindsey A. Freeman, PhD Sociology and Historical Studies '13
This Atom Bomb in Me (Stanford University Press)
Mira Jacob, MFA Creative Writing '10
Good Talk: A Memoir in Conversations (One World)
Jason Rezaian, BA Liberal Arts '01
Prisoner: My 544 Days in an Iranian Prison — Solitary Confinement, a Sham Trial, High-Stakes Diplomacy, and the Extraordinary Efforts It Took to Get Me Out (HarperCollins)

Ani DiFranco, Lang non-conferred '91
No Walls and the Recurring Dream: A Memoir (Viking)

Fiction
Jennifer Baker, MFA Creative Writing '00
Everyday People: The Color of Life–A Short Story Anthology (Simon and Schuster)

Andrew Cotto, MFA Creative Writing '08
Cucina Tipica: An Italian Adventure (Black Rose Writing)

Lee Matthew Goldberg, MFA Creative Writing '06
The Desire Card (Fahrenheit Press)

Gina Marie Guadagnino, MFA Creative Writing '10
The Parting Glass (Atria Books)

Alcy Leyva, MFA Creative Writing '16
And Then There Were Crows (Black Spot Books)

Christopher Shade, BA Liberal Arts '11
The Good Mother of Marseilles (Paloma Press)

Patrick Suraci, PhD Psychology '81
A Dream of Life (Archway Publishing)

Robert Haller, MFA Creative Writing '15
Another Life (Blackstone Publishing)

Katharine Weber, BA Liberal Arts '73
Still Life With Monkey (Paul Dry Books)

Self-Help
Lisa Marie Basile, MFA Creative Writing '12
Light Magic for Dark Times (Fair Winds Press)

Mollie West Duffy, MFA Transdisciplinary Design '15
No Hard Feelings: Emotions at Work (Penguin Publishing Group)

Claire Bidwell Smith, BA Liberal Arts '02
Anxiety: The Missing Stage of Grief (Da Capo Lifelong Books)

Social Sciences & History
Astra Taylor, MA Liberal Studies '03
Democracy May Not Exist, But We'll Miss It When It's Gone (Metropolitan)

Kati Stevens, MFA Creative Writing '07
Fake (Bloomsbury)

Rien Fertel, MA Historical Studies '08
The Drive-By Truckers' Southern Rock Opera (Bloomsbury)

Mariana Mazzucato, PhD Economics '99
The Value of Everything: Making and Taking in the Global Economy (Penguin)

Sophie Lewis, MA Politics '13
Full Surrogacy Now: Feminism Against Family (Verso)

Christina Proenza-Coles, MA Liberal Studies '98, MA Sociology '98, PhD Sociology and Historical Studies '04
American Founders: How People of African Descent Established Freedom in the New World (NewSouth Books)

Aleksandr Gevorkyan, MA Economics '08, PhD Economics '09
Transition Economies: Transformation, Development, and Society in Eastern Europe and the Former Soviet Union, 1st Edition (Routledge)

Tanya Toft Ag, MA Media Studies '11
Digital Dynamics in Nordic Contemporary Art (Intellect)

Poetry
Dante Micheaux, BA Liberal Arts '02
Circus (Indolent Books)

Cate Peebles, MFA Creative Writing '07
Thicket (Lost Roads Press)

Charlotte Seley, BA Liberal Arts '07
The World is My Rival (Spuyten Duyvil Publishing)

Robert Siek, MFA Creative Writing '99
We Go Seasonal (Sibling Rivalry Press)

Allen Strouse, BA Liberal Arts '08
Transfer Queen (Punctum Books)

Children's & Young Adult
Connor Coyne, MFA Creative Writing '07
Urbantasm (Gothic Funk Press)

Ellen Hagan, MFA Creative Writing '03
Renée Watson, BA Liberal Arts '09
Watch Us Rise (Bloomsbury)

Corey Ann Haydu, MFA Creative Writing '12
Eventown (HarperCollins)

M. García, MFA Creative Writing '09
The Resolutions (HarperCollins)

Suzanne LaFleur, MFA Creative Writing '08
Counting to Perfect (Wendy Lamb Books)

Caron Levis, MFA Creative Writing '08
Stop That Yawn (Atheneum / Simon & Schuster)

Laura Silverman, MFA Creative Writing '15
You Asked For Perfect (Sourcebooks Fire)

Duncan Tonatiuh, BFA Integrated Design '08 and BA Liberal Arts '08
Undocumented: A Worker's Fight (Harry N. Abrams)