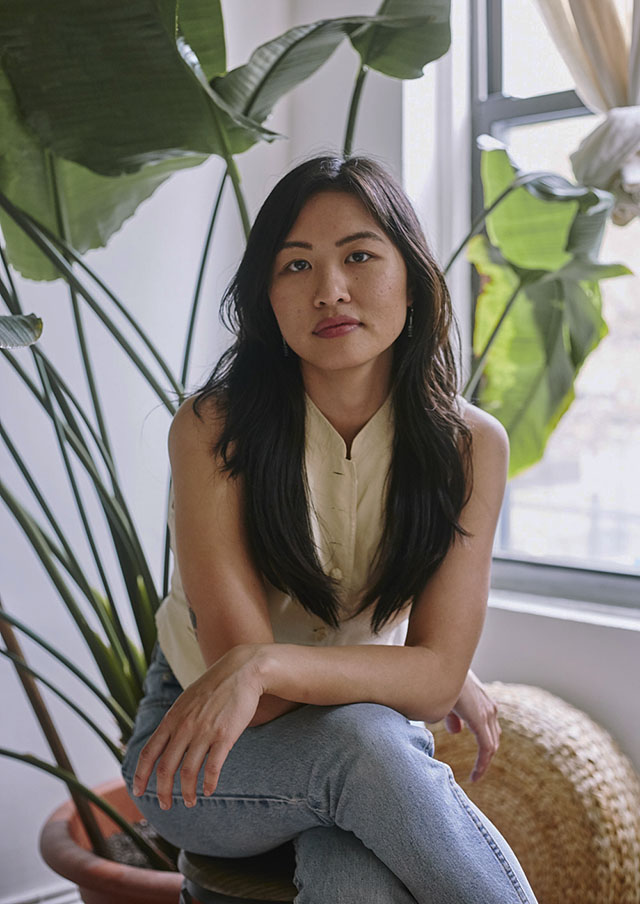 Phoebe Tran (BA Food Studies '19) Uses Food to Celebrate and Deepen Community's Understanding of the Asian Diaspora
New School alumna Phoebe Tran (BA Food Studies '19) is using her passion for food to change the way local communities think about, understand, and define the Asia diaspora. As co-founder and executive director of Happy Family Night Market, a one-day annual event and growing community that celebrates the Asian diaspora through food, art, and education, Tran's passion for using food as a means to celebrate Asian-American heritage has grown into a diverse, interdisciplinary, and experiential set of programs. These programs provide local communities the opportunity to join the discussion and to gain insight and understanding of Asian culture in the U.S. and around the world.
"Our broader mission is to deepen people's understanding of Asian heritage and to challenge preconceived or colonial notions of what 'Asia' means," Tran explained. "That's the underlying question of our programs this year: what is Asia? We don't claim to be an authority of Asia – we want our audience to question what it means, what borders represent, and what people think of when they think about what it means to be Asian in America."
This year's Happy Family Night Market will take place on July 13, 2019, at the Abrons Arts Center, a cultural institution on Manhattan's Lower East Side. The event features food, film, music festivals, public art installations, and an art marketplace as well as educational workshops and panel discussions. While last year's inaugural Happy Family Night Market took place in Bushwick and saw more than 2,000 attendees throughout the day, Tran says she's excited to build on that foundation and bring this year's event to the Lower East Side community.
The music festival, which features artists including Miho Hatori, Lionmilk, Ian Chang, DJ Ushka, and more, will overlook Grand Street, while the sustainably-minded food festival, a place where stories of migration, assimilation, and tradition are told through the lens of food, is implementing a compost program and partnering with food distributors that source both locally and ethically. All programs, from the film festival to the marketplace, focus on Happy Family Night Market's mission and support emerging Asian artists, scholars, chefs, and social entrepreneurs.
"For me, as both a food studies major and also as a second generation Vietnamese-Chinese American, I saw an opportunity to reimagine what an Asian food festival could offer beyond consumption," Tran explained. "I wanted to create a space for dialogue, community engagement, and collaboration."
Tran, an educator, event producer, chef, and cultural organizer, said her time at The New School was instrumental in creating Happy Family Night Market. After spending two years working in the food design industry in Shanghai, China, Tran said she wanted to advance her knowledge of food design and decided to apply to The New School's BA in Food Studies program. From 'Food and Migration' to 'Art and Social Justice,' Tran said the flexibility within the Adult Bachelor's Program gave her the opportunity to choose courses that would help her as she set out to bring Happy Family Night Market to life.
An Asian- and women owned organization, Happy Family Night Market is currently a fiscally sponsored project of the New York Foundation for the Arts, and is on its way towards becoming a nonprofit.
"The New School allowed me to understand the many ways in which food could affect change and connect people from all cultural and interdisciplinary backgrounds," said Tran. "Food is the universal language that draws people into Happy Family Night Market."
Tickets for Happy Family Night Market are available online starting at $15 and will also be available at the door the day of the event. For more information about Happy Family Night Market, please click here.
"While the event aims to uplift and engage with Asian communities, it is really an event for everyone," Tran said. "This year, we created intergenerational programs that both children and seniors would feel welcome to participate in. We want to embody the name 'Happy Family,' and create a space where our community of artists, chefs, and educators would want to share the experience with their families."