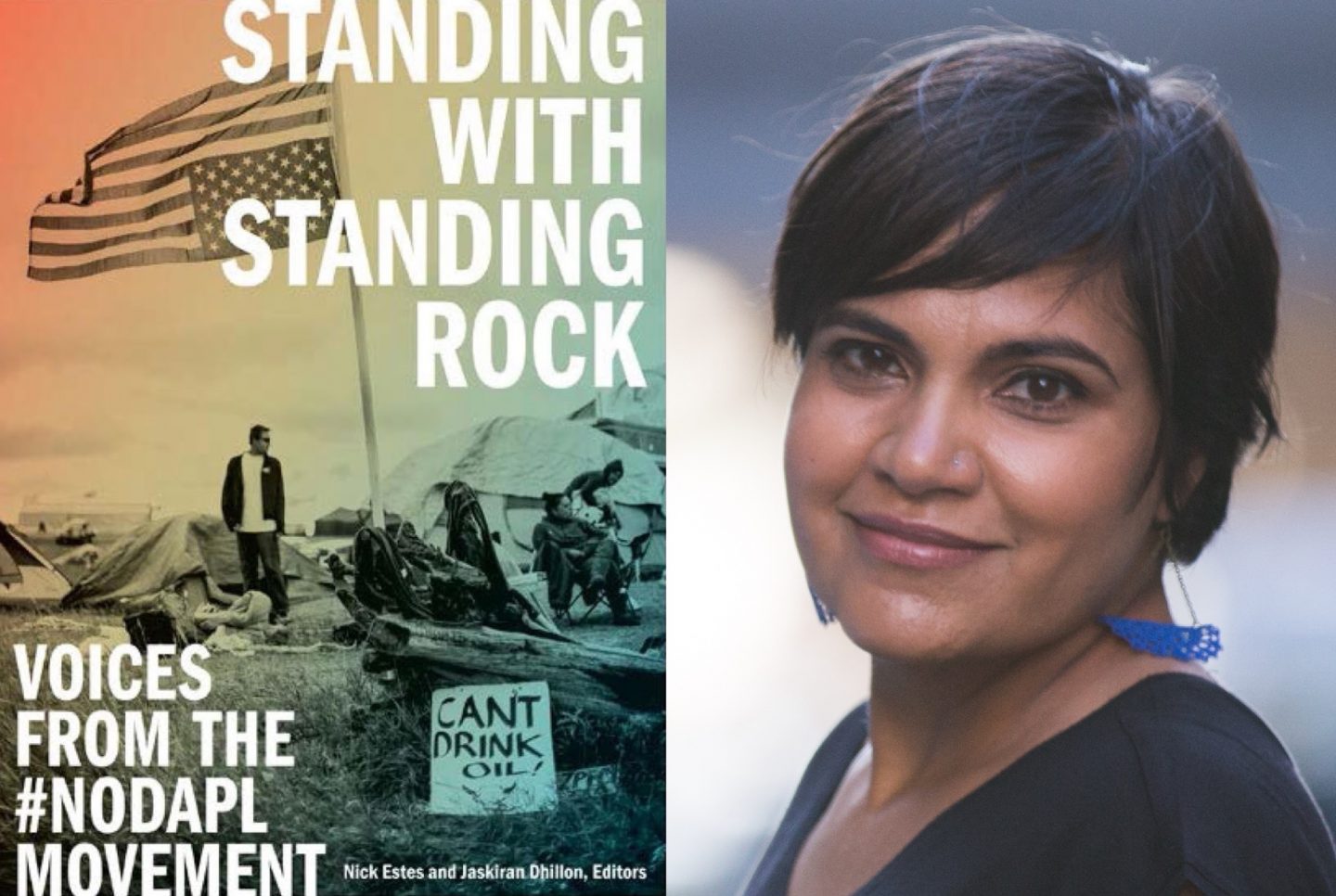 New School Professor Jaskiran Dhillon Launches New Book, Standing with Standing Rock: Voices from the #NoDAPL Movement
In April 2016, protests against the Dakota Access pipeline (DAPL) erupted on the Standing Rock Sioux Reservation. The protests, led by the Sioux and supported by numerous environmental and Indigenous organizations, attracted national and international attention and sparked a movement to protect the land and water from destruction. The movement featured a social media campaign with the hashtag #NoDAPL, which has become a powerful symbol of the Indigenous-led struggle for environmental justice, reminding us that "water is life." Amid these protests, the Dakota, Nakota, and Lakota peoples reunited as the Oceti Sakowin and made it clear that Indigenous sovereignty is central to addressing climate change and environmental devastation, both in the United States and around the globe.
A new book, Standing with Standing Rock: Voices from the #NoDAPL Movement (University of Minnesota Press, 2019), brings together perspectives on Indigenous history and politics with discussion of the movement's significance in the past, present, and future. The book was edited by Jaskiran Dhillon, an associate professor of global studies at The New School, and Nick Estes, a member of the Lower Brule Sioux Tribe and assistant professor of American studies at the University of New Mexico.
"The historical moment in which Standing Rock happened is deeply relevant right now," says Dhillon. "This book doesn't soften the blow about what's at stake as the world teeters on the precipice of climate change and ongoing war on the planet where millions of people are dispossessed and live in conditions of severe deprivation. Standing Rock signals what is possible when everyday people unite against colonialism and racial capitalism. It was, and remains, a powerful people's movement."
Standing with Standing Rock is a series of dispatches — poetry, essays, photography, interviews, and polemics — by writers, thinkers, artists, and activists who took a stand against the Dakota Access Pipeline. Contributors include award-winning poet Layli Long Soldier; Dave Archambault II, former tribal chairman of the Standing Rock Sioux Reservation; and author, historian, and activist Roxanne Dunbar-Ortiz.
Dhillon, a first-generation anticolonial scholar and organizer who grew up on Treaty 6 Cree territory in Saskatchewan, Canada, is committed to supporting movements for Indigenous freedom and liberation and has spent decades working on issues of colonial state violence, with a recent focus on environmental violence. Her first book, Prairie Rising: Indigenous Youth, Decolonization, and the Politics of Intervention (2017), provides a critical ethnographic account of state interventions in the lives of Indigenous youth.
Dhillon played a central role in organizing the New York City Stands with Standing Rock Collective, the Standing Rock Syllabus Project, and several New York City–based university teach-ins, protests, letters of support, and rallies to collect supplies for those protesting the pipeline, in addition to writing about the role of youth in spearheading the movement early on. She joined the front lines of the fight against DAPL several times at the Oceti Sakowin Camp, the largest encampment at Standing Rock, supporting the struggle on the ground and documenting the multiple dimensions of this Indigenous-led resistance movement.
Dhillon and Estes will celebrate the publication of Standing with Standing Rock with a book launch on Wednesday, September 18, at the People's Forum (320 West 37th Street in New York City). (The event begins at 5:30 p.m. and is free to all, but RSVPs are appreciated.) Along with Dhillon and Estes, contributors including Kevin Bruyneel, Elizabeth Ellis, Amin Husain, Nitasha Dhillon, and Sandy Grande will discuss their work.