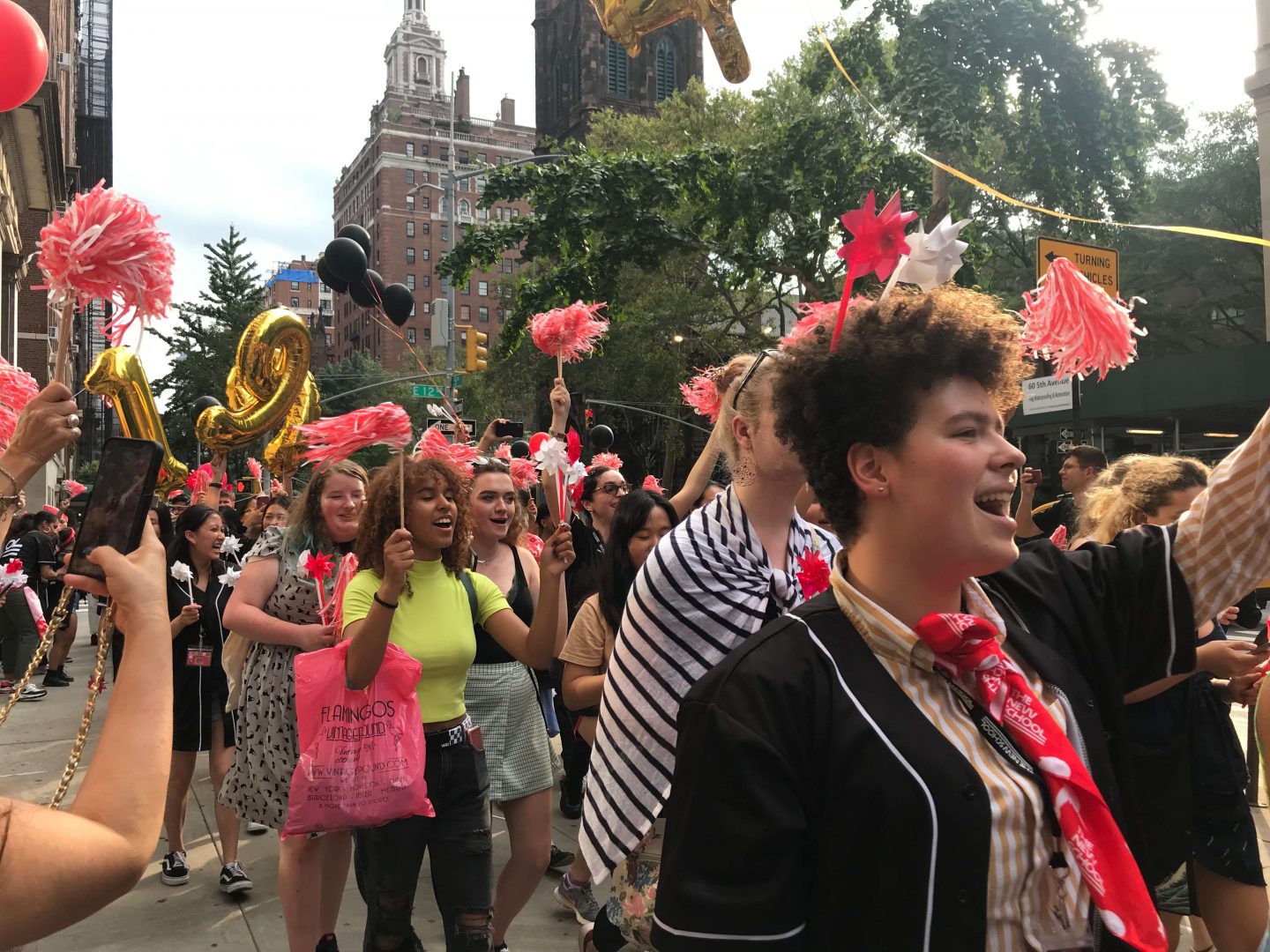 Orientation Introduces New Students to The New School
On Monday, August 19, nearly 1,900 people lined Fifth Avenue and marched from The New School's University Center to 66 West 12th Street in the annual Fifth Avenue Parade, marking the beginning of their lives as New School students. The parade is part of Orientation week, which introduces new undergraduate and graduate students, as well as their families and guardians, to everything awaiting them at The New School and in New York City.
The parade, held at the beginning of Orientation week, introduces new students to the idea of the city as campus. "Because we're in a city, we often hear that we don't really have a campus community, but that's not true," says Marissa Jackson, director of Orientation and Transition Programs. "The parade, in addition to being lots of fun, gives us a chance to make the outline of our campus more visible." A new tradition – this is the second year of the parade – it brings families, current students, faculty, and staff together to cheer on students as they begin their journey at The New School.
During the rest of Orientation, new students attended practical workshops, like Dining Plan and Dining Dollars Overview, and sessions on more personal subjects, like A Day in the Life of a New Schooler and Building a Healthy Community, to receive a broad introduction to life at The New School. "Our students have to acclimate both to a new university and to a new city at the same time, and it can be disorienting. We use this week to ease their transition," Jackson says. "For students and families, this is their official introduction to The New School and the abundant resources we offer." Understanding that some families cannot make the trip to campus for Orientation, The New School shares new student information with them through the New School Families Facebook page and invites them to campus for Family Weekend, October 4-6, to gain insight to their student's experience, learn new ways to offer support, and create community among families.
Leading many of the program sessions were 50 student Orientation Leaders, undergraduate and graduate students representing all five schools of the university. Gustavo Serra, a PhD student in economics at The New School for Social Research, applied this year because "I wanted to help incoming students in this hard period which is the transition to college. I believe that having other students sharing their experience at The New School is very important to build a better community at the university." At this year's workshops, Orientation Leaders drew on their own experiences and spoke about what they wish they knew when they first arrived on campus. For instance, the leaders created a session focused on familiarizing students with New York City after noting their challenges as newcomers navigating the city.
The student leaders were selected through a rigorous application process, including two interviews, assessing their ability to serve as a resource for the incoming class. "We looked for students who were already in leadership roles or those who had strong potential," says Jackson. "We used two different interview processes. The first was a group interview to assess how they work with other students and their problem-solving skills. Later they met one-on-one with a student who participated in a previous year. The returning students know what will be expected of the Orientation leaders, so they have great insight that helps them assess if this person has the ability to provide information that will actually help other students."
Jackson adds, "Leading Orientation is also a transformative experience for the student leaders. Part of their training process was remembering how they found their place at The New School and how they are building the community that they want. Since this is the university's Centennial, this was a challenge to them to begin thinking about the legacy they plan to leave here, since, in a way, these students are the founders of our next 100 years."