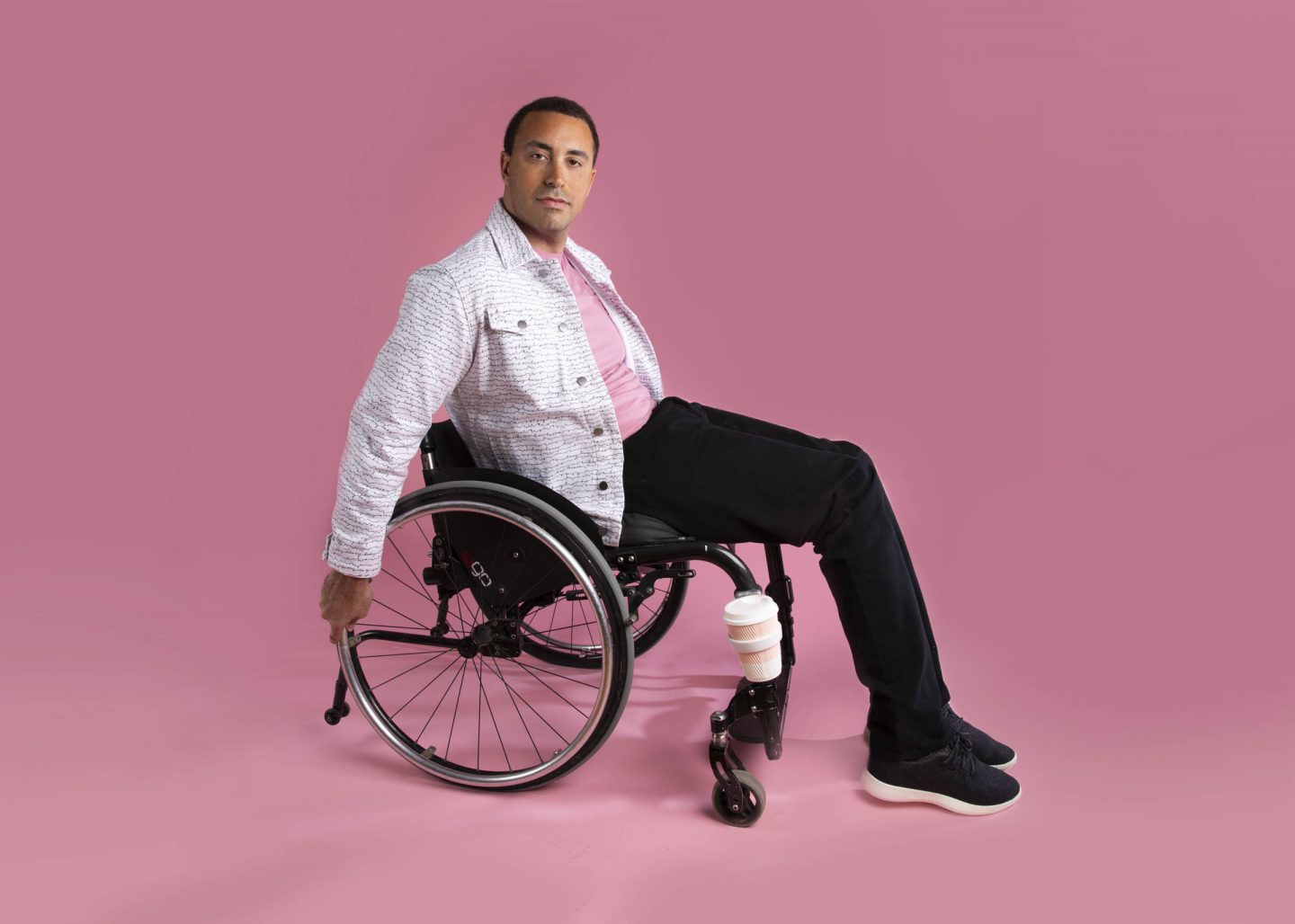 Parsons Alumni Launch FFORA, a New Brand for the Disabled Community
Close to 60 million people in the United States have a disability; more than 3 million use wheelchairs. In recent years, the fashion industry has made attempts to address the lack of fashionable and functional products for disabled people, a traditionally underserved community, with adaptive designs such as magnetic closures and easy-to-zip pieces.
Few brands focus on designing for people with disabilities, but with the recent launch of FFORA, Lucy Jones, Fashion Design '15, is hoping to change the way the industry sees the disabled community. The brand's first collection of products is a suite of wheelchair-attachable accessories, created after two years of research, development, and ample testing with people who use wheelchairs.
"For too long, the disabled community has had to "hack" or re-invent their belongings because of a lack of available product," says Jones, who serves as the founder and CEO. "FFORA's mission is to design a world that's accessible for all. We believe everyone deserves to see themselves reflected in the products they use every day."
Jones began working on what would become FFORA while she was a student in the School of Fashion at Parsons School of Design. There a professor challenged her to "one day design a solution that could change the world." Her thesis collection, 'Seated Design', clothing created primarily for people who use wheelchairs, won her the coveted Womenswear Designer of the Year award in 2015. Since then, she has exhibited at MoMA and the Museum of Art and Design and spent a year working for Eileen Fisher as a CFDA "Social Innovator."
"Typically brands and designers create products without thinking of all of their end customers," says Jones. "By starting FFORA, I wanted to create a brand that represented design with accessibility at the core. Our products are stylish and functional and allow our customers to truly express themselves."
FFORA's first collection includes the brand's proprietary Attachment System, a clamp and open dock that affixes to more than 170 models of manual wheelchairs. The dock allows users to slide a cup holder or a small leather bag into the Attachment System thanks to a magnetic pebble-shaped counterpart embedded into those designs. The product currently only works with manual wheelchairs, but FFORA is planning on expanding to other models of mobility devices.
The Essentials Suite, including a black leather bag, attachment system, and cupholder

The Attachment System
FFORA is a deeply collaborative effort with many people behind the scenes passionate about the way design can be used to solve pressing social problems—an approach that aligns with Parsons' mission. Jones works alongside Joonas Kyöstilä, MFA Industrial Design '17, two-time IDEA award winner and Head of Industrial Design at FFORA, and plans continue to develop products that will not only make life easier for people with disabilities, but products that can be utilized by able-bodied people too.
"I think products that are truly innovative and culture-changing can only be developed in interdisciplinary teams," says Kyöstilä. "Collaboration is not only about bringing skills together, but really about the conversations and debates that can only be fueled by different backgrounds and life experiences."
"I hope that FFORA can broaden people's minds and raise the bar in demonstrating how inventive a fashion and lifestyle brand can be," says Jones. "I want our products to spark creativity, motivate others, and help people recognize that by designing with disability first, many people will benefit."
Jones and Kyöstilä aren't the only Parsons alumni creating social change through design. Lisa Marks, MFA Industrial Design '17, was recently named a Lexus Design Award finalist for the three-dimensional lace bra she designed for breast cancer survivors. Angela Luna, Fashion Design '16, recently won the 2019 Elaine Gold CFDA Launchpad award for her brand, ADIFF, a sustainability-focused design label that employs displaced people.
Even though FFORA has just launched, the brand is hopeful about the future of inclusive design, and is confident that designers and brands will make accessibility and functionality for underserved communities central to their mission.
"We have more and more underserved communities, and I think a reason why many are hesitant to engage is that they think they need to develop products only for that specific customer group, which is fine, but there are often many parallels," says Kyöstilä. "Most people haven't considered that products for wheelchair users need to be stylish and expressive: we're trying to show that products don't need to look utilitarian and medical in order work well, and instead we want to present beauty and expression as functionalities too."