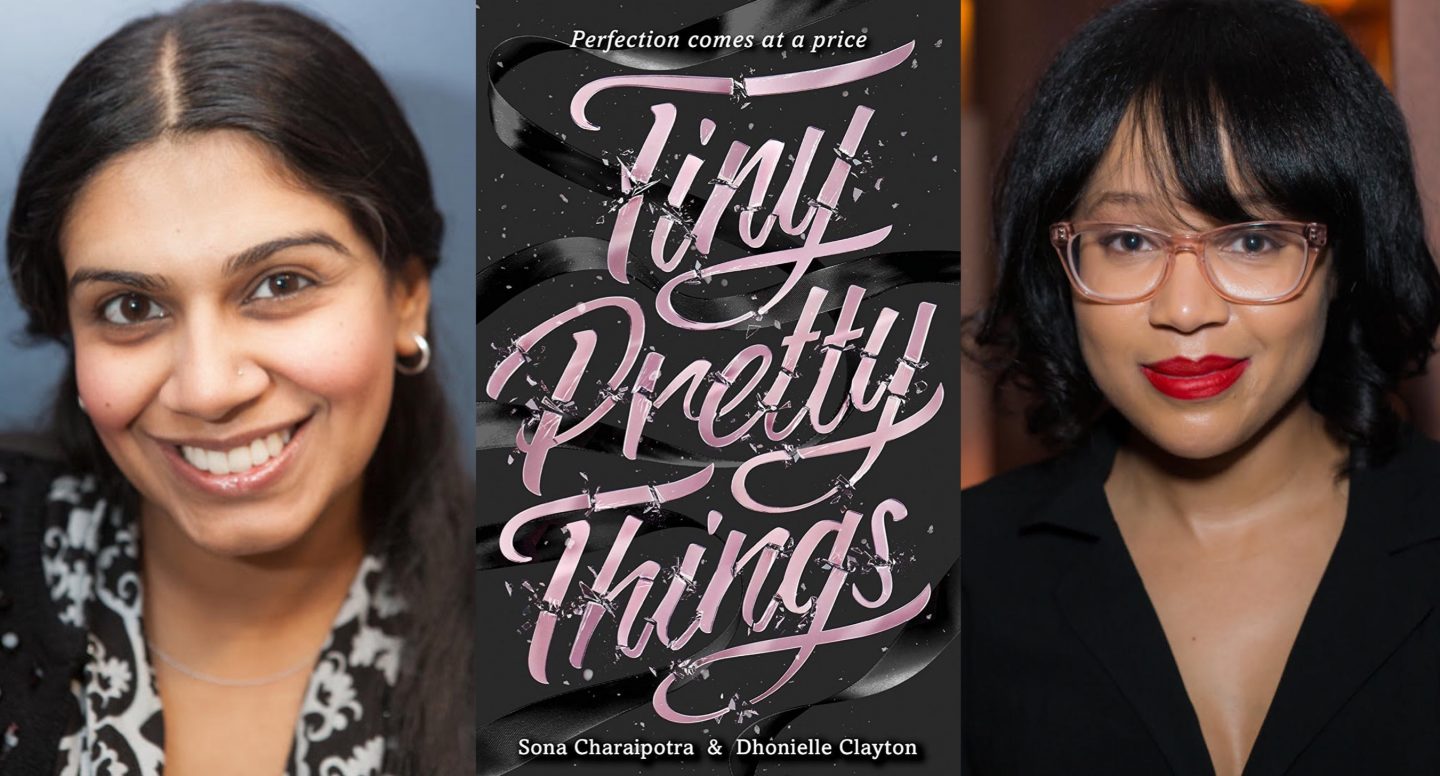 Alumni Sona Charaipotra, MFA Creative Writing '12, and Dhonielle Clayton's MFA Creative Writing '12, Co-Authored 'Tiny Pretty Things' Adapted to Netflix Series
Sona Charaipotra and Dhonielle Clayton, alumni of The New School's MFA Creative Writing Program, hit it off from the start. They met on the first day of a class on writing for children and young adults at The New School and ever since have worked side by side writing, publishing, and striving to make the literary world a more diverse and inclusive place. Through their numerous co-authored books for young adults and their literary development company, CAKE Literary, they've put the plans they made as students at The New School into action, and today the duo are seeing their work take an entirely new form.
Earlier this month, Netflix announced its plans to adapt Charaipotra and Clayton's young adult novel Tiny Pretty Things (HarperTeen, 2015) into a ten-episode hour-long drama series.
"It's been really exciting," Charaipotra says about the adaptation. "It's become such a long process to get anything off the ground adaptation-wise that we couldn't really take it seriously for a long time. Then Netflix told us, 'All right, we're going to shoot in Toronto, and here are some pictures of the cast.' When we heard that, it was like, wow, this is actually happening."
Described by the publisher as "Black Swan meets Pretty Little Liars," Tiny Pretty Things is a fast-moving, suspense-filled story about a diverse group of young dancers at an elite ballet academy. Filming for the series, to be released in 2020, is already underway.
"It's a translation of our work," Clayton says. "It's other brilliant minds taking something we created and translating it. It's similar to translating books into other languages; film and TV are also a language. So I'm excited. Our producer [Jordanna Fraiberg of Insurrection Media] is fabulous. She's a badass, and we're excited to see what she's done."
Charaipotra and Clayton began writing Tiny Pretty Things and its sequel, Shiny Broken Pieces (HarperTeen, 2016), as students in the Creative Writing Program.
"When we first met, Dhonielle told me that she had taught at a ballet conservatory and she wanted to do something with that world at some point," Charaipotra says. "I was excited because I was a dancer as a child. We began talking about writing something that's like Pretty Little Liars with the mystery element, but at a ballet academy, and we collaborated on that. That idea became Tiny Pretty Things."
Since then, the two have continued to find success through their collaboration. Their next book, Rumor Game, will be published in 2020. They also founded CAKE Literary, a book packaging company committed to presenting a range of voices in fiction for children, young adults, and women.
"I was seeing that so many kids didn't get the types of stories that they deserve," says Clayton, who worked as a librarian in Harlem while in the Creative Writing Program. "So we wanted to work with other content creators and get diverse books on the shelves."
Clayton is also the author of the New York Times bestselling young adult series The Belles (Freeform, 2018) and the COO of We Need Diverse Books, a nonprofit that advocates for change in the publishing industry while promoting literature that reflects the lives of all young people. Formerly a celebrity reporter at People magazine, Charaipotra published her first young adult novel, Symptoms of a Heartbreak (Imprint), this year. She is currently editor of the Barnes & Noble teen blog.
"We've always been on the same page," Clayton says about her relationship with Charaipotra. "We've always collaborated well because we're not precious about any of it. It's about the work and it's about the kids. We have a higher calling. Our work isn't about egos; it's all in the service of children."