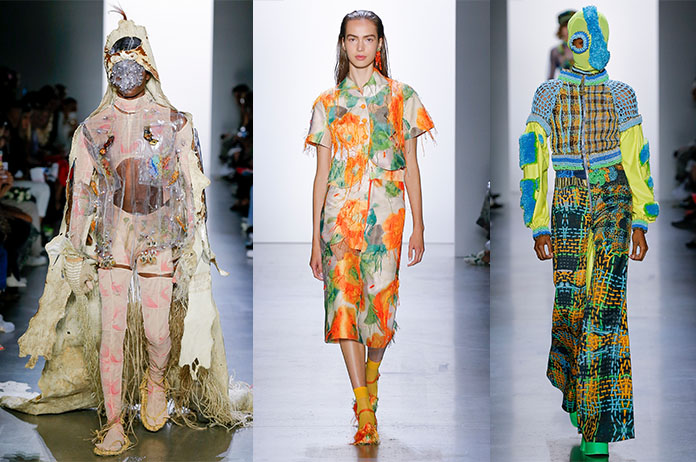 Parsons MFA Fashion Design and Society Designers Inspired by Memory, Identity, and Sustainability at NYFW Show
Almost every designer from the 2019 class of the MFA Fashion Design and Society program had a personal story that served as inspiration for their thesis collections, which debuted during New York Fashion Week on a runway at Spring Studios.
Some designers drew inspiration from family photographs and other heirlooms, while others used memories of places they used to live as the catalyst for their designs. The collections showcased the designers' commitment to juxtaposing materials, while also weaving in themes of sustainability, technology, and craft.
Below are looks from each designer's collection and a behind-the-scenes look into how they created their exciting pieces.
Aideen Gaynor, who designs under the label Bugs Garson, centers her work around her own identity through the narrative of memory in family, place, experience, and the material environment. Her thesis collection was inspired by letters of correspondence between her grandparents in 1948. Each letter is explored as an individual narrative which Gaynor has created through photographs, her grandparent's belongings, and her own personal connections with the people, places, and events that take place. The collection was created through surface manipulation, printed and painted textiles, and silhouette references, derivative of her grandparents clothing.
As a designer, Hualei Yu likes to explore themes of irony and humor by playing with literal themes in a complex way. Accessories such as a "hand" bag – a bag that is in the literal 3D shape of a hand – holds irony.
According to Yu, "my thesis collection is about "misunderstanding" based on examining the differences between language and words. For example, the word "jacket" can mean both a jacket as a garment and a jacket as an album cover."
Through screen printing, laser cutting and casting, Yu developed new and 3D textures and textiles that bring form to her designs. Yu aims to not only challenge the perception of things and bring a different point of view into the fashion design conversation, but to also provide moments of joy to the tedium of life.
Jue Liu's creative process relies heavily on playing with lines and forms to create soft curves, while also making irregularly shaped patterns to achieve the silhouettes she is looking for. She uses soft materials such as foam, lace, and stretchy mesh to build landscape-like organic forms, which break typical proportions, and make new spaces for the body to breathe.
"I always attempt to question and explore my own life for inspiration, so I create stories that reveal my present life and emotional experiences," she says.
For her thesis collection, she wanted to create a second body while forgetting about the original. The "cut-outs" in this collection represent the fear of accepting one's imperfections. Liu wants to explore how women can build confidence and self-satisfaction by challenging the wearer to push beyond their fear of what is acceptable dress in "normal" society.
Yong Guo brings a very personal story to his Imperfect Perfection thesis collection. Guo sees his mother as a perfectionist who was always very strict with herself as he was growing up. Five years ago, Guo's mother was diagnosed with breast cancer and underwent surgery to remove her left breast. This experience changed his mother's whole perspective on life.
Layering is a vital part of Yong's work that reflects his mother's wardrobe choices post-surgery. Illusion is at play through the layering of his unique textiles. Unusual surfaces and textures create volume. Patterns are inspired by personal memories of his mother's favorite colors and designs. Unexpected moments occur, leaving the viewer to ask "Where does one garment end and another begin?"
During the research process for her thesis collection, Ji Min Lee illustrated nude male bodies in order to express and visualize a woman's desire. Each look in the collection represents specific parts of the male form – one emphasizes the shape of a shoulder while another exposes the pelvis. The body suits feature Lee's hand drawings while pearl beadwork and crystal embellishments represent both a woman's desire and the beauty of the male body
"I want to express a woman's desire through exploring male bodies and how I see them," she says. "I come from a conservative Korean culture where a women's sexual desire is taboo and perceived as abnormal. A woman's sexual identity is hidden and secret. I took a life drawing class where I was able to study the male form and I began to feel the possibility of breaking free from the repressed sexual culture I have always known. I don't want to hide myself or my sexual desires anymore."
Designer Zille Huma is a Pakistani woman who moved to New York at 30 years old. "Navigating the clash of these two distinct cultures has massively shaped my understanding around sexuality, freedom and desire," she says. "Both cultures have left a lasting impression on me that I aim to translate through my thesis collection."
Huma's thesis collection was inspired by her childhood memories in Pakistan juxtaposed with three diverse women she met in New York. The designs explore differences and similarities around the concepts of freedom, sexuality, and desire.
Meredith Bullen's work builds on an examination of her own memories and explores how these can be abstracted and reinterpreted within a collection. Through her designs, she creates tensions in texture, form, coloration and subject matter. She visually translates this through textiles, embellishment and abstractly combined silhouettes of opposite style.
As a designer, her process engages with painting, collage, photography and textiles, challenging how inspiration can be perceived. Bullen aims to push authenticity and creativity to better understand her own personal narrative; engaging with the past to forge a new creative future.
Tara Babylon's thesis collection is a contemporary expression of their life living, working, and performing in five different cities. Baghdad, London, Sheffield, Manchester and New York City served as inspiration for moods, color palettes, textiles, and visual narratives. Safety pins reflect Sheffield, crochet is Baghdad, Mcdonald's and neon colors represent Manchester, sex and fetish are reflections from London while college varsity graphics represent New York City. Romanticism, hard glamour, streetwear and culture collide to create explosive looks that are curated, photographed and then collaged.
"I am an Arabian British fashion designer and performer," says Babylon. "Photography and collage is a large part of my design practice, which nurtures my fabrics and silhouettes. As a dancer my fabric choices always bear in mind the notion of movement. I would describe my aesthetic as craft couture with hard glamour. I design for unapologetic bodies and do not identify as gender specific."
Meg Calloway is an artist and designer who has long obsessed with craft and the act of making. She seeks to create work that gives life and form to her thoughts and emotions. Inspired by the expressive energy of artists, the imperfection of hand-craft, and the rebellion of subcultures, her work highlights alternative forms of making. Embracing an outsider status within fashion, she is uninhibited by traditional forms of construction. Her work is accretive and intuitive, seeking to subvert the precision of sartorial craft and explore the liminal space between art and fashion. This body of work is an interrogation of varied interests and practices; an exploration of rebellion and crafted identity; a manifestation of the artist's immersive process and world.
Evian Li is a womenswear knitwear designer from southern China whose identity has been shaped from memories and past experiences. For her thesis collection, knitting represents the base memory which is clear and unclear in parts, rubbings and screen prints represent the second layer of memories becoming slightly clearer, and finally, ceramics are the pure memory – solid and tangible, yet precious and fragile.
"I consider my memory as a huge soft sponge gaining depth and texture from everything I smell, touch and feel," says Li. "My current practice reflects how I document my memory and how everything I experience leaves a trace on me. I want to carry my memory with me and read it whenever I need to. Through texture, weight and the layering of contrasting materials I rebuild my multi-dimensional memory into unique garments."
Natalie Vladimiroff's work is driven by a focus on color and textiles, particularly embroidery, as a means of connecting with a family history of craft and making. Juxtaposition between the personal and the impersonal, the figurative and the abstract, and the loud and the quiet is all inherent in the pieces. Vladimiroff began her collection after looking at family heirlooms of photographs and embroideries from when she was a child to several generations ago.
"In looking at the heirlooms, I became aware of the disconnection I have with these objects; that it is a narrative I am part of but with limited memory and sincere feeling of attachment to," she says. "The heirlooms represent a history of handcraft and making in my family, which I am connected to but feel culturally disconnected from growing up Australian with a Russian family. My explorations became about acknowledging this disconnection and reinterpreting the history of my family heirlooms through an exploration of the juxtaposition between the valuable and the invaluable, the precious and the non-precious, and the personal and the impersonal."
Sho Konishi believes that fashion design is a tangible representation of human existence. His thesis collection, Garden of Eden, is a wearable archive of life and nature as material, and explores sustainability through the idea of "Urban Nature".
"Wearable life is not something a person thinks of or even speaks of very often, but the reality is almost everything we wear or use in some way previously had life," he says. "Plastic usage these days seems nearly unavoidable, and to a lot of people it is just a material to be used and thrown away. But plastic came from life as well and doesn't just go away. Once made, it is here forever. Combining plastic and nature in my collection is a way of showing respect to these things not just as materials."