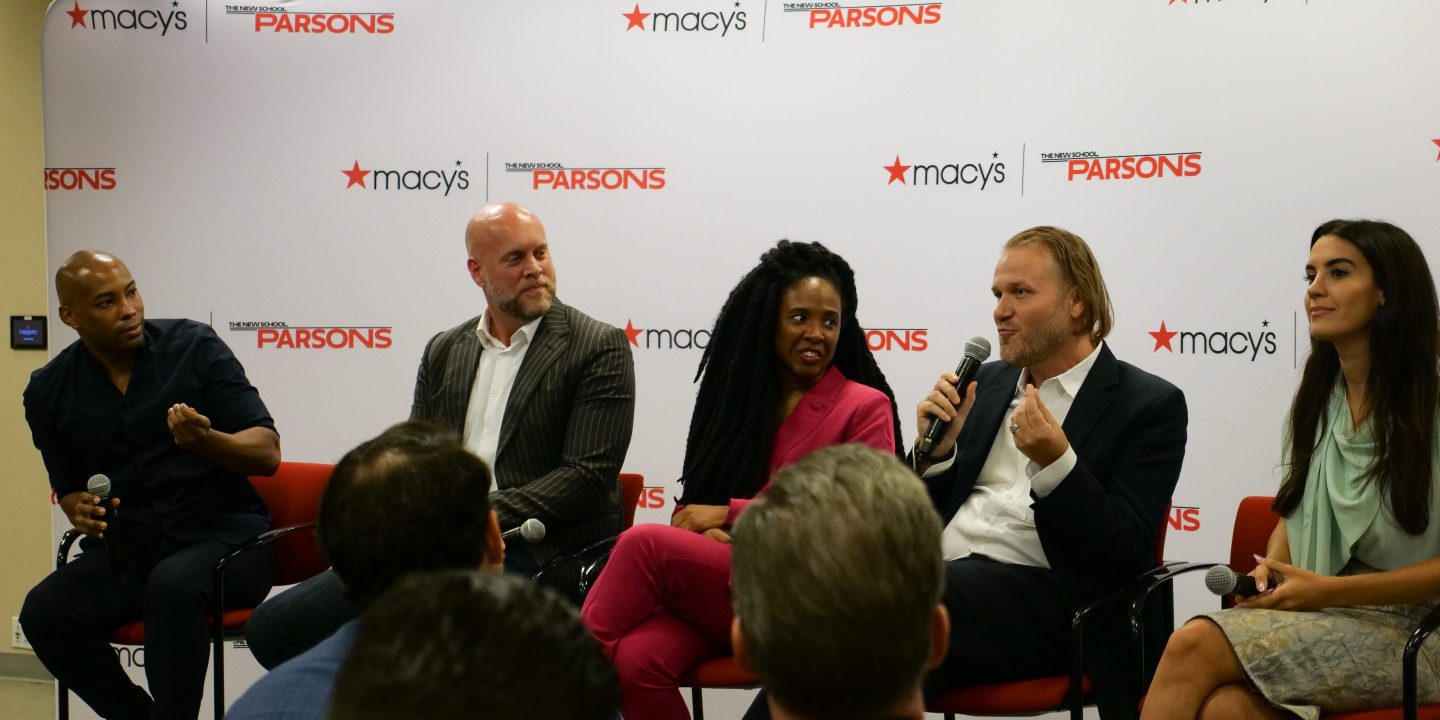 Parsons School of Design and Macy's Partner for New Executive Education Courses
Throughout the past decade, the average fashion consumer has evolved at a rapid pace, upending traditional notions of retail, while allowing new pathways to flourish. Few brands know this better than Macy's, one of the nation's largest and most iconic omni-channel retail brands.
Now, Macy's and Parsons School of Design are launching a custom executive education program for Macy's employees within the curriculum of the Macy's Fashion Academy. Part of The New School's Corporate Partnerships Initiative, and led by Parsons' acclaimed faculty, the multi-faceted program is designed for a changing retail landscape and will offer innovative, discipline-based curricula to provide Macy's merchants and designers with new skills, knowledge, and methodologies. 
To kick-off the new partnership, Macy's and Parsons hosted a panel discussion that explored the re-evolution of today's fashion consumer, which touched on everything from the power of social media, how shoppers view authenticity, and more.
Christopher Lacy, an Assistant Professor at Parsons, moderated the discussion, which included Kevin Thompson, Chief Marketing Officer of Sotheby's International, Natalie Zfat, a social media consultant, Sabrina Lynch, Head of Culture at marketing firm Exposure, and Joshua Williams, an Assistant Professor at Parsons.
Speaking about the power of social media, Williams noted that "People feel empowered to put their voice out there through social media. The topic of sustainability used to be more niche, but now it's part of every conversation. There's power in aggregation."
As the discussion moved into what customers expect from brands, the panelists all agreed that people want authenticity and transparency.
"Transparency is a big buzzword right now," said Williams. "Brands are starting to realize they don't have it all figured out. Consumers don't expect perfection, they just want real."
"There's an ambition to be accountable," said Lynch. "People want to see the actions behind the promises."
The panelists also shared their thoughts on social media, and why they believe it can be an incredible tool for retail businesses. 
"Social media is a free focus group, because that's where the customer says what they think," said Zfat. "Reverse engineer a problem so you're not responding to it once it's an issue. Ask the consumer their thoughts."
Lacy ended the discussion by reminding the audience that consumers crave experiences and activities that are not solely driven by technology.
"We've missed the boat on how nice it is for people to connect," said Lacy. "Let's go back to making things tactile."