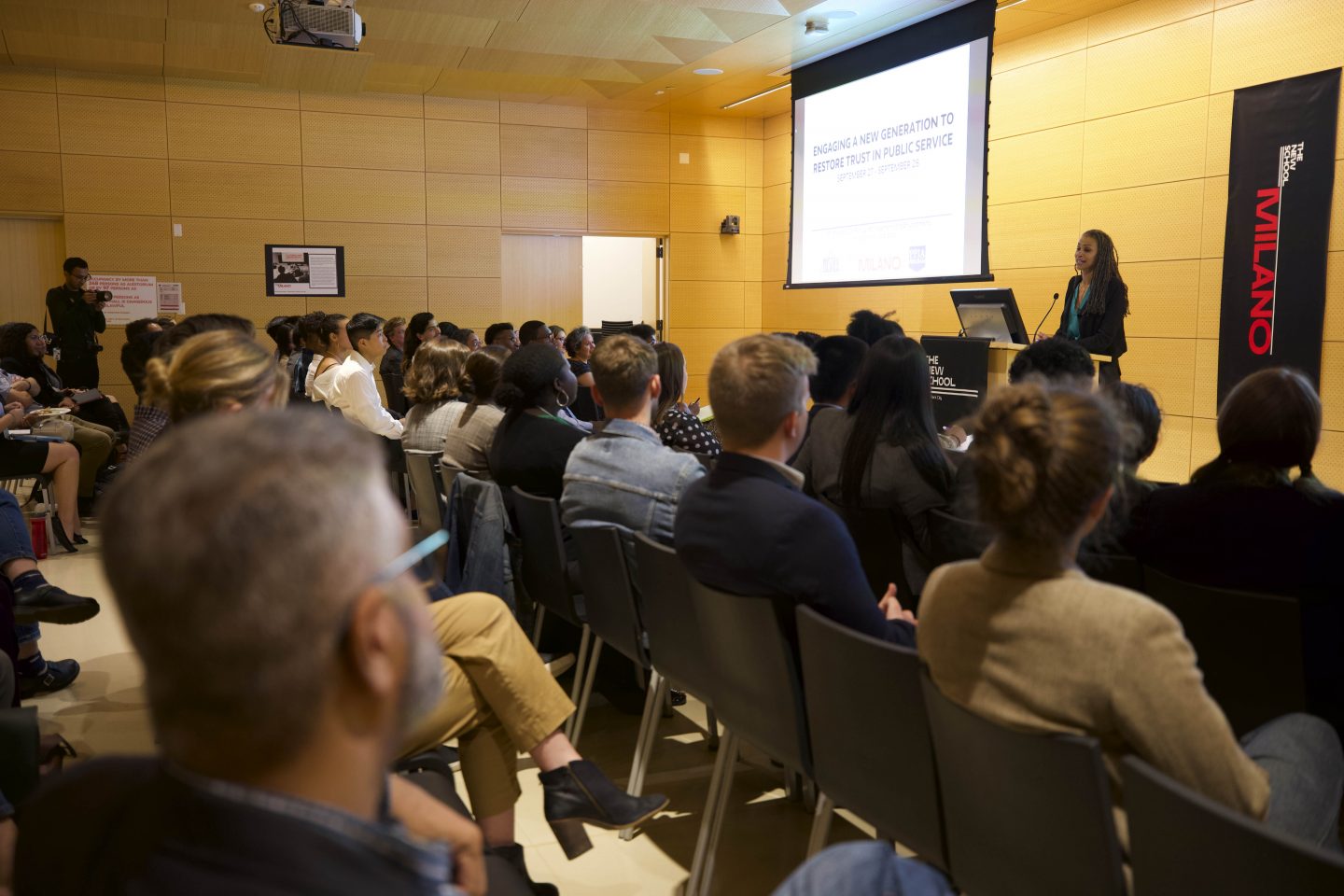 Milano School Inspires a New Generation of Public Servants
Just days after national news broke that a White House staffer made use of whistleblower protections to raise concerns about U.S. President Donald Trump's dealings with Ukranian leader Volodymyr Zelensky, the Milano School of Policy, Management, and Environment hosted a national convening of students interested in careers in public service.
The Milano School hosted its first-ever Public Service Weekend in partnership with the Public Policy and International Affairs Program (PPIA) and the Network of Schools of Public Policy, Affairs and Administration (NASPAA). Focusing on the theme "Engaging a New Generation to Restore Trust in Public Service," the two-day conference provided thirty-two undergraduates and recent graduates from universities across the metropolitan area and beyond the opportunity to learn more about the career field.
At a time when trusted public servants are needed perhaps more than ever before, Milano, PPIA, and NASPAA came together with the common goal of inspiring rising public servants to use their diverse backgrounds and perspectives as they work towards becoming community leaders.
Maya Wiley, who in addition to her position as a University Professor at The New School is a Legal Analyst for NBC and MSNBC, gave the conference's keynote address. In the politically tumultuous days leading up to her speech, Wiley tweeted: "I didn't know it when I signed on for this talk, but today it looks like the most important one I will deliver, no matter the audience size. #PublicService is a privilege that must be taken up with humility, commitment & integrity."
During her keynote address, Wiley spoke on the importance of people with a wide range of lived experience going into public service and how injustices can only be fixed by listening to those who understand the flaws in the system.
"In public service, what is right is what is right for the people that you serve," Wiley said during her keynote address before talking about her own experience in the U.S. Attorney's Office for the Southern District of New York. "I was not the attorney for my boss, but for the people. My ethical and legal obligation was to advise and represent them, but never beyond the bounds of the law."
Milano alumna Alexandria McBride opened the following day's sessions with a talk on the Activist-Bureaucrat, examining governmental activism. McBride, a 2016 graduate of Milano's Environmental Policy and Sustainability Management program, drew from her experience as Chief Resilience Officer for the City of Oakland, California, for her talk.
"Working in public service is the most fulfilling role I've had," McBride said. "I am excited for you, the next generation, to get to a new level of your career and advance the change you want to see."
Following McBride's talk, conference attendees had the opportunity to sit in on panels and take part in workshops with Milano faculty Charles Allison, Associate Professor of Professional Practice, and Rachel Meltzer, Associate Professor of Urban Policy and Chair of the MS Public and Urban Policy Program.
Along with McBride, a large majority of panelists and speakers throughout the day were alumni of the Milano school including Sarah Fajardo (MS in Policy '13), Policy Director for the ACLU-NJ; Nicole Lau (MS in Policy '18), Assistant Vice President at Citi Community Development; Jeff Lindor (MS in Policy '15), Founder and CEO of The Gentlemen's Factory; and Davis Winslow (MS in Policy '15), Senior Economist in the New York City Council's Finance Division, among others.
From serving with grassroots nonprofit organizations, to working in community development finance and small business growth, the advice from Milano alumni touched on numerous areas of Public Service.
"The Milano School was excited for the opportunity to partner with PPIA," John Clinton, Interim Dean of the Milano School, said. "This fall, as The New School celebrates its Centennial anniversary, we are frequently reminded of issues 100 years ago that compelled bold, breakaway thinkers and doers to establish a 'new school.' One goal was to prepare individuals seeking public service solutions to societal issues. The New School was happy to welcome these students who who—today— see a vital role for public service to address inequality, climate change, racial disparities, and other urgent issues."