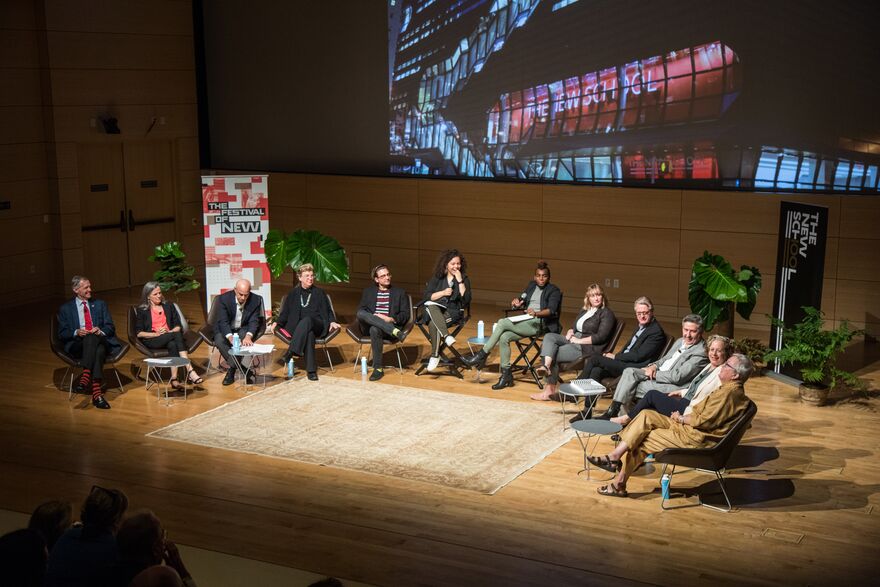 The New School Celebrated its Centennial in Historic Fashion
Turning 100 years old is a milestone worth celebrating, so to honor its iconic legacy, The New School created the week-long Festival of New to do just that. The Festival of New marked a century of groundbreaking scholarship, bold creativity, and world-changing ideas with events ranging from a multi-artist/multi-genre concert in Union Square to a one-of-a-kind performance and discussion on Ellis Island and an all-night experience that merged philosophy and music. The Festival of New brought The New School's rich academic and cultural offerings together with the changemakers who are shaping the century ahead.
Festival of New
Leadership from throughout The New School kicked off the festivities for Festival of New. During the lighthearted discussion, which was moderated by School of Drama students, President David Van Zandt, Eugene Lang Dean Stephanie Browner, NSSR Dean Will Milberg, SPE Executive Dean Mary Watson, Provost Tim Marshall, CoPA Executive Dean Richard Kessler, Parsons Executive Dean Rachel Schreiber, and Open Campus Dean Helen Wussow shared their favorite memories of The New School, famous faculty or alumni they'd like to share a meal with, and more.
Martha Graham and Modernism: Trauma, Interdiction, and Agency in "The House of Pelvic Truth"
This performance examines the physical and emotional trauma in Martha Graham's 1947 Night Journey with movement from the original dance reshuffled, re-presented, and accompanied by spoken commentary. What does it mean to create work that exposes the body's discord? To give form to psychic trauma through the wordless language of the body? Can it make us see, feel, even do what we might not otherwise? Performed by Taryn Griggs, Carol Ockman, and Netta Yerushalmy with text by Carol Ockman.
Morgan Saint, Illustration '16, performed during The New School's concert in Union Square

Jillian Hervey, The Arts '11, performed during The New School's concert in Union Square
James Francies, Jazz '17, performed with his trio during The New School's concert in Union Square
The Union Square concert featured some of The New School's most heralded and relevant performers to date, including pop artists Lion Babe (with Jillian Hervey, The Arts '11), singer Morgan Saint, Illustration '16, and pianist/composer James Francies, Jazz '17. DJs Marco Weibel '17 and Dion Anike McKenzie (TYPGAPAW) '06 of The Lot Radio, created by Francios Vaxelaire '13, also performed. Warm-up dance lead by Viva Soudan '08 of Haus of Sweat.
Derek Lam, Fashion Design '90, and Emily Bode, BA Philosophy '13/Fashion Design '13, were interviewed by Fern Mallis about the past, present, and future of fashion
Rachel Schreiber, Executive Dean of Parsons, moderated a panel discussion about equity and access in higher education
College tuition has risen at more than double the rate of inflation over the last 20 years, and student debt is disproportionately burdened by low-income students, first-generation college students, students with disabilities, and students of color. The equity and access panel discussion addressed the ethical issues facing higher education in relation to issues of access and student debt. Panelists included Alan Collinge, founder of Student Loan Justice, Sugeni Pérez-Sadler, Senior Director of Postsecondary Policy Office of Safety and Youth Development, Nick Figueroa, Executive Director of College Visions, and Nadia Williams, Assistant Professor of Diversity and Inclusion and Director of the Parsons Scholars Program.
The discussion explored how the structures of higher education may contribute to and reproduce systemic inequalities, addressed some of the ways educators are resisting the status quo in creative ways, and proposed new paths forward to ensure more equitable access and support for students.
Black Lunch Table Wikipedia Edit-a-thon

Zine-Making in The New School Archives
Kay Unger, Fashion Design '68, and Donna Karan, Fashion Design '87, spoke with Michelle Lee, editor-in-chief of Allure, about reinventing themselves and their careers throughout their long histories in fashion.
A founding member of the Congressional Black Caucus, former Congressman Charles Rangel made history as the first African American member of Congress to lead the powerful Ways and Means Committee. He participated in the second of the Selma-to-Montgomery marches in 1965, which he discussed with Parsons faculty member Judith Michelle Hill, in addition to other topics.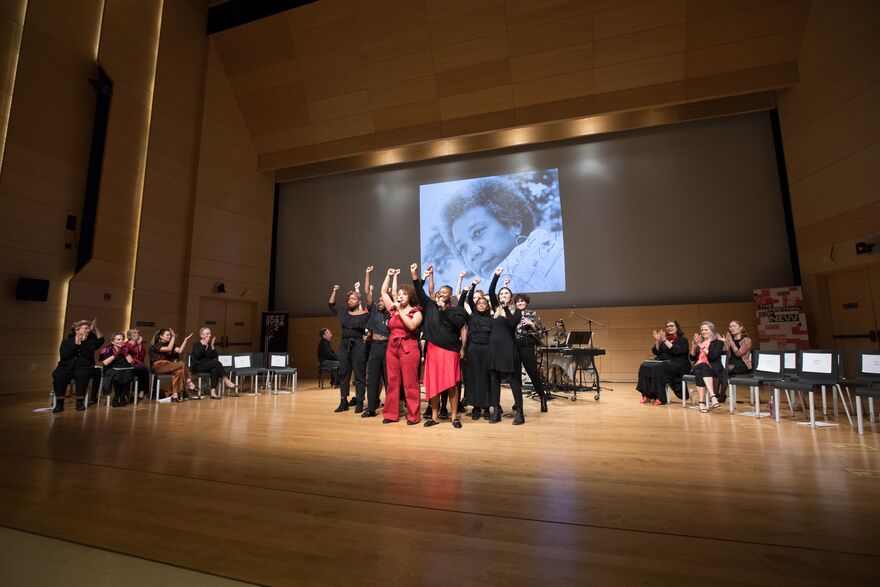 The Women's Legacy Project: A Celebration! in Tishman Auditorium which sought to "uncover, recover, and bring back to life the voices of women who have been silenced for so long." Collaboratively created by Ellen Freeberg, Elena Gleed, Stefania de Kenessey, Cecilia Rubino, Gina Luria Walker, and Savanna Washington, the performance brought together students, faculty and staff from across the university to tell the stories of many of the astounding women who contributed to the development of The New School.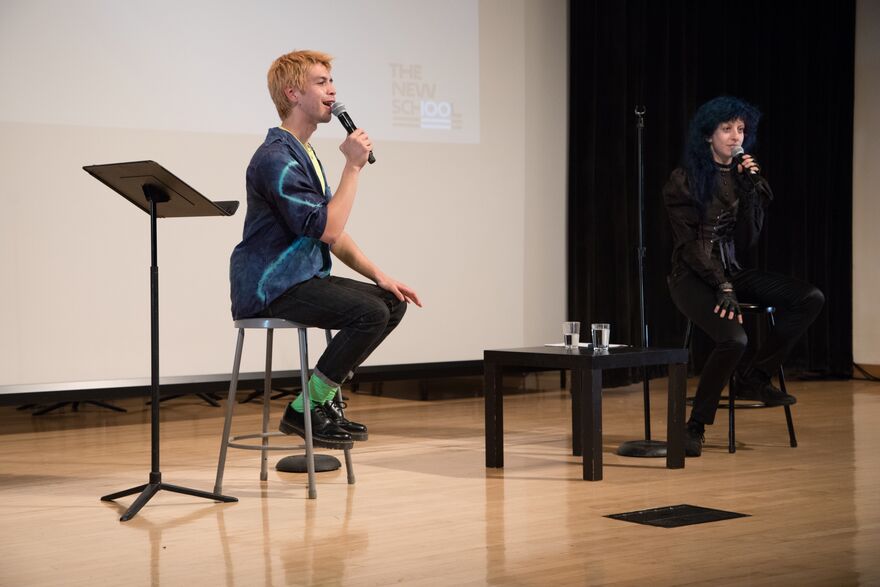 The New School Comedy Special, one of the final events on Sunday, ended the Festival in the university's first permanent home at 66 West 12th Street. Featuring performances by Julio Torres, Literary Studies '11, and Spike Einbinder, Literary Studies '13, the two delighted the audience with their avant-guard style and remembrances of classes like "Old Weird America."