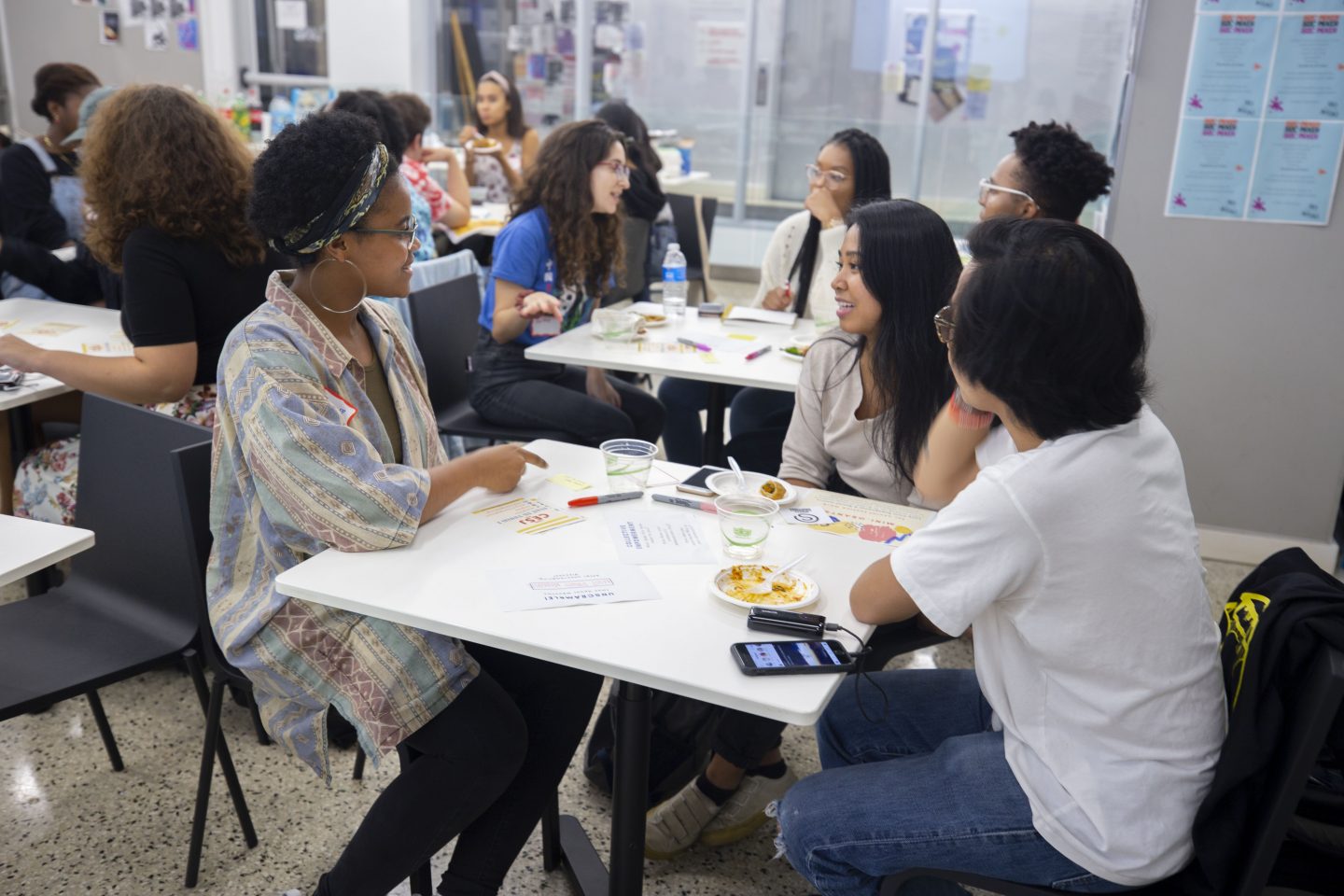 Centering Social Justice and Civic Engagement in a Liberal Arts Education
Two events held in the first week of November — Conversations on Conflict Photography and a screening of The Infiltrators — brought the issues of humanitarian crisis, war coverage, and migration to the conversation at The New School. The Office of Civic Engagement and Social Justice (CESJ) at Eugene Lang College of Liberal Arts works behind the scenes to bring programs like these to the New School community, providing support and a framework for campus discussion of these critical issues.
Working across departments at Eugene Lang, CESJ creates opportunities for Lang students and others at The New School to connect academic work with a passion for social justice issues. Led by CESJ director Natalie Gross and assistant director Natasha Rivera and staffed by five student workers, the office supports initiatives to build community — at Lang, in the New School community, and with New York organizations — and foster social justice.
"Our work is designed to help keep social justice at the center of Eugene Lang College," says Gross. "We look at how we can bridge academic theory with practical application and try to fill in gaps of understanding. We want students to learn ways to create change, start building community where they are, and develop the skills to organize and build coalitions."
One of CESJ's responsibilities is to provide overarching training, support, and programming to promote equity, diversity, and inclusion. To accomplish this, the office offers workshops, event planning, curriculum support, and funding to ensure that these values are incorporated in every aspect of education at Lang. Summer fellowship grants and year-round mini-grants provide financial resources for activist initiatives and research projects committed to social justice values, practice, and scholarship. The Jeff Gural Academic Achievement and Opportunity Scholars Program offers four-year need-based scholarships to students interested in developing as social justice scholars and activists.
CESJ recently launched a new initiative, Lunch and Learn, designed to connect the university with civic engagement programs in New York City and highlight justice-centered work happening throughout the city. At brown-bag lunch sessions, representatives from the Mayor's Office of Immigrant Affairs, the RiseOut Action Team from the Lesbian, Gay, Bisexual & Transgender Community Center, and the Bronx-based Peace Poets come together for discussions on how students can connect with activist work. While CESJ's main priority is Lang, the Lunch and Learn sessions are open to the New School community.
"When looking at our programming, we realized that while the social justice piece is very well developed, the civic engagement part has yet to reach its full potential," says Gross. "These lunch sessions are a chance to highlight the people at organizations doing justice-centered work and give students a way to connect with them. We're able to expand our students' network and give them an entry point into New York City to make the city feel a little smaller and more like a community."
At Eugene Lang, social justice is considered to be the ethical core of a liberal arts education. "There are classes that teach students about the history of social movements, and our programs teach skills like how to be an effective organizer. Linking the two connects their academic studies with their lived experience, creating a space where we can learn to move towards creating a more just society."