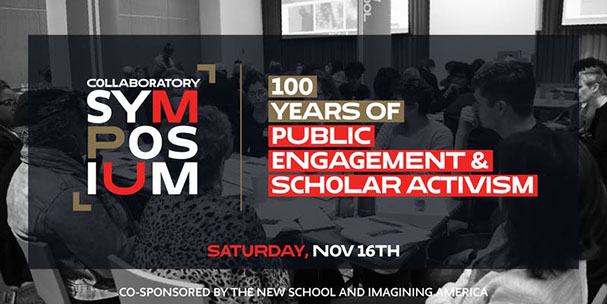 Collaboratory Centennial Symposium: 100 Years of Scholar Activism
At a time of growing social and political divide in the United States and around the world, The New School Collaboratory is working to bring people together. Homed within the Schools of Public Engagement, the Collaboratory is a university-wide initiative whose goal is to create and support a dynamic community of scholars and activists interested in public, socially-engaged, collaborative, and transdisciplinary learning and scholarship. Building off of this mission, the Collaboratory is excited to announce its second annual symposium. 

The Collaboratory Centennial Symposium: 100 Years of Scholar Activism will both celebrate and critically reflect on The New School's 100-year commitment to scholar activism and public engagement. The symposium is co-sponsored with Imagining America and will take place on Saturday, November 16, 2019, at The New School's Theresa Lang Community and Student Center.

"Collaboratory symposia are an exciting and all-too-rare opportunity to discuss best practices for community-engaged research and practice with those who have deep, long-standing commitments to creating a more just and sustainable world," said Mary Watson, Executive Dean of the Schools of Public Engagement. "During this Centennial year, as The New School is pausing to consider what being 'new' has meant for the past 100 years, what being 'new' means to us now, and what 'new' will look like 100 years from now, this symposium will provide us the opportunity to engage in thoughtful conversations and peer exchanges, while also challenging one another to create a more resilient and equitable society through our work."

Highlights of the event include a panel discussion and roundtable discussions on a variety of subjects related to scholar activism across many fields and disciplines featuring faculty from diverse universities, leaders from community, civic and cultural organizations, students and alumni.

While tickets to the Collaboratory Centennial Symposium are free, an RSVP is highly encouraged as spaces are filling up fast. To learn more about the symposium program and to secure your spot, please click here.

You can learn more about The New School Collaboratory here, or, to learn more about a range of socially engaged research, teaching, and practice across The New School, visit the Collaboratory's Digital Knowledge Hub here.