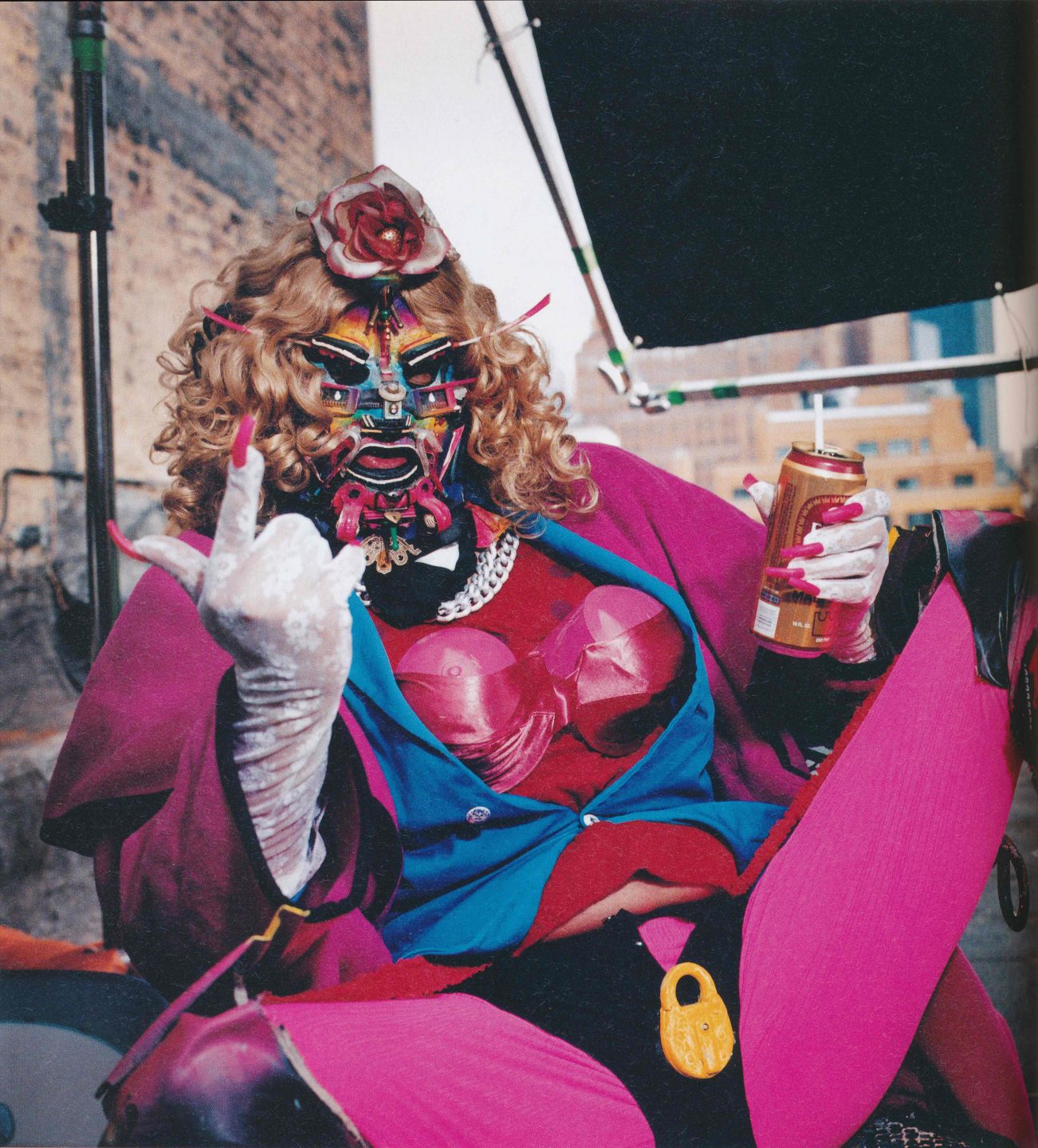 Parsons Exhibit Explores Performance, Experimental Fashion, and Identity
Most people think fashion is simply about the clothing they wear. And while they're not wrong, a new exhibit in the Sheila Johnson Design Center—"Otherworldly: Performance, Costume and Difference"—makes it clear that fashion is an interdisciplinary subject, and can be used to explore ideas of performance, identity, and more.
Francesca Granata, Associate Professor of Fashion Studies in the School of Art and Design History and Theory at Parsons, who co-curated the new exhibit alongside Charlene K Lau, Curatorial Fellow at Performa, is an expert in the ways performance art and experimental fashion converge to create non-normative bodies and subjects. The new exhibit, which is part of the Performa Biennial, highlights three artists who investigate identity and space through their work. They construct their own worlds whereby they can realize and negotiate non-normative identities and perform Otherness. In this sense, "world-making" is political and presents alternatives and possibilities for new utopias.
Installation shot of the exhibition
Narcissister, a performance artist of African-American and Jewish descent, explores culturally and racially hybrid identities through the use of masks and elaborate costumes. Machine Dazzle, whose work encompasses design, performance, dance and music, enacts a theatricalization of life. Rammellzee, a hip-hop artist who created a personal universe consisting of characters known as "Garbage Gods," uses the personas in order to articulate multiple identities through drag and cross-cultural cosplay creations.
Machine Dazzle, "One Basket"

Machine Dazzle, "American the Beautiful"

Machine Dazzle "Libertine"
"All three artists in the exhibition explore the way in which fashion and performance can be used to create alternative worlds," says Francesca Granata, co-curator of the exhibit. "They open up spaces for otherness through the act of masking and dressing up."

These New York-based artists work and have worked at the convergence of disciplines, giving birth to new personas through the act of extreme self-fashioning, masking, and renaming themselves. The alternative worlds they have created collapse the division between performance and performativity, art and life, real and make-believe. Their work plays off the Romantic notion of the Gesamtkunstwerk (total work of art), in which disciplinary borders between fashion, art, performance, theater, dance and music merge to generate a unitary work. Such collaboration is a visual manifestation of politically- and socially-engaged practice, where difference—whether cultural, racial, gender, sexual or otherwise—is upheld.
Narcissister, Masks from "Forever Young" Video, 2016

Narcissister, Suitcase from "Forever Young" Video, 2016
L-R: Keetja Allard, RAMMΣLLZΣΣ as "Crux the Monk," "Vocal Wells God," and "Vain," 2002
"I think the exhibition speaks to topical ideas of dress and performance as visual manifestations of politically and socially-engaged practice, where differences—whether cultural, racial, gender, sexual or otherwise—are upheld," said Granata. "We hope the audience will grasp the ways in which the artists' creation of new personas, the act of extreme self-fashioning, and masking on and off the stage allows for the creation of alternative worlds where division between disciplines but also between art and life take place."
The curators of "Otherworldly: Performance, Costume and Difference" will be discussing the exhibit with Narcissister on Friday December 13th, 6:00-7:30pm in The Bark Room, at 66 Fifth Avenue.

Machine Dazzle, "American the Beautiful"

Machine Dazzle, "One Basket"

Machine Dazzle "Libertine"