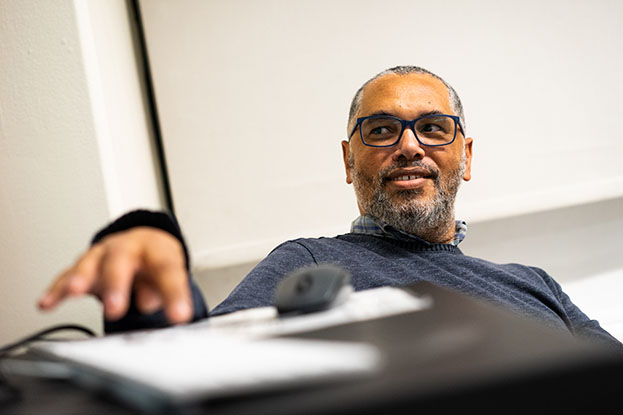 New School Professor Sean Jacobs Awarded Shuttleworth Fellowship
Ten years ago, Sean Jacobs, associate professor of international affairs at the Julien J. Studley Graduate Programs in International Affairs, set out to create a platform that elevated underrepresented voices in African politics, culture, and society. The idea was to create a space that challenged the way western mainstream media depicts Africa by providing counter-cultural and left perspectives on issues pertaining to the continent. While the project, Africa Is A Country, has thrived despite little funding over the past decade, it now has the opportunity to grow even more.

Earlier this month, Jacobs was awarded a Shuttleworth Fellowship to continue and expand his work with Africa is a Country into an even more expansive digital platform. Founded in 2001, the Shuttleworth Fellowship provides funding to dynamic leaders and social innovators who are at the forefront of social change and use new concepts to help drive their communities forward. Jacobs' one-year fellowship comes to a total of $375,000.

"For ten years we have been running Africa Is a Country without any money other than a few small grants here and there," Jacobs said. "It's kind of a shock to get the fellowship—we can start putting some of our ideas into practice right away."

According to the Shuttleworth Foundation, Jacobs' fellowship will focus on "expanding Africa Is a Country's reach, using open licensing to get important, accurate, and authentic stories out into the world." Africa Is a Country currently features online commentary, original writing, media criticism, videos, audio, and photography, and has become one of the leading intellectual voices in the African online media sphere.

"There's no one with more potential when it comes to impacting cultural discourse about Africa through open source knowledge creation," Mary Watson, Executive Dean of the Schools of Public Engagement said about Jacobs. "As a media and international policy expert who lives fluidly in mediated spaces, Jacobs has insights into emergent digital culture that shaped his conception of this platform. I'm looking forward to following him as he uses this Shuttleworth Fellowship to take Africa is a Country to the next level."

Along with the Shuttleworth Foundation, Africa is a Country has also received grants from the Ford Foundation and the Open Society Foundation. Along with his work as a faculty member in the International Affairs program at The New School, which allows students to concentrate on media and culture, Jacobs is also a journalist and political researcher.
"I look at the other fellows and I see they are about free information, freeing patents, or working on democracy. They do good work." Jacobs continued. "I've been very interested in what the Shuttleworth Foundation is doing and am delighted to be involved."
Learn more about his work with the Shuttleworth Foundation here.