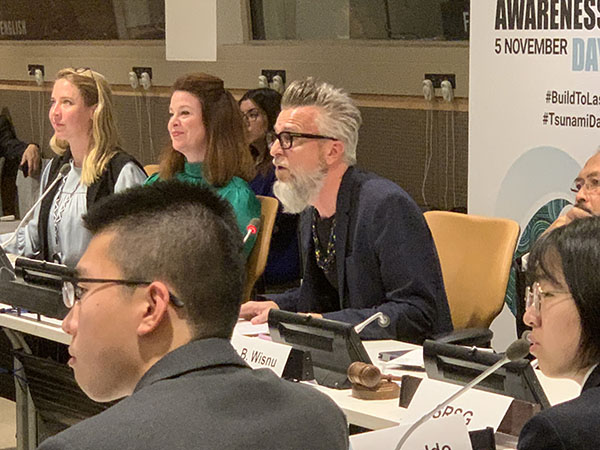 Parsons School of Constructed Environments Dean Robert Kirkbride Discusses the University's Disaster Preparedness Efforts at The United Nations
On November 5th, Robert Kirkbride, the dean of Parsons' School of Constructed Environments (SCE) and Professor of Architecture and Product Design, participated in a special panel held at the United Nations entitled Art and Disaster, as part of the World Tsunami Awareness Day events and coordinated by the UN Office for Disaster Risk Reduction. (UNDRR)
Kirkbride was invited to share Parsons SCE's extensive, cross-school efforts around disaster preparedness over the past three years.
"In our current world, design profoundly impacts every aspect of our lives, for worse and for better. t is therefore integral to helping us adapt our behaviors and better prepare ourselves and our communities for the inherent risks in our uncertain future," Kirkbride told an audience that included Tijjani Muhammad-Bande, the president of the general assembly, who made opening remarks.

Kirkbride described how lessons for "complex coexistence in the 21st century" emerged during a three-year collaboration among Parsons SCE, The New School's Zolberg Institute on Migration and Mobility, and the Japan Foundation's Center for Global Partnership.
In Fall 2018, SCE presented Disaster Preparedness in the Constructed Environment, an exhibition in Aronson Gallery featuring student projects that came about through public lectures, studio intensives, and critiques. That installation coincided with the first North American presentation of the Earth Manual Project: This Could Save Your Life, a traveling exhibition curated by Hirokazu Nagata and co-hosted by the Japan Foundation. The EMP showcases innovative ideas for disaster preparedness, response and relief conceived by leading designers from Japan, Indonesia, Thailand, and other countries where such cataclysmic events are frequent.
"I'm happy to say in January 2020, our Parsons student work will be absorbed into the homecoming exhibition of the Earth Manual Project, as it returns to the KIITO Design and Creative Center, in Kobe, Japan, on the 25th anniversary of Hanshin-Awaji Earthquake," Kirkbride said. "On a personal level, I was amazed how our students brought to the table their experiences of catastrophe, whether direct, or indirect, through their families, friends, and classmates."
Kirkbride also discussed new local and international collaborations that emerged from the Earth Manual Project. Currently, Parsons faculty and students in the First Year course, Sustainable Systems, are working with grade school children on projects focusing on water quality testing and ecological systems thinking at P.S. 147 in Brooklyn, a Kindergarten through Fifth Grade, Japanese-English bilingual elementary school.
Parsons is also developing a student and faculty exchange with Chiba University in Japan on disaster preparedness. Chiba's studio began in October 2019, and will transition to Parsons in January 2020, through a new interdisciplinary SCE Elective Studio where students will work with experts to consider global and local approaches to disaster preparedness.
"Disasters test our resilience and our humanity," Kirkbride said. "It is imperative that we prepare ourselves much better than we often do, drawing from all ages and demographics and tapping into our community knowledge networks, through art and design."