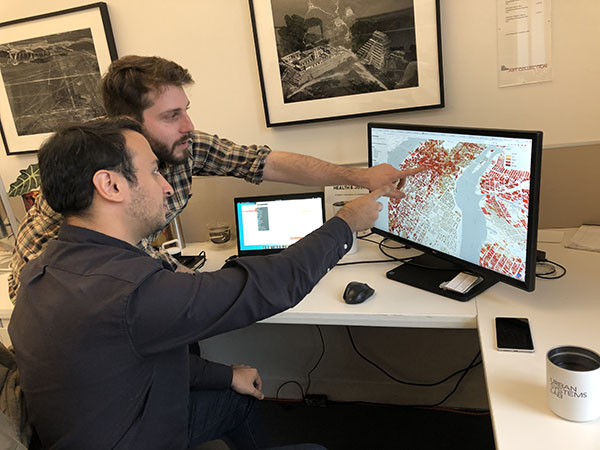 Urban Systems Lab Receives Three Major Grants That Will Expand Research Opportunities for Graduate Students
The Urban Systems Lab (USL) has received three major grants to promote research on sustainable urban systems and the sharing of knowledge on urban resilience with scientists, designers, and practitioners around the world. These awards will allow for new graduate fellowship opportunities and fund research in new areas.
"Federal and private grant funds are a critical source of support for faculty and student research at The New School," says Timon McPhearson, the director of the USL and an associate professor of urban ecology at the Schools of Public Engagement. "These new funds will support work on climate justice, resilience, and social equity and research both at the community and the city scales in multiple cities in the United States. The Urban Systems Lab will soon be announcing new faculty and graduate fellowships, opportunities partially supported by these new awards."
Nature-based Solutions for Urban Resilience in the Anthropocene Grant
The USL and Arizona State University were awarded a $2 million grant from the National Science Foundation to lead the Nature-based Solutions for Urban Resilience in the Anthropocene (NATURA) project. Anthropocene is broadly defined as the earth's most recent geological period, beginning when humans started to have a significant impact on the world's geology and ecosystems.
NATURA links 26 networks in Africa, the Asia-Pacific region, Europe, and North and Latin America, with the aim of building connections between the world's scholars and practitioners and promoting global urban sustainability in the face of the growing threat of extreme weather events. NATURA will serve as a platform for meetings, thematic working groups, and writing workshops and offer support to early-career researchers, postdoctoral scholars, and graduate students through learning exchanges with networks around the globe.
Climate Resilient and Equitable Water Systems Grant
The Kresge Foundation awarded the USL a Climate Resilient and Equitable Water Systems (CREWS) grant of $310,000 over two years. According to its website, CREWS consists of 24 nonprofits "working to advance equitable solutions to climate-related storm and flood impacts on low-income communities in U.S. cities."
The CREWS grant will enable the USL to work in partnership with municipalities across the United States on climate justice–related projects designed to develop green infrastructure for stormwater resilience.
Convergence Research Grant
The USL and partners at Arizona State University were awarded a National Science Foundation (NSF) Convergence Research grant of $3.6 million over five years.
Initiated in 2016, the NSF's Convergence Research program is designed to address "complex problems focusing on societal needs" and develop "novel frameworks to catalyze scientific discovery and innovation." A five-year interdisciplinary initiative, the program is aimed at creating and refining an urban resilience conceptual framework for the emerging field of convergent urban systems science and enabling cities to develop integrated strategies for building resilience in the face of extreme events. Participating cities include Atlanta, New York, and Phoenix, and San Juan, Puerto Rico.