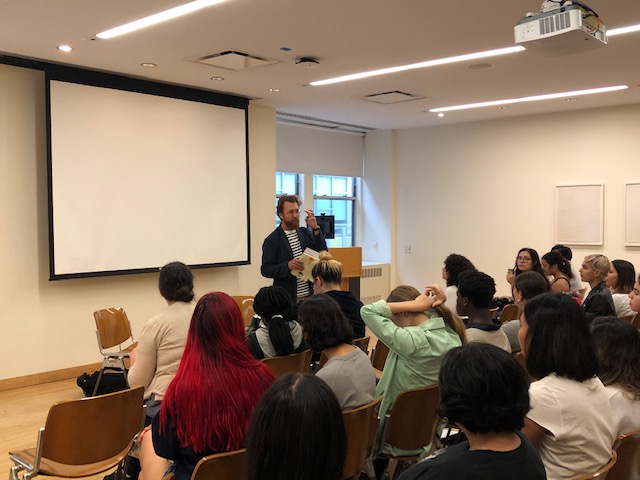 Craft-Lesson Lunch Series Adds Food and Friendship to Writing Instruction
On Tuesday, December 3, New School students, faculty, and staff gathered in the Klein Conference Room to discuss notebooks: how we use notebooks, the types we like, and what we write in them. Led by Eugene Lang College faculty member A.W. Strouse, this meeting was the last session in the Craft-Lesson Lunch Series, a weekly series launched in spring 2017 that enabled the New School community to absorb lessons on writing while eating lunch.
Organized by Scott Korb, an assistant professor and the director of First-Year Writing at Lang, the lunch series added a twist to the foundational writing lessons taught in the classroom. "The New School emphasizes writing as a form of communication we all need to understand," says Korb. "The workshops are a place for us to examine the craft of writing and also the crafts of reading and comprehension." While the program was hosted by the First-Year Writing program, the lunch sessions were designed for people across The New School. "This series is a place for the university community to spend an hour together for a single purpose on something we all value, regardless of whether you're a student, faculty member, or staff member or are part of Parsons, NSSR, SPE, CoPA, or Lang," said Korb.
The series included weekly discussions on topics like "Words, Sentences, Meaning," "How a Paragraph Can Work," "Image and Imagination," and "Who Am 'I' in My Essay?" Korb created a list of topics for the series, and faculty selected a subject and developed a lesson exploring it. "Occasionally the subject does get tweaked," Korb says. "For example, 'Image and Imagination' was changed to 'Image and Representation,'" a discussion on prominent Black film and TV creators.
Leading the session on notebooks was exciting for Strouse, as it provided the opportunity to discuss a key step in the writing process and a chance for him to share a vital but fairly hidden dimension of himself. Strouse says "When I was growing up as a queer art kid in rural Pennsylvania, my notebooks were the only place for me to safely express myself. So, keeping notes became a major part of my creative practice." He continues, "This is how social justice pedagogy works, at the Craft-Lesson Lunches especially, where practicing writers offer fascinating insights into the craft of writing, truly based on our personal, embodied experiences. From my perspective as a queer working-class person, it's so extraordinary that the lunches offer a place to talk about writing in a practical, skills-based way. And I always like to attend the lunches because there's such a rich diversity of compelling ideas and perspectives, in a convivial conversation with a tasty lunch."
In addition to featuring talks by First-Year Writing faculty, sessions have included special guests such as Jillian Dunham, a former editor with the New York Times Magazine; Dina Nayeri, author of The Ungrateful Refugee; and Thomas Chatterton Williams, author of Self-Portrait in Black and White: Unlearning Race. Grace Paley Teaching Fellows Shobha Rao and Diana Goetsch also served as presenters. "We wanted to share the talent and excellence contained within the First-Year Writing program faculty with the broader New School community and expose students to prominent writers who have a social justice background," said Korb.
Although the Craft-Lesson Lunch Series did not have the most auspicious start — only a handful of students attended the first three sessions — it has since grown into a weekly program bringing together 30 to 40 students, staff members, and faculty members from a range of offices, schools, and disciplines. "We learned from the pilot program that the sessions needed to happen more regularly during the semester, and that meant we had to bring more faculty into the fold," says Korb. "We also wanted to make this a space for the entire New School community to gather, so it was important for us to find a way to provide lunch and have the community come together over a meal and learn something together."