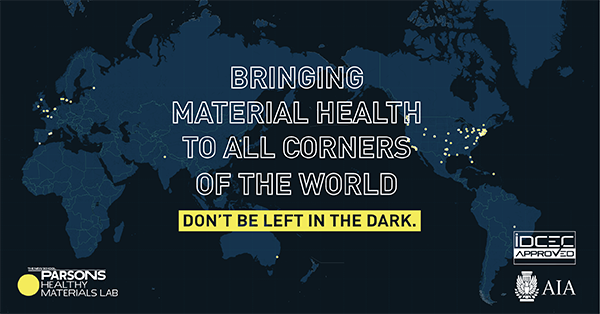 Parsons Healthy Materials Lab Offers Online Courses for a New Generation of Architects and Designers
Since its founding in 2015, Parsons School of Design's Healthy Materials Lab has established itself as a powerful resource that employs education and advocacy to help building professionals, students, and the general public understand the importance of using nontoxic materials and avoiding hazardous ones in building products. The lab focuses on the well-being of underserved populations, which are often the most vulnerable to the negative effects of such materials
The lab is now offering an online certificate program of four classes designed to create "a new, better-informed generation of architects and designers and also provide current practitioners with up-to-date information," according to Alison Mears, the director and co-founder of the lab. Professionals can receive American Institute of Architects (AIA) or Interior Design Continuing Education Council (IDCEC) continuing education credits when they complete the courses.
"Our grant asks us to make a substantial change to practice to ensure that new buildings are designed to include a consideration of material health," says Mears. "So we assembled a group of 59 experts to teach all of the different aspects of materials. And we created courses and a certificate program that fulfilled professional continuing education credits. We made it affordable, so that there will be no barrier to accessing the information."
Material health is a relatively new field in architecture and design and is just beginning to be incorporated into academic programs around the country. The four courses offered by the Healthy Materials Lab are taught by experts from a wide variety of specialties, including toxicology, law, environmental medicine, architecture, chemistry, design, affordable housing, engineering, sustainability, and interior design, in addition to Mears and Jonsara Ruth, the lab's co-founder. Catherine Murphy, senior researcher at the lab, has lead the development of the online learning program from its inception.
The classes are self-paced and start with Materials and Human Health, an introductory class, which is followed by Building Products and Chemistry, Healthier Materials: Design and Specification, and Executing a Healthier Product.
Each course lasts three and a half to seven hours; the combined length of the videos used in the classes is approximately 24 hours. The courses consist of a series of video presentations by the instructors and conclude with a quiz (students must answer all the questions correctly but can take the quiz as many times as needed). There is also an online section, in which students can ask instructors questions about the material they just learned.
The Materials and Human Health course is aimed at helping students "understand the relationship between human health, building materials, chemical toxicity, and environmental exposures." In the course, Mears explains that children are the group most at risk from exposure to hazardous materials, such as lead, which can be found in paint, ceramics, water pipes, and even cosmetics. Exposure to lead can have dire health consequences, including damage to the brain and central nervous system.
"We care about building materials because of the direct impact they have on human health," Mears says in one video.
The second course, Building Products and Chemistry, addresses the "variables around hazards, exposure, and dose response." The instructors discuss principles of toxicology, including risk assessment, routes of exposure, and relative toxicity.
One section of the class, course titled Classifying Chemicals, is taught by Laura Vandenberg, a biologist who helps designers understand the risks posed by building products such as lead, asbestos, and volatile organic compounds (VOCs) like benzene. In the video, Vandenberg explains that government policy and regulation can protect against material hazards but are not always enough.
In the third course, Healthier Materials: Design and Specification, students draw on what they've learned in the first two courses to select materials, employ industry resources, and attain certifications.
The course addresses the role of the designer as a leader and advocate for social justice and explains how to "navigate through product certifications and declarations, to put health on an equal footing with aesthetics, affordability and performance."
The final course, Executing a Healthier Product, expands on the materials selection process and helps professionals prepare to create more healthful buildings. The course is divided into two sections: Planning for Project Implementation; The Role of the Team, in which students explore the role of each member of a building team.