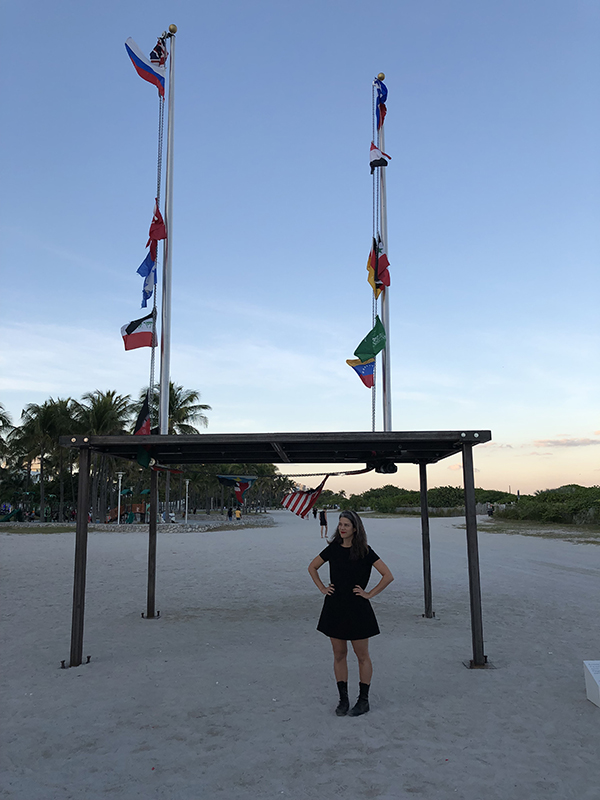 New School Alumni Play an Integral Role at Art Basel Miami 2019
New School alumni have always been leaders in the industries they work in and made significant contributions around the world.
In December, some of the university's most creative and celebrated alumni, including artists, gallery owners, exhibitors, and fashion designers, gathered at Art Basel 2019 Miami, an annual event featuring innovative work presented by leading international galleries.
On December 4, some of those alumni attended An Evening with The New School, an event held at the Marseille Hotel and featuring Rachel Schreiber, Parsons School of Design's executive dean, in conversation with artists Antonia Wright, MFA Creative Writing '05, and Ruben Millares. Wright and Millares created a beach installation/outdoor sculpture that, according to Art Daily, "challenges the meaning of the flag in the contemporary world." Schreiber described the work as "questioning social norms through physical actions, combining danger with beauty, aggression with vulnerability."
The installation, called it is not down on any map; true places never are,
on view at UNTITLED, ART, was made from two 20-foot flagpoles, one motorized chain, 16 flags, and a 16 ⨉ 12 ⨉ 7 foot steel platform. The piece was presented by Luis De Jesus, BFA Fine Art '86, a gallery owner at Luis De Jesus in Los Angeles.
Wright told Schreiber that her background in poetry allowed her to conceive of the piece as if she were creating a poem.
"Getting an MFA in poetry at the New School completely changed my work," Wright says. "I started school as a poetry-obsessed student and left as a performance artist. I completely fell in love with how the poets read their work live and how it changed my understanding of their texts"
Below is additional information on some of the New School alumni who participated in Art Basel Miami.
Temporary Friends, a print by Nina Chanel Abney, MFA Fine Arts '07, was featured in Pace Prints' presentation of new editions and monoprints. According to Pace Prints, "Chanel Abney's life-size monoprints boldly give voice to the artist's social consciousness. Unified through her signature visual language of symbols and stylized figures, her prints draw both subject and message from current events and society."
At Art Basel Miami, the Berlin-based gallery Société presented a work by Bunny Rogers, BFA Fine Arts '13, called Self-portrait as Clone of Jeanne d'Arc. Rogers has become a widely known and respected artist who had a solo show at the Whitney Museum of Art in 2017 and was named to the 2018 Forbes 30 Under 30 list for Art and Style.
Melissa Marie Netecke, MS Nonprofit Management '12, has been the global head of partnerships at Art Basel for more than five years. Her responsibilities extend beyond Miami to showcases in Basel, Switzerland, and in Hong Kong.
Vincent Milner, AAS Interior Design, '08, is the owner of Momentum Fine Art in Miami, founded in 2017. Momentum is a contemporary fine art gallery that deals exclusively in fine art photography and curates and produces exhibitions in both galleries and international art fairs in London, Los Angeles, Miami, Stockholm, Mexico City, New York, and Hong Kong.
Heron Preston, BBA Strategic Design and Management '07, is an artist, creative director, designer, and DJ whose designs include graphic-heavy tees, hoodies, outwear belts, and fanny packs. At Art Basel Miami, Preston held workshops in which visitors created their customized counterfeit T-shirts, inspired by Preston's discovery that his own shirts were being counterfeited in China.
Liv Dockerty, BFA Integrated Design '14, is a Miami-based contemporary artist whose paintings have been picked up by Restoration Hardware, Intercontinental Doha, and other venues. During Art Basel week, Dockerty invited New School administrators to her home and studio to view her work.
Emily Adams Bode, BA Philosophy '13 and BFA Fashion Design '13, is an internationally known menswear designer who was recently named GQ's 2019 breakthrough designer of the year. At Art Basel, Bode opened her first popup, a 1,129-square-foot space selling pieces from her fall collection.
Valentina Ramirez, BFA Fashion Design '18, is a founder and the creative director of A Lot Studio, and the winner of a design fellowship with Rihanna's Clara Lionel Foundation and Donna Karan's Urban Zen Lab. During Art Basel, Ramirez unveiled a popup store carrying her work.