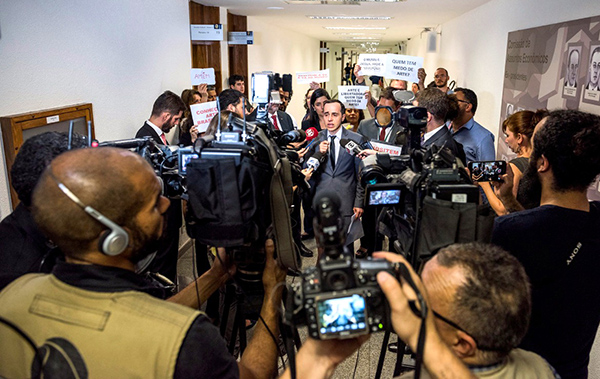 New University in Exile Consortium Welcomes Art Curator Escaping Persecution in Brazil
Art historian and curator Gaudêncio Fidelis recalls the precise moment when he learned that Queermuseu: Cartographies of Difference in Brazilian Art, the art exhibition he was curating in Porto Alegre, Brazil, would be shut down after unrelenting attacks on social media by a right-wing organization and fundamentalist groups.
The campaign, waged by a group called Movimento Brasil Livre (MBL), pressured Santander Cultural (a cultural center sponsored by Santander Bank that was hosting the exhibition) to close the show 24 days early. That moment came on September 10, 2017, when Santander officially posted on Facebook that the show was closing. "We heard the complaints and understand that some of the works in the exhibition 'Queermuseum' disrespected symbols, beliefs, and people, which is not in line with our view of the world."
"The exhibition opens, and 26 days later, it is attacked by a right-wing extremist group called the Freedom Brazilian Movement, who start to attack the exhibition, saying it promoted pedophilia, zoophilia and blasphemy," says Fidelis.
"In just two and a half days, they managed to pressure Santander to close the exhibition without asking anyone involved. They just closed the exhibition, with a short note on Facebook condemning it with a moralist tone, as if the exhibition was not organized by them and as if they were not fully aware of its content."
One day later, members of the public prosector's office visited the exhibition and released a note to the press dismissing the charges as false. In the aftermath of the closing, Fidelis faced months of death threats, investigations, and denunciations, but he never gave up. He helped organize the most successful crowdfunding campaign ever launched in Brazil and was able to reopen the exhibition nearly a year later, in August 2018, at the Parque Lage School of Visual Arts in Rio de Janeiro. The reopened exhibition drew 10,000 people on its first day and attracted both widespread acclaim and protests, pro and con.
Still feeling unsafe in his homeland, particularly after the election of right-wing President Jair Bolsonaro in 2018, Fidelis decided to apply to the Scholar Rescue Fund, an organization that helps threatened scholars around the world. The organization ultimately led him to The New School's New University in Exile (UIE) Consortium. He arrived in New York in October 2019.
Established in September 2018, the New UIE Consortium follows in the tradition of The New School's original University in Exile, which in the 1930s rescued endangered scholars from totalitarian persecution in Europe. The consortium now consists of 18 U.S. universities and colleges and is hosting 23 exiled scholars, each of whom is hosted by a member institution.
"We are happy to have been able to bring Gaudêncio Fidelis to the New School as our University in Exile Fellow for the academic year 2019–2020, made possible by the generosity of the Arnhold Foundation and Scholar Rescue Fund," says Arien Mack, the consortium founder. "Gaudêncio is a museum curator who had to flee Brazil, his home country, after curating an exhibit entitled Queermuseu, which led to vicious attacks and death threats against him. We are thrilled to have Gaudêncio among us, especially because he is such an active and engaged member of the consortium and is becoming a very valuable colleague here at The New School."
Among the works attacked were "Scene of Interior II" by Adriana Varejão, a painting depicting a scene gay interracial sex that criticized the exploitation of Brazilian colonization.
Queermuseu featured 85 artists and 263 artworks, dating from the mid-20th century to today. Although it was intended to be a provocative show that pushed boundaries, Fidelis never expected it to cause such controversy or upend his life the way it did.
As a result of the controversy around Queermuseu, Fidelis has become a leading voice in a movement to maintain freedom of expression in the Brazilian art world. But the intensity of the attacks against the show also invigorated progressive sections of Brazilian society, who responded by contributing to the crowdfunding effort for the show and conducting a petition campaign that led to the reopening of the exhibition.
Since Bolsonaro's election, Fidelis has become increasingly concerned about the future of Brazil and is unsure when or if he will be able to return. Just last week, Brazil's minister of culture posted a video in which he paraphrased the words of Joseph Goebbels, minister of propaganda under the Nazis.
Fidelis curated and organized more than 50 exhibitions before Queermuseu. He served as chief curator of the tenth Mercosul Biennial at the Mercosul Biennial of Visual Arts Foundation in Porto Alegre and, from 2011 to 2014, as director of Rio Grande do Sul Museum of Art, also in Porto Alegre.
And he is no stranger to New York. He spent 13 years in New York, earning his MA at New York University in 2000 and his PhD in Art History at the State University of New York, (SUNY Binghamton) in 2008.
"I feel at home in New York and extremely grateful to be part of The New School's New University in Exile Consortium," says Fidelis, who is currently writing a book about his experience with Queermuseu which discusses the exhibition and the rise of fascism and fundamentalism and its impact on Brazilian society.
As The New School's University in Exile Fellow, he is being hosted by Rhonda Garelick, dean of Parsons School of Art and Design History and Theory.
"I have been honored to host Dr. Gaudêncio Fidelis," says Garelick. "Dr. Fidelis' work moves beyond the traditional bounds of art history and curatorial studies and represents an important pathbreaking, even mind-expanding, contribution to scholarship in the arts. Dr. Fidelis' presence in our community carries forward The New School's long tradition of offering a supportive, respectful, and collegial home to scholars from all over the world — a place where intellectuals can pursue their work freely. We consider ourselves most fortunate to have a visiting colleague of such talent, critical acumen, and warm, generous spirit among us."