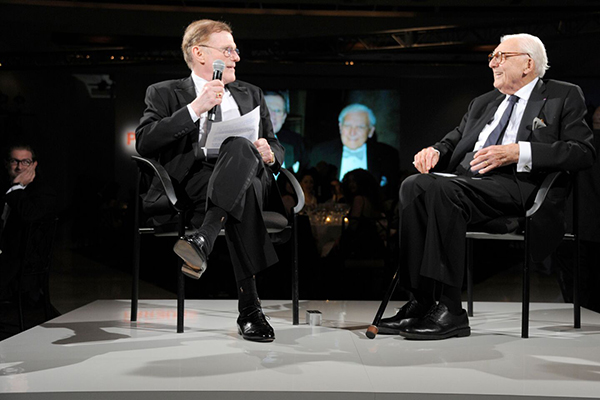 In Memory Of Arnold H. Aronson, 1935 – 2020
It is with great sadness that The New School community announces the passing of Arnold H. Aronson, Trustee since 1981, who died on January 28 at age 85. A giant in the fashion retail industry, Mr. Aronson was our devoted Trustee, stalwart supporter, and generous benefactor over four decades. In a message about his passing, Board of Trustees Chair Joseph Gromek and President David Van Zandt wrote, "Arnold was a deeply experienced leader and was someone all of us looked to for advice and perspective. His fellow Trustees and university leaders called upon his wisdom many times. He was generous with praise and encouragement for the university, our faculty and staff, and, above all, our students. It is difficult to imagine the next university events and milestones without him there cheering us on."
Mr. Aronson served on The New School's Board of Trustees since 1981 and was a member of the Board's Executive Committee since 2010. His numerous leadership roles for the university included chairing the Parsons School of Design Board of Governors for 13 years and the Eugene Lang College Board of Governors for nine years. His tenure as a Trustee encompassed four university presidents and thousands of students.
"Arnold Aronson was unwavering in his commitment to the university," said President Van Zandt. "I always felt his enthusiasm and support, welcomed his generous and always sound advice, and appreciated his willingness to ask the tough questions."
Mr. Aronson and his wife Sheila were generous benefactors of The New School who helped make possible the renovation of Parsons facilities and underwrote a gallery that bears their name. In 1996, at the dedication ceremony, former New School President Jonathan Fanton said, "Universities name spaces for people in recognition of generosity, service, and character. All of these elements are present with Arnold and Sheila. Their major gift made it possible for us to have this project. His friendship, loyalty, and generosity of spirit, mean a lot to all of us."
Mr. Aronson was also, for many years, a driving force behind the success of the Parsons Benefit, the university's largest annual fundraiser and showcase of emerging creative talent. He was an honoree at the Benefit in 1980 and subject of a special tribute in 2011. He received a New School Distinguished Service Award in 1996.
Kay Unger, Trustee of The New School and Chair of the Parsons Board of Governors, said, "Arnold has been part of my life and career for a very long time. As President of Saks, Arnold knew my work and supported my collections, especially knowing that my own education began at Parsons. Arnold was so encouraging and believed in Parsons and The New School in a very deep way. Once I became Chair, he become the most influential mentor to me and guided me in my chairmanship immensely."
Reflecting on Mr. Aronson, Provost Tim Marshall said that "He was a tremendous champion of Parsons, who fully supported its major restructure undertaken during my tenure as Parsons' dean. His foremost focus was on ensuring students' career success, and he was always open to new ideas, new directions, and new opportunities."
This past year, Mr. and Mrs. Aronson established the Arnold and Sheila Aronson Fellowships and Archive for Environmental Sustainability to help encourage and support students working at the intersection of design, policy, and social impact.
"He was always looking forward," said Joel Towers, University Professor of Architecture and Sustainable Design. "Increasingly, Arnold's concern for the climate crisis and the need to develop sustainability across the fashion industry were paramount. Together with Sheila, he established a fellowship and archive to support this transformative work at The New School, once again demonstrating his leadership, support for students, and commitment to the future. We will honor his legacy through the impact of our work."
Mr. Aronson enjoyed a long and successful career in the fashion and retail industry, including serving as CEO of Saks Fifth Avenue and later its parent company, the Batus Retail Group. He served on the Ralph Lauren Board of Directors, and since 2016 was a partner and managing director of the global management consultancy Kurt Salmon. From 1997-2016, he was the company's managing director for retail strategies. He had a well-deserved reputation as one of the industry's top strategists, and his expertise included merchandising, marketing, supply chain, omnichannel, organizational design, store operations, and financial and investment management.
As news of his death reached the retail community, many industry leaders who had known and worked with Mr. Aronson offered their praise. Ralph Lauren expressed a deep sense of loss that was shared by so many others.
"I am deeply saddened by the news of Arnold Aronson's passing. He was not only a valuable member of our board, but over the course of nearly two decades, Arnold became a dear friend and trusted adviser. He was an early believer in me and in the vision of our brand, and for that I will forever be grateful."
Mr. Aronson was a graduate of Harvard College and earned his Master of Business Administration from Columbia University. His began his career as a buyer at Bloomingdales and later served as executive general merchandise manager of May Co. in Los Angeles. Before returning to New York, he was named CEO of Bullock's, also based in Southern California. He was consistently recognized for his accomplishments by Marquis Who's Who, and his career was closely followed by many publications including The New York Times, Los Angeles Times, and The Wall Street Journal.

The New School extends our deepest condolences to Mrs. Aronson and the Aronson family. .