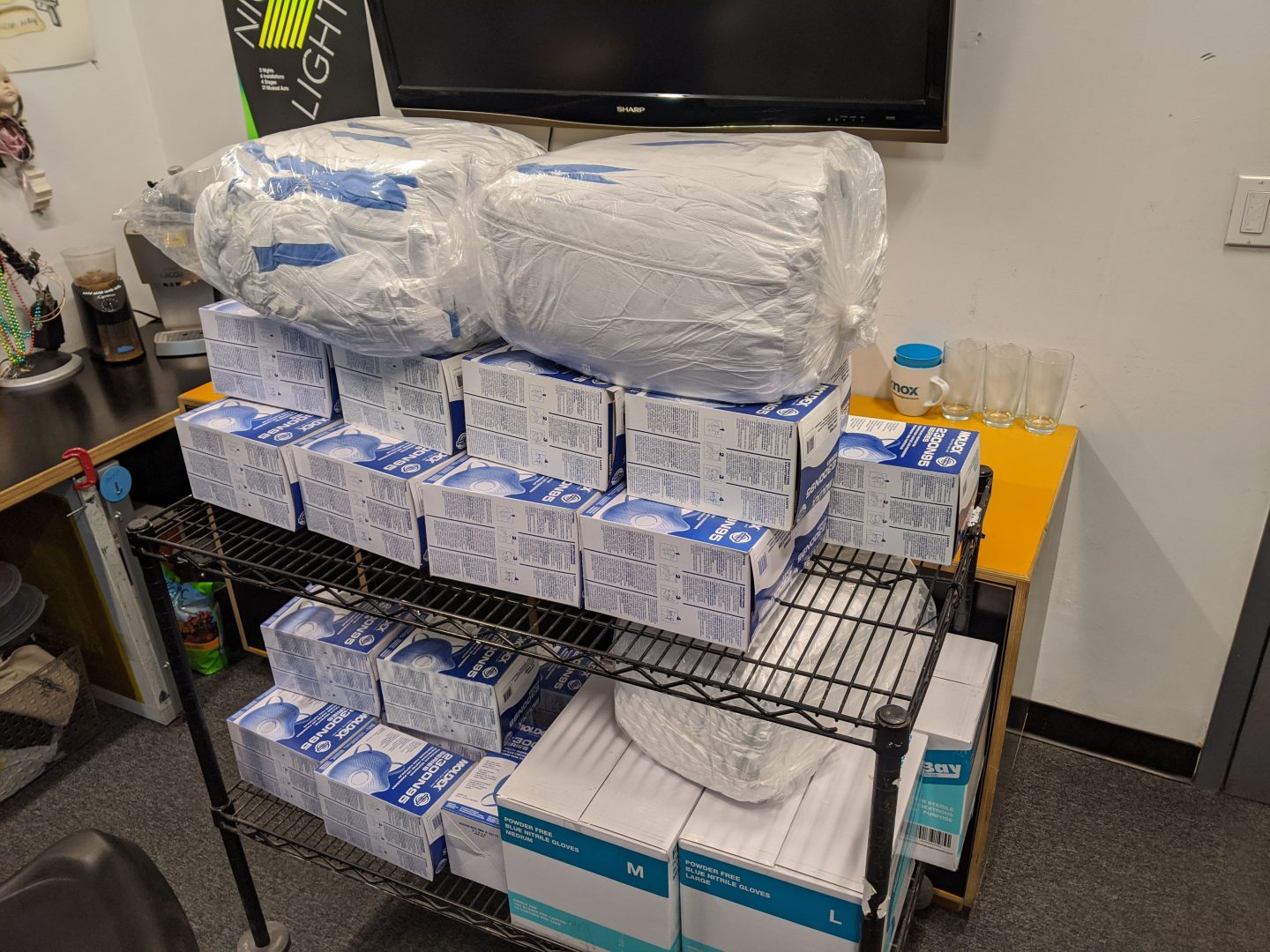 Parsons School of Design's Making Center Donates Personal Protective Equipment to Hospitals in Need
Over the weekend, Parsons School of Design's Making Center stepped up in a big way by donating a large supply of Personal Protective Equipment (PPE) to two New York City hospitals to assist in the fight against Covid-19.
The Center gave over 1,000 surgical masks, 300 N95 dust masks, and numerous Tyvek suits, safety glasses and sterile nitrile gloves, to split between Lenox Hill Greenwich Hospital and Harlem Hospital Center, both in Manhattan.
"I'm extremely grateful we were able to donate this PPE to surrounding New York City hospitals in need," says Abby Mechanic, the manager of the Making Center. "I think it is our duty as a collective community to help in any way possible and show support to our health care providers. It is in times of great stress and unknowns that we must come together and support each other and I'm thankful for the New School community for doing just that."
The donation was facilitated by Katherine Perkins, assistant director for environmental health and safety, Jayne Jordan-Levy, the university's director medical services, and Eleanor Lai, a physician in The New School's Student Health Center, who connected the Making Center to Alexander Hellinger, the executive director of Lenox Hill Greenwich Village, and Damian Kurian, the chief of cardiology at Harlem Hospital Center.
Coordinating the effort required cooperation between New School staff across multiple departments. On March 19th the Making Center reached out to Perkins and Paul Gottlieb, fire and life safety director, to ensure that those still on campus had access to the necessary PPE. Then administrators began a conversation about donating to health care professionals in the area with the most need and who are at the highest risk.
Nadine Bourgeois, dean, academic planning, reached out to Rachel Schreiber, executive dean, Parsons, and Tokumbo Shobowale, chief operating officer at The New School, who gave the approval to make the donation. Mick Hondik, associate director of the Making Center, systems and support, coordinated the effort on the ground while Mechanic managed the effort remotely. Mechanic coordinated with Hondik, Gottlieb and Mario Emadzadeh, facilities superintendent to physically prepare carts for pickup on March 22nd.
"In true Parsons and New School spirit, as soon as word was out that there was a shortage of PPE, our community got into gear to ask, how can we help," says Schreiber. "Faculty and staff quickly realized that we would not be needing our existing inventory of gloves, masks, gowns and more since the Making Center would be closed. Mick Hondlik of the Making Center snapped photos of the existing inventory and gathered it in one place before leaving campus. Abby Mechanic, Katherine Perkins, Nadine Bourgeois, Paul Gottlieb, Mario Emadzadeh, Mahroof Hussain, Thomas Whalen and the entire Making Center Team quickly mobilized to make the donation to local hospitals possible. I am so proud and deeply moved by the resourcefulness and quick thinking that made this possible"
For Gottlieb, it was reminiscent of community effort during 9/11.
"This reminded me of 9/11 when neighbors donated food and work items at their local firehouse," says Gottlieb. "A reminder that when we all come together, anything is possible."