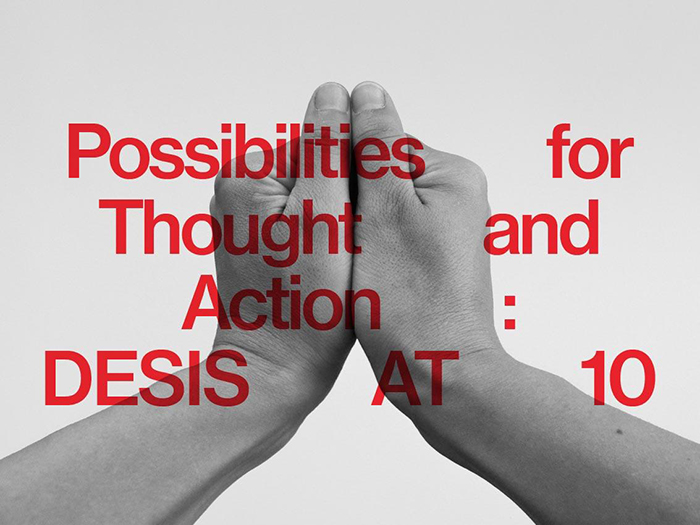 The Parsons School of Design's DESIS Lab at The New School Commemorates a Decade of Design for Social Innovation and Sustainability
New York, February 25, 2020 –The Parsons Design for Social Innovation and Sustainability Lab (DESIS Lab) at The New School commemorated its tenth anniversary on Friday, February 28th, with a day-long event. that enabled conversations aimed at defining the lab's future research agenda. The lab aims to more fully embrace and develop creative transdisciplinary practices that draw on design, artistic research, performativity, cinema, and the humanities and social sciences.
Since the DESIS Lab began its work a decade ago, the role of design has evolved apace with the dramatic shifts in our understanding of the world. Black Lives Matter, the #MeToo movement, the global rise of neo-fascism—along with ongoing crises related to war, climate change, migration, and the economy have altered our lives in profound and unequal ways. This event was designed to open a provocative discussion among creative practitioners from a variety of fields whose work is focused on social, political, and environmental change. The gathering drew on its ten years of experience convening dialogue on various modes of engagement—particularly those based in solidarity and care.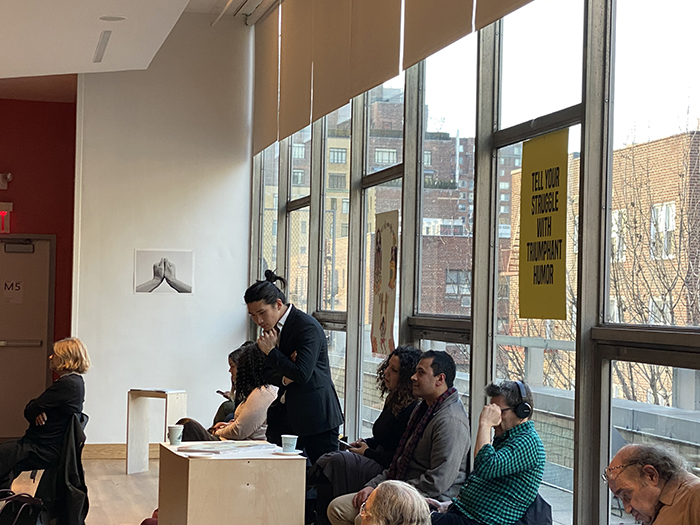 "Design now plays a problematic role by contributing to the overwhelming complex problems we now face while also working to ameliorate those problems," says lab co- founder Eduardo Staszowski, associate professor of design strategies at Parsons. "This event traverses the past decade to consider the ways design intervenes in contemporary contexts and crises by asking, What is design's capacity to propose other possibilities and catalyze actions to realize alternative worlds? What can be learned through transdisciplinary collaborations responding to critical issues over the demands of clients, audiences, and disciplinary norms and canons?"
DESIS recently received a National Endowment for the Arts (NEA) Art Works grant to support their current collaboration with the Brooklyn Public Library focused on the library's services directed to formerly incarcerated patrons and their families. The Art Works funding category supports projects that focus on public engagement with and access to, various forms of exceptional art across the nation; the creation of art that meets the highest standards of excellence; learning in the arts at all stages of life; and the integration of the arts into the fabric of community life.
Event Participants included: Xavier Acarín, art curator and educator; Barbara Adams, sociologist and postdoctoral fellow at Parsons; Shana Agid,associate professor of art, media, and communication at Parsons; Ahmed Ansari, assistant professor and director, PhD in technology, culture and society at New York University; Francisca Benítez, multidisciplinary artist; born and raised in Chile who has lived and worked in New York since 1998; Wendy Brawer, designer, social innovator and creator of the Green Map System; John Bruce, associate professor of strategic design and management at Parsons; Michael Carey coordinator of justice initiatives at Brooklyn Public Library; Sasha Costanza-Chock, associate professor of civic media at MIT; Jodi Dean, professor of political science at Hobart and William Smith College; Pablo Helguera, an artist, performer, author, and director of adult and academic programs at the Museum of Modern Art; Amy Khoshbin, an Iranian-American Brooklyn-based artist, rapper, and politician; Carin Kuoni, director and chief curator, Vera List Center for Art and Politics at The New School; Ezio Manzini, an Italian design academic and author known for his work on design for social innovation and sustainability; Miodrag Mitrašinović, professor of architecture and urbanism at Parsons; Kristen Morse, executive director at Center for New York City Affairs, New School; Mari Nakano, design director, NYC Mayor's Office for Economic Opportunity; Kameelah Janan Rasheed, an American writer, educator, and artist; David Colby Reed, service designer, entrepreneur, and public interest technologist;Radhika Subramaniam, associate professor of visual culture at Parsons; and Susan Yelavich, associate professor of design studies at Parsons,
Introductory remarks were made by lab co-founder, Staszowski, Lara Penin, associate professor of transdisciplinary design, at Parsons; and Nidhi Srinivas, associate professor of management at The New School's Milano School of Policy, Management and Environment; Tim Marshall, provost and chief academic officer at The New School; Rachel Schreiber, executive dean at Parsons; and Cynthia Lawson, dean of the School of Design Strategies.