United Nations Secretary-General António Guterres Delivers Remarks on "Women and Power" at The New School
The New School works to prepare its students to face and act on complex global issues, combining knowledge and skills to improve society. António Guterres, the ninth Secretary-General of the United Nations, embodies that ideal, making human dignity a cornerstone of his work leading the United Nations as it faces some of the most pressing challenges confronting the world today. Guterres recently came to The New School to deliver an address, "Women and Power," discussing how gender inequality and discrimination against women and girls hurts us all. His remarks were followed by a Q&A session with ABC News journalist Juju Chang, who also fielded questions from the audience.
Guterres was honored to be recognized by The New School, a university he described as "a special place." He added, "I am an engineer by training, and physics has been the biggest intellectual passion of my life. But I reserve my greatest admiration for artists, philosophers, social scientists, and those who explain the world and make it more beautiful."
In his speech, Guterres recognized the privileges he has received as a male born in western Europe. Still, he said, "My childhood under a military dictatorship in Portugal opened my eyes to injustice and oppression. Throughout my political career, as prime minister and as the leader of the United Nations refugee agency, I have always felt compelled to fight for justice, equality, and human rights." He has brought that energy to his work at the UN and reached his goal of achieving gender parity in its senior leadership — made up of 90 women and 90 men — a year ahead of his target date.
Guterres sees a connection between gender inequality and some of the world's most acute problems — conflict and violence, the climate crisis, the need for inclusive economies, the digital divide, inequality in political representation. Although these issues may seem intractable, he's encouraged by the energy and new models of leadership young people are bringing to efforts to address these crises. "I am grateful to young people — Generation Z, including many of you here in this room — who are working for climate action and gender equality while recognizing the reality of nonbinary identities and solutions. Macho posturing will not save our planet."
Before Guterres took the podium, The New School presented him with an honorary doctorate, commending his global contributions as a peace broker, bridge builder, and promoter of reform and innovation. His tenure as the head of one of the world's foremost humanitarian organizations has coincided with some of the most serious displacement crises in decades.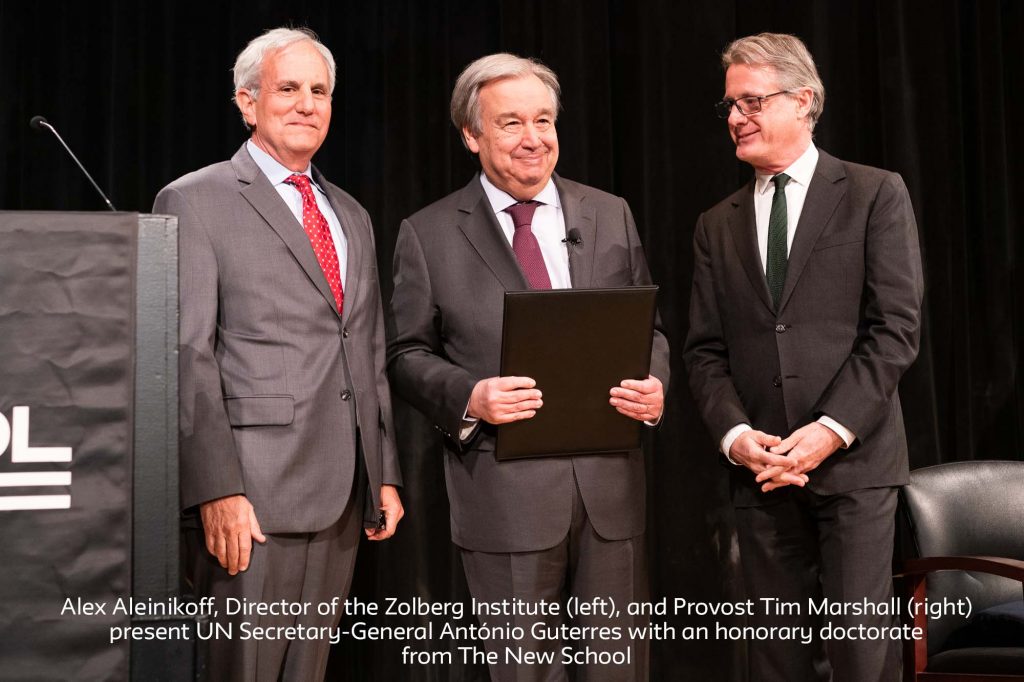 Since 1948, The New School has granted honorary degrees to individuals who exemplify the highest values, aims, and ideals in addressing complex global issues, thus making the world a better and more just place. Over more than 70 years, a range of remarkable individuals have been honored, including founders John Dewey, Clara W. Mayer, and Wesley Clair Mitchell; writers Carl Sandburg, Barbara Tuchman, and Kevin Kwan; civil activists Tarana Burke, Adam Michnik, and Laverne Cox; artists Glenn Ligon, George Balanchine, Berenice Abbott, Faith Ringgold, and Thomas Hart Benton; musician Shulamit Ran; and many more.
This isn't the first time the university has feted a leader of the UN. In 1950, the university conferred an honorary degree on Trygve Halvdan Lie, the first secretary-general of the UN, for his efforts in seeking "a peaceful alternative to cold conflict." The New School has long had ties to this venerable institution. Earlier in the evening, Provost Tim Marshall discussed the university's long history of engagement with the United Nations, especially through our academic programs and institutes. He mentioned in particular Alex Aleinikoff, director of the Zolberg Institute on Migration and Mobility, a former United Nations deputy high commissioner for refugees, and Sakiko Fukuda-Parr, director of the Julien J. Studley Graduate Programs in International Affairs, who was the lead author and director of the UN Development Programme's Human Development Reports and was recently named vice chair of the UN Committee on Development Policy and appointed to the secretary-general's High-Level Panel on Access to Medicines and Innovation. Both Aleinikoff and Fukuda-Parr supported and promoted the night's event.