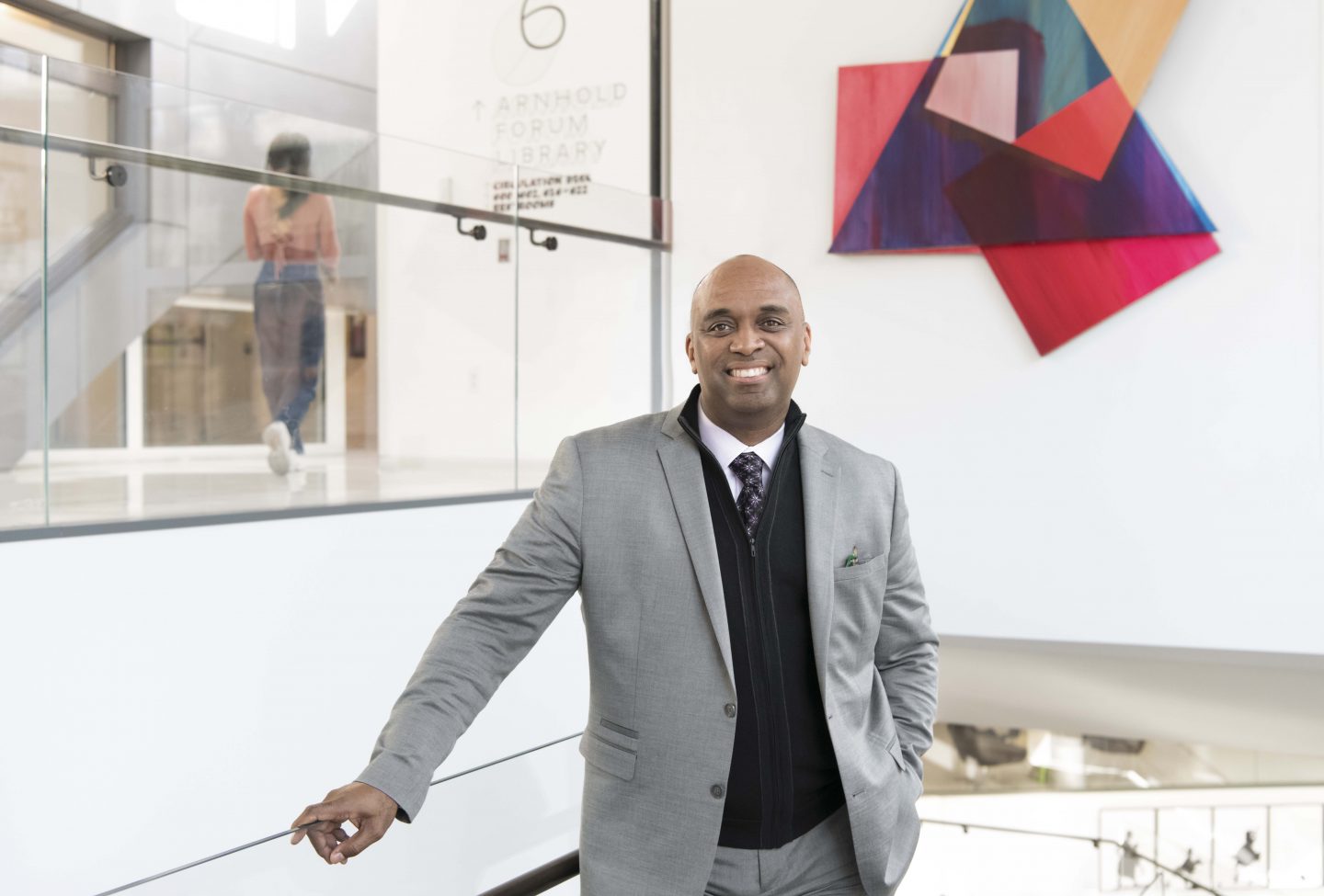 President Dwight A. McBride Discusses Building and Sustaining Community as he Begins his Tenure at The New School
Dr. Dwight A. McBride begins his tenure today as the ninth president in the history of The New School. He sat down with New School News to discuss various issues, including why he decided to come to the university and about sustaining community as we navigate through challenging times.

What about The New School attracted you?

President McBride: The first thing that attracted me was its incredible and storied past as a place committed to progressive education, issues of social justice, and broad access to education. Those are values that resonate with me, my own life experience, and much of my research and scholarship. In a recent conversation, one of our trustees referred to The New School as "an intellectual play space" and I think that's probably one of the best things that could be said about an academic community. This one is special in that it brings together research, teaching, and training across the domains of the social sciences, the liberal arts more broadly, the performing arts, and in the broadest sense possible design and design thinking. I believe that's a unique and powerful chemistry and mixture for creative and intellectual exploration and innovation. And when you consider that all of this takes place in New York City—our unparalleled geographical endowment—this is among the most exciting universities in the nation.

How has past experiences helped prepare you for becoming President of The New School?

President McBride: I suppose the most predictable answer to this question is that I've served in a variety of academic leadership positions over the past two decades. I've been a Department Chair at two different universities; I have been a Dean at two different universities, and most recently I've been a Provost (the chief academic officer) at my last university home. I am also a scholar and a faculty member—identities that remain core to how I understand myself in the world. Taken together, all of these experiences have shaped my thinking about universities, how they work, how they are unique and important in the broad context of sustaining democracy through being engines of creation for an educated citizenry. My belief in the importance and the power of higher education to, quite literally, transform lives is probably the closest thing in my life to a sacredly held belief. I believe in it because as a first-generation college student; as a working-class, black, gay kid who grew up in the rural South; as someone who was born into a world of options limited by my circumstances; education was, quite literally, my salvation. It changed my life. It opened me up to opportunities and options that my circumstances were not designed to even introduce to me. The mentors I have been privileged to have from childhood through graduate school and beyond have also been critical. For me, there is no greater passion or privilege than doing the work of making sure we are providing access to a high-quality education to future generations of students. I believe it's the combination of my academic leadership experience and my respect for the project of higher education that have most prepared me for becoming President of The New School.

What are the ways to build and sustain community when the community is not physically present?
President McBride: This is a challenging and very timely question. Anyone who knows me and who has worked with me knows that one of the values I think of as primary, especially in a university, is the intentional building and sustaining of a sense of academic community. Gathering and coming together for events, programs, performances, meetings, conversation and dialogue, and even the occasional party are all ways in which we practice community. Community does not happen by us willing it or hoping for it. We have to be intentional about practicing it, coming together to see each other, to hear each other, to teach and learn from each other. That is what makes the kind of education we believe in so powerful. It's not only what we learn from our instructors and professors (important as that is), but it is also what we learn from our peers. I learn things when I am in community with fellow scholars and faculty colleagues. I learn from students. I learn from my colleagues in academic leadership. I learn from the incredible staff colleagues I am privileged to work with.

The current crisis has rendered something so fundamental to the sense of community—gathering and face-to-face connection—impossible in this moment. On a personal level, I'm a hugger. I thrive on being present and in community with students, faculty, staff colleagues—especially in smaller groups where you can get to know each other and to hear each other's stories. So, as you might imagine, making a transition into the presidency of my new university community without being able to engage in person with faculty, students, staff, and alumni in the ways we had planned for during this period has been enormously disappointing for me personally. This is not how I wanted it to be, and it is certainly not what I had planned for during this transition time. I know that many of you are similarly mourning (and I don't think that's too dramatic a term in this moment) the loss of what you had planned for this time in your lives. Students are mourning the loss of the sense of community that comes from being together on campus and in campus facilities. (even despite the challenges of the crowded elevators I experienced during some of my visits to the campus leading up to my arrival). They are mourning the projects, internships, graduation celebrations that they have been anticipating for so long, and so much more. We are all experiencing immense personal, professional, and social loss during this time. We need to be patient with each other as we struggle together to do our best to reconstitute our community in virtual spaces until we can safely be together again. In the meantime, we must be proactive in coordinating virtual events with peers and colleagues such as social cocktails, lunch, or even group study sessions. It is important to continue to show compassion and support for others with a simple text, email, or phone call, checking-in on their health, family, or sharing an uplifting sentiment or thought. All of these efforts will nurture the relationships in our community during a time when we need community and support the most.
In a nation such as ours—complex, diverse, rooted in a version of democracy and freedom that is, at the same time, riddled with a patriarchial, heteronormative past that celebrated raw unbridled power, terror, subjugation, and white supremacy—the struggle to create a society that is truly inclusive can at times feel illusive. But yet I believe.
I still believe in the power of "us" and "we." I continue to believe in the power of individuals to make a difference. I believe in the power of community. For when we are in community we are in dialogue. And the one thing we need to do more of today than ever is to talk to one another. It's harder to demonize someone with whom you are in authentic dialogue. Inclusion is critical to a sense of community in which we are all welcome and in which we can all thrive. True inclusion, however, is hard. It means thinking beyond yourself, your needs, your comfort to embracing the differences that might at first feel foreign to you. Those things, customs, people who feel foreign to us also at first make us feel foreign—and that feeling of foreignness is what our minds resist most powerfully. Being committed to inclusivity means being committed to changing our habits of mind as much as our actions. As members of this academic community we know and love called The New School, we must be alive and attuned to our personal obligation to this work in community.

Are there any leaders or artists from the past or present that you turn to for inspiration and whose words or work you think inspire others?
President McBride: The list of leaders and artists that I turn to for inspiration is a varied and long one. Top of mind, I would certainly include the likes of Toni Morrison, James Baldwin, Langston Hughes, Walt Whitman, Emily Dickinson, Donny Hathaway, Billy Strayhorn, William Blake, William Wordsworth, Martin Luther King, Jr., Barack Obama, Audre Lorde, Ruth Simmons, Fahamu Pecou, Marcus Glenn, and on and on. All of these writers, thinkers, artists in their own ways and in their own time gave voice to the depth of human experience and thought. Anytime I think I'm alone in feeling some terrible or frightening thing, if I look there is someone who has managed to capture that thing in words, song, or art. I think of art as a kind of archive of human expression and experience over the ages. It has the capacity to tell our stories. The stories that connect and bind us to each other on a human level. Those stories can be quite varied and specific in terms of their context, but how we think about them and how we narrate or represent those stories is where we all meet as human beings.

One of my favorite quotes, which I reflect upon often, is from Audre Lorde: "When I dare to be powerful, to use my strength in the service of my vision, it becomes less and less important whether I am afraid." What I love about this quote is that it recognizes that the fear that we all have sometimes about what we should or must do in our lives and in our work doesn't go away. We are all afraid at some level. But when we "dare to be powerful, to use [our] strength in the service of [our] vision," in the very doing of that visionary work we mitigate the fear. This is but an example of the kind of wisdom I frequently draw on from artists for inspiration.

What gives you comfort during difficult times? What do you do to unwind?
President McBride: I like to travel. Even a short weekend getaway to someplace quiet with friends where we can have swaths of unplanned and uninterrupted time together can help me to replenish. My small circle of close friends are a second family to me, and time with them is restorative. I also love the theater. I have been a long-time supporter of theater for most of my life. I did some stints on stage as well, but I'm a far more avid spectator when it comes to theater. I love listening to live jazz and to cabaret shows. I've performed in those as well and hope to find time to return to some performing. Even when I am alone at home—as I am now more than ever during these challenging times—there is almost always music in my life. Music is a constant companion for me, and has been even more of a salve during these long periods of isolation.

In your short time here, what has impressed you about the New York City community?

President McBride: I have only known New York City as a visitor, thus my perspective is limited. One of the things I am most excited about is being able to explore the city. All of the things that are important to me—art, theater, food, music, literature, intellectual life—thrive in abundance in this city. While much of that is on hold in our present moment, artists are finding ways already to continue sharing their work on online platforms. I look forward to the other side of this pandemic when I will be able to explore New York City as a resident.

What books are on your bedside table?

President McBride: Right now it has been a hodgepodge really. Part of that has to do with the fact that I am in transition. Most of my books at this point are still in storage. Aside from the reports and voluminous amount of information about The New School that I'm reading, I have by my bedside at the moment a book entitled Race by Toni Morrison. It is a collection of different excerpts drawn from Morrison's corpus about the subject of race. I have also been reading Presidential Transitions: It's Not Just the Position, It's the Transition, which is a book about best practices for presidential leadership transitions in higher education institutions. And a friend just recommended for my "quarantine reading list," What Doesn't Kill You Makes You Blacker: A Memoir in Essays by Damon Young.