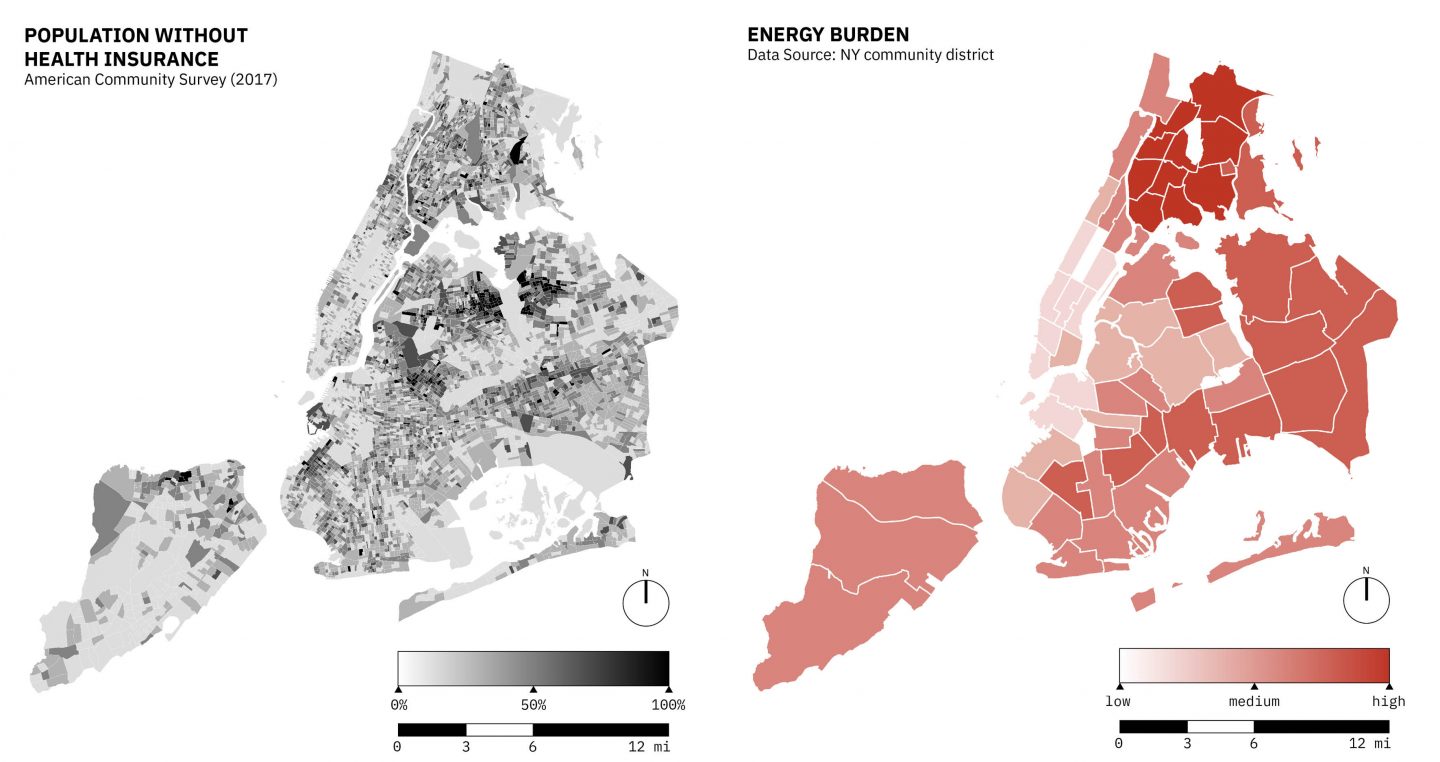 The New School's Urban Systems Lab Presents New Research on COVID-19, Social Vulnerability, and Climate
In response to the ongoing COVID-19 crisis, the Urban Systems Lab's (USL diverse team of researchers, climate scientists, and designers at the New School have come together to launch a new COVID web resource that leverages data visualization and spatial analysis to explore key questions on the intersection of social inequity, healthcare, and vulnerabilities to COVID-19 and climate change.
Over the past several weeks, the Lab has produced a new set of maps and additional layers in the USL's Data Visualization Platform to aid local decision-makers and stakeholders identify who may be most affected by the impact of COVID-19 and where they are located in NYC. The Lab's team is also examining the impacts of changing behavior in NYC including social isolation and sheltering in place, which may create additional vulnerabilities and shift exposure for already at-risk communities to climate and weather-related extremes as the seasons change and summer approaches.
Postdoctoral Fellow Luis Ortiz, has been tracking the shift in energy loads as more New Yorkers work from home. Ortiz is using a model to map the projected energy burden for low income communities who often do not have access to air conditioning and presenting a range of environmental justice and equity issues. Research Fellow Pablo Herreros, has also been examining the change in mass transit use, looking particularly at a drop in subway ridership and how this intersects with COVID-19 cases. While overall ridership in NYC has declined 87%, the decline is not uniform across the five boroughs, highlighting similar equity, access, and socio-economic issues as reduced service results in overcrowding of trains and buses.
Central to the USL's effort is looking critically at how existing vulnerabilities to health, weather, and economic hazards will be affected by new guidelines designed to reduce COVID-19 transmission rates in NYC. The Lab's aim is to develop a framework for examining these interdependent social and economic vulnerability indicators for those most at-risk to help local and regional authorities make informed decisions that consider additional drivers from the impacts of climate change and extreme weather.
To learn more about the USL's ongoing research visit: http://urbansystemslab.com/covid19