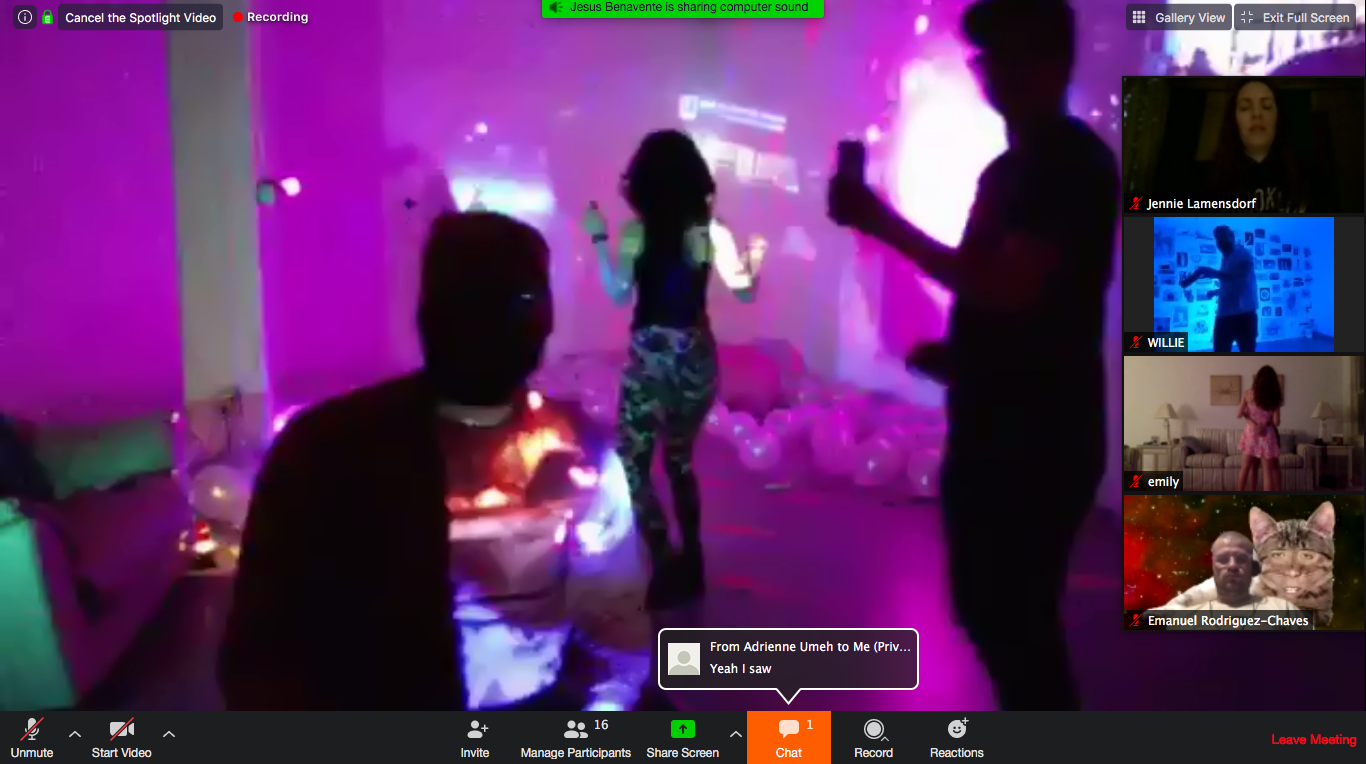 Vera List Center Dance Party Inspires a Worldwide Audience
The need for life-affirming events that can give us moments of joy during these uncertain and challenging times is greater than ever.
That was part of the idea behind The New School's Vera List Center for Art and Politics March 28th Zoom dance party/performance piece by Jesus Benavente called I'm Not Dancing, I'm Struggling to Survive: Shelter in Place." The party was presented in collaboration with Bemis Center for Contemporary Arts, Omaha, Nebraska, and was attended by people from countries all over the world and across the United States. VLC promoted the party with the goal "to acknowledge that in times of sadness, we must with discipline, strive to celebrate dignity and defiant joy…..a party affirms life, offering refuge from injustice and escape into euphoria—when most needed."
"It's been both challenging and hugely rewarding to design a program that thrives precisely on this conflicted, complex, unknown, sad as well as inspiring moment, and the new meeting grounds it is imposing on us," says Carin Kuoni, the director and chief curator of the Vera List Center. "We wanted it to be fabulous, but it also had to be truthful, responding to the urgent needs of a public we had yet to meet. And I think we succeeded beyond our wildest expectations, with people joining from over 15 countries, insisting on joy, trust, solidarity, art, and creativity in defiance of the protocols of physical distancing."
The artist at the center of the dance party was Jesus Benavente, a Texas-born artist who incorporated news coverage, abstract video images, a playlist covering 20 different music genres, and the sounds of police and ambulance sirens. For more than five hours, Benavente danced in his studio at Bemis, replete with balloons and dance lights. He was joined by party-goers who tried to replicate the party atmosphere from their homes as they danced the night away in each other's on-screen company.
And it was attended by a reporter from Sinclair Media, who praised the event as "a truly fun night, while also feeling more impactful than almost any night out I'd ever had."
"I continually discovered new sources of surprise throughout the evening — surprise at how willing I was to let go and dance in front of my computer screen, surprise at the diversity of the attendees, surprise at the supportive nature of all of the participants and the delightful comments left in the chat, surprise at the impact of the music on my emotions, surprise at the fact that I was still dancing when the party drew to a close at 2 a.m., and surprise at the tears that flowed freely at one point of my experience," wrote Emily Faber, of Sinclair.
"Dancing and singing are being recommended by health professionals as something people do during this time as a way of breaking up their day, adding movement indoors, and releasing tension and feel-good chemicals in our brains," Eriola Pira, curator at the Vera List Center and the curator of the evening's party told Faber. "Dancing with other people is even more rewarding and it's not surprising you and many others found our dance party fun."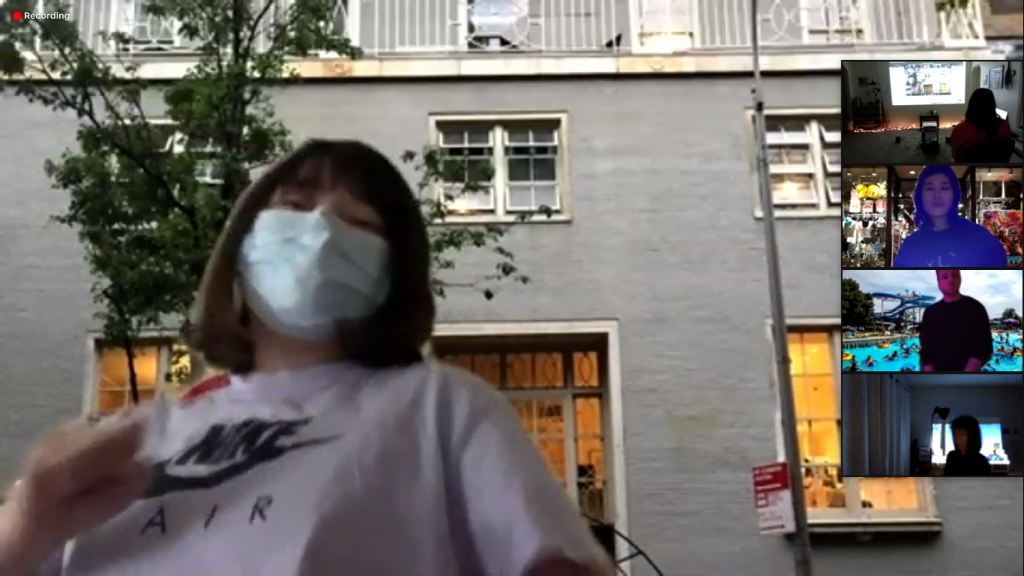 The event's co-hosts were Heran Abate, MFA Creative Writing, '21 and Kevin Martinez, BA Journalism+Design, '22, who have been working with the Vera List Center for the past two semesters. Also in virtual attendance was Mary Watson, executive dean, Schools of Public Engagement, (SPE) and James Keith Brown, a member of the SPE Board of Governors and senior managing director of Coatue Management.
"It gave me a sense of purpose, being part of creating meaningful togetherness when, for the majority of the time, it feels like we are all facing uncertainty alone," Abate says.
" The event allowed me to let go of some of the common anxieties that we're all experiencing due to this pandemic," Martinez adds. I also loved the community and the interactions that everyone was having with one another, it really gave me hope that truly things will work out and that we will all come out of this much stronger and united."
"Heran and Kevin were superb interlocutors, keeping those chat rooms, shared screens, and other Zoom accoutrements glittery and fun," says Kuoni, about the co-hosts.
Jesus Benavente is a Spring 2020 Bemis Center artist-in-residence. He holds an MFA from Rutgers University, a BFA from The University of Texas, and has attended The Skowhegan School of Painting and Sculpture and Art Omi. His recent exhibitions and performances have included work at The Whitney Museum of Art, The Queens International, Socrates Sculpture Park, and The Forward Union Fair.