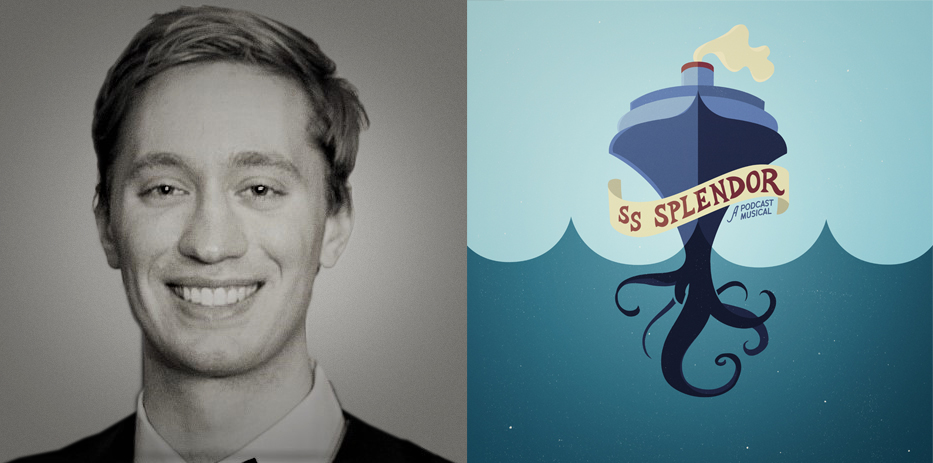 MA Arts Management and Entrepreneurship Capstone Projects Emphasize Collaboration and Community Engagement
Musical theater has taken many forms over the years. Traditionally the domain of Broadway, artists and producers have recently staged live shows on television, while series like Glee and Crazy Ex-Girlfriend were built on musical numbers, incorporating them into every episode.
Now, musical theater is coming to the internet – specifically, the podcast. For his capstone project as part of the MA Arts Management and Entrepreneurship program, Alexander Ronneburg, MA AME '20, created SS Splendor, a new original musical that will debut as a podcast. His co-creator and co-writer on the project is also a New School student, Covi Loveridge Brannan, BFA Dramatic Arts '19, MA AME '20, and Milano School of Policy, Management & Environment, Sustainability Strategies Graduate Certificate '20.
"Even before the pandemic, SS Splendor was a project concerned with figuring out how to bring new musical theater to an internet medium," says Ronneburg. "We want to create a space for musical fans to experience theater in a new way, free from exorbitant ticket prices and geographical barriers. The explosion in popularity of podcasts in recent years made the medium an exciting prospect for diversifying musical theater platforms."
Ronneburg is one of 17 students graduating in the second cohort of the College of Performing Arts MA AME program. The capstone projects serve as a way for the students in the program to independently produce projects or start enterprises that require them to work in the community and demonstrate their skills as socially engaged artist-entrepreneurs.
"When we began to realize the significant impact COVID-19 would have on their capstone projects, we gave students the option to postpone their projects or adapt them," said assistant professor and program director Diane Ragsdale. "By-and-large, they found that the communities and partners and collaborators with whom they were working were quite keen to stay connected and figure out a way forward. This in and of itself is testimony to the strong relationships students had already built with the communities they were working to engage or support with their projects."
In true New School and CoPA fashion, Ronneburg collaborated with students and faculty across the university in order to create SS Splendor. He cites CoPA's Musical Theater Lab, in addition to his Creative Producing and Performance Production Management class as particularly helpful.
"No project can be created alone, and I have learned so much working with the actors, musicians, and faculty in Drama, Jazz, and Mannes," he said. "Diane Ragsdale and my entire MA AME cohort inspired me to break down barriers and create new opportunities I didn't know could exist."
Ronneburg quickly pivoted when the Covid-19 pandemic forced New Yorkers into quarantine. He has been holding regular script meetings via Zoom, sending notation files to his arrangers in Milwaukee and Israel, and recording piano parts via MIDI keyboards, and sending those files around.
Students throughout the cohort have made adjustments due to the Coronavirus as well. Maggie Gould's project, "Bow and Heart," provides group Suzuki lessons for young musicians, which were initially held in person, and are now conducted via Zoom. Raphael Anastas's original plan was to partner with the Gowanus Dredgers Canoe Club to form the Gowanus Choir Project, a free summer concert series on the Gowanus Canal featuring a community choir of 25 singers from across New York City. The inability to meet for in-person rehearsals due to the pandemic hasn't deterred the choir from making music, as Anastas created a database with digital access to sheet music and rehearsal tracks, and is planning weekly virtual rehearsals for the group until they can safely return to Gowanus to perform.
SS Splendor is also the recipient of an Alsop Entrepreneurship Award, which goes to CoPA students working on innovative musical projects. For Ronneburg, his capstone project and time in the MA AME program have both helped him realize what he wants to pursue as a musician and artist in his career. The entire process has also strengthened his belief and understanding in the power of collaboration.

"The most rewarding part of this process so far has been rehearsing (via Zoom) with a talented group of artists that took the time and effort to treat the material with the respect and attention that might be given to rehearsing an established musical," shared Ronneburg. "I hope to continue to pursue the potential of podcast musicals, with SS Splendor and perhaps other shows down the line. Most importantly, I want to tell stories, and have those stories be accessible to all."