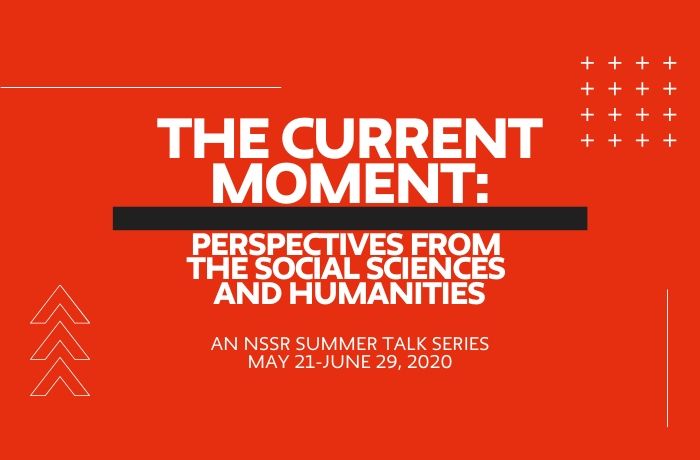 NSSR Launches Discussion Series to Explore the Impact of Covid-19 on Existing Social and Political Inequities
The New School for Social Research (NSSR) is launching The Current Moment: Perspectives from the Social Sciences and Humanities, a free summer online talk series that is open to the public.

The series consists of eleven sessions and runs from May 21st through June 29th, and participants can register in as many of the sessions as they'd like.

NSSR professors will share how contemporary social, political, economic, cultural, and ethical problems have been amplified by the pandemic. Each 30-minute talk will be followed by a 30-minute discussion in academic disciplines including Anthropology, Economics, Philosophy, Politics, Psychology, Sociology, Liberal Studies, History, Creative Publishing and Critical Journalism, and Gender and Sexuality Studies. There is a prep reading assignment recommended before each discussion.

The idea for the series was conceived by Robert Kostrzewa, NSSR vice dean, and Zed Adams, associate professor of philosophy.

"Part of the inspiration for this series was to approach The Current Moment from a very different angle," says Adams. "We want to look at faculty that have existing work that bears on this issue but not in an obvious way. It's not taking questions that you already have about the pandemic and providing clear answers to them. It's raising questions about the issue you don't already have and making you aware of how much existing work there is to answer those questions."
Adams says one of the overarching goals is to "make manifest" the value of being in a university setting and to showcase the interdisciplinary nature of NSSR and the multiple approaches "you wouldn't find anywhere else."

Kostrzewa hopes that The Current Moment will help those struggling with how to answer the difficult questions they face during these difficult times. Should they stay in school or return for a new degree? What can they expect in the current pandemic-era job market?

"The world around you is collapsing, sources of support may have been undermined, and you're facing the question of what I should do with next year," he explains. "What do you do when unemployment is skyrocketing? How do you enter a job market under such conditions where it's a cutthroat survival game, rather than normal recruitment cycle?"

Kostrzewa says that one of the series goals is to present the "best of NSSR in a rich conversation that lends itself to remote learning."
Some of the series highlights will include:

Slide Decks of Salvation: PowerPoints for the Pandemic (Thursday, May 28, 2020, 12:00 p.m.)

This discussion given by Shannon Mattern, professor of anthropology will focus on the PowerPoint presentations of New York Governor Andrew Cuomo whose use of the "slidedeck as a rhetorical device and political tool" has been acclaimed as an "exemplar of competent leadership."

Netflix and Chills: On Digital Distraction in the Time of Quarantine (Thursday, June 4th, 2020, 12 p.m.)

Dominic Pettman, professor of culture and media will discuss how social distancing and global lockdown orders have "only magnified our already deep dependence on technologies of distraction." Pettman's talk will show "the ways in which "rapidly coalescing digital environments reshape our sense of time and mortality,"

COVID-19, Fear and Attachment Theory (Monday, June 22, 2020, 12 p.m.)

Howard Steele, professor of psychology, will present a conversation that "will review psychoanalytic theories of anxiety and fear, including reference to Sigmund Freud, Otto Rank, and John Bowlby." The class will examine the "causes and consequences of fear, and preparing for a future where we are all less vulnerable to fear."