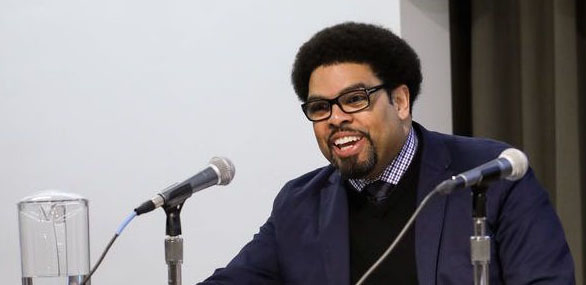 Darrick Hamilton, a Preeminent Stratification Economist, Returns to The New School
Darrick Hamilton, one of the country's leading economists examining racial disparity, will rejoin The New School on January 1, 2021 as the Henry Cohen Professor of Economics and Urban Policy, and a University Professor. Hamilton will also serve as the founding Director of the newly created Institute for the Study of Race, Stratification and Political Economy at The New School.
The institute will advance research, policy, and conversation regarding the iterative interactions of race, stratification and political economy. In particular, the Institute will confront the pressing issues of our time and develop pathways and policies that break down hierarchy and help move society towards greater equity, inclusion, and civic participation.
Hamilton is a pioneer and internationally recognized scholar in the field of stratification economics, which fuses insights from multiple disciplines to challenge and expand orthodox economic interpretation as they relate to identity formation, collective group action, inequality and group based distributions. He has been a vocal proponent of policy solutions related to economic, health and education outcomes.
"We are thrilled to welcome Professor Hamilton back to The New School," said Tim Marshall, Provost of The New School. "At a time of profound political polarization and unrest globally, Professor Hamilton's work is more important than ever and will be integral to shaping our understanding of how race, gender, and class interact to determine economic outcomes."
"As a university born out of principles of academic freedom, experimentation, and social justice, The New School is a preeminent center for research and impassioned discussions on complex world matters," said Dr. Dwight A. McBride, President of The New School. "The Institute will be an important vehicle for broadening the scope of those discussions and forging paths that expand our understanding."
"I'm deeply honored and excited to be rejoining The New School as both a university professor and founding director of a new institute dedicated to the study of race, stratification and political economy," said Hamilton. "I am returning at a pivotal moment, when we are reconceiving the roles of our government, our economy and our money in defining people's lives. Universities have a moral responsibility to lead in these efforts and students are the facilitators of the changes that will bring about a more just and equitable future."
Prior to rejoining The New School, Hamilton will finish his tenure as the Executive Director of the Kirwan Institute for the Study of Race and Ethnicity and a professor in the John Glenn College of Public Affairs with courtesy appointments in the departments of economics, sociology, and African and African American studies at The Ohio State University. Hamilton previously held the dual role of Professor of Economics and Urban Policy at The New School's Milano School of Policy, Management and Environment and New School for Social Research. He served on the faculty of the university for 15 years.
Hamilton continues to play an influential role in shaping economic policy. He is serving as a member of the economic committee of the Biden-Sanders Unity Task Force; he testified before the Senate and House Joint Economic Committee on potential policy responses to the COVID-19 pandemic induced health and economic crises; he was a surrogate and advisor for the Bernie Sanders presidential campaign; and he has advised numerous other members of Congress, including the following 2020 presidential candidates: Senators Cory Booker, Kirsten Gillibrand, Kamala Harris, and Elizabeth Warren. According to Mother Jones magazine, California Representative Ro Khanna offers high praise characterizing Hamilton as having had a "profound impact on policymakers" and calls him an "intellectual giant of his time."
Hamilton recently co-authored a paper proposing that the U.S. government adopt a number of public policy measures to redress economic losses suffered by black and brown communities during the COVID-19 pandemic. He specifically calls for the federal government to provide a federal job guarantee by directly hiring millions of workers in a livable wage job with benefits and decent working conditions as a basic human right.
He is an architect and leading advocate for baby bonds as a way of confronting wealth inequality. The idea is for the federal government to establish a trust at birth for every child ranging from $1,000 upwards to $50,000. The accounts could be used when the child reaches adulthood as a capital foundation to finance higher education, start a business, or purchase a home.
Hamilton's accomplishments include delivering a 2018 Ted Talk, recently being profiled in both the Mother Jones magazine and the Wall Street Journal, and featured amongst Politico Magazine's 2017 50 Ideas Shaping American Politics and the People Behind Them issue. He currently serves on multiple advocacy and research boards including the Americans for Financial Reform (AFR) and Institute for Women's Policy Research (IWPR).
Hamilton was born and raised in the Bedford Stuyvesant section of Brooklyn, NY. He is a graduate of Oberlin College and earned a PhD in economics from the University of North Carolina. He completed postdoctoral appointments at the University of Michigan and Yale University, respectively. Hamilton's op-ed pieces have appeared in various prestigious periodicals including the New York Times, Bloomberg's Business Week, Market Watch and many others; and he is frequently interviewed by media outlets including the Washington Post, The Atlantic, MSNBC and NPR.