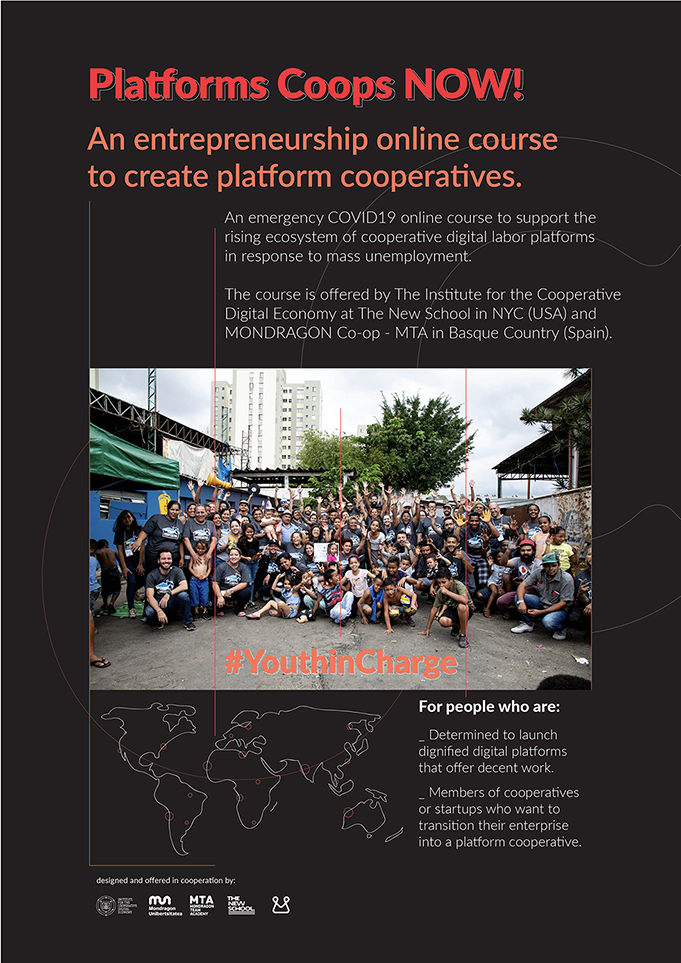 Platform Cooperatives Now, an Online Course to Foster Digital Co-ops Throughout the World
In a major global initiative, the Institute for the Cooperative Digital Economy (ICDE) at The New School, Mondragon Co-op, the world's largest worker co-op, and MTA-Mondragon University, are collaborating on an eight-week online course called Platform Cooperatives Now. The course will introduce, incubate, and accelerate, platform cooperatives around the world. Running from June 1st until July 24th, 800 students from more than 50 countries have asked to be registered, and the partnership gives The New School access to reaching many co-ops throughout the world. Additionally, The New School and Mondragon, have signed an international cooperation agreement to promote collaboration and research.
In a time when millions of young people will be unemployed, and COVID-19 is disproportionately affecting low-income people and immigrants, Platform Cooperatives Now presents ways for students to learn about worker cooperatives and ultimately develop an action plan to start a platform co-op or to improve already existing co-ops.
The class is being co-taught by Trebor Scholz, the Founding Director of ICDE and professor at The New School, and Jose Mari Luzarraga Monasterio, co-founder of Mondragon Team Academy. The online course is offered in two parts. The first part is an introduction to the gig economy, blueprints for political imaginaries, an introduction to cooperatives, and case studies of platform co-ops. Part two of the class will focus on the incubation of platform co-ops and will be offered in collaboration with dozens of international partners including partners in Germany, Poland, Uganda, Ireland, China, France, and Nigeria, who will use the material to teach the course in their own languages.
One of the major goals of the course is to prepare participants so that they can succeed as cooperative platform entrepreneurs in the fast-growing gig economy. The course gives learners the opportunity to analyze and get involved with a generation of young leaders that is experimenting with innovative power-building strategies that are rooted in cooperative ownership of digital platforms. The class imagines a shift from a "sharing economy" to a genuinely participatory, democratically owned economy as not only possible, but as necessary in a world where there is rampant inequality, confidence in governments is eroding, and more and more people are embracing nationalism, racism, and populism.
Scholz says that students in the course are divided into smaller groups so they can get to know each other and work more easily together. The students are a diverse, multicultural, and multigenerational group. and were asked to make 30-second introductory videos before the class began, to instill a feeling of a larger global connection.
Esther Merono Baro, a student from Salt Lake City says she is taking the course to start a co-op with her friends.
"Because my friends are some of the most brilliant social organizers I know and it seems that in this moment there is desire, energy and alignment to build a platform co-op that we've been talking about for years," she says in her video. "I like platform co-ops because I believe that they can help us transition from an extractive economy to a living economy by helping us to practice democracy, sharing resources, and sustaining our communities."
"In moments of crisis like this, things that had been considered impossible can become common sense: The Great Depression gave rise to the original New Deal," says Scholz. "We need to show possibilities for how the world could be better. In the United States, traditional economists argue that worker co-ops don't scale. Mondragon in Spain and ULCCS in India tell a different story. Platform co-ops tell a different story. In this course, hundreds of participants and partners from over 50 countries are coming together to show possibilities for how the world could be better."
"The world has been shaken up in the last months due to Covid19", says Mari Luzarraga Monasterio. "We already have seen the negative impact in health and sanitary coverage, and sadly we are just about to start seeing the social and economic impact that will affect millions of people and workers worldwide."