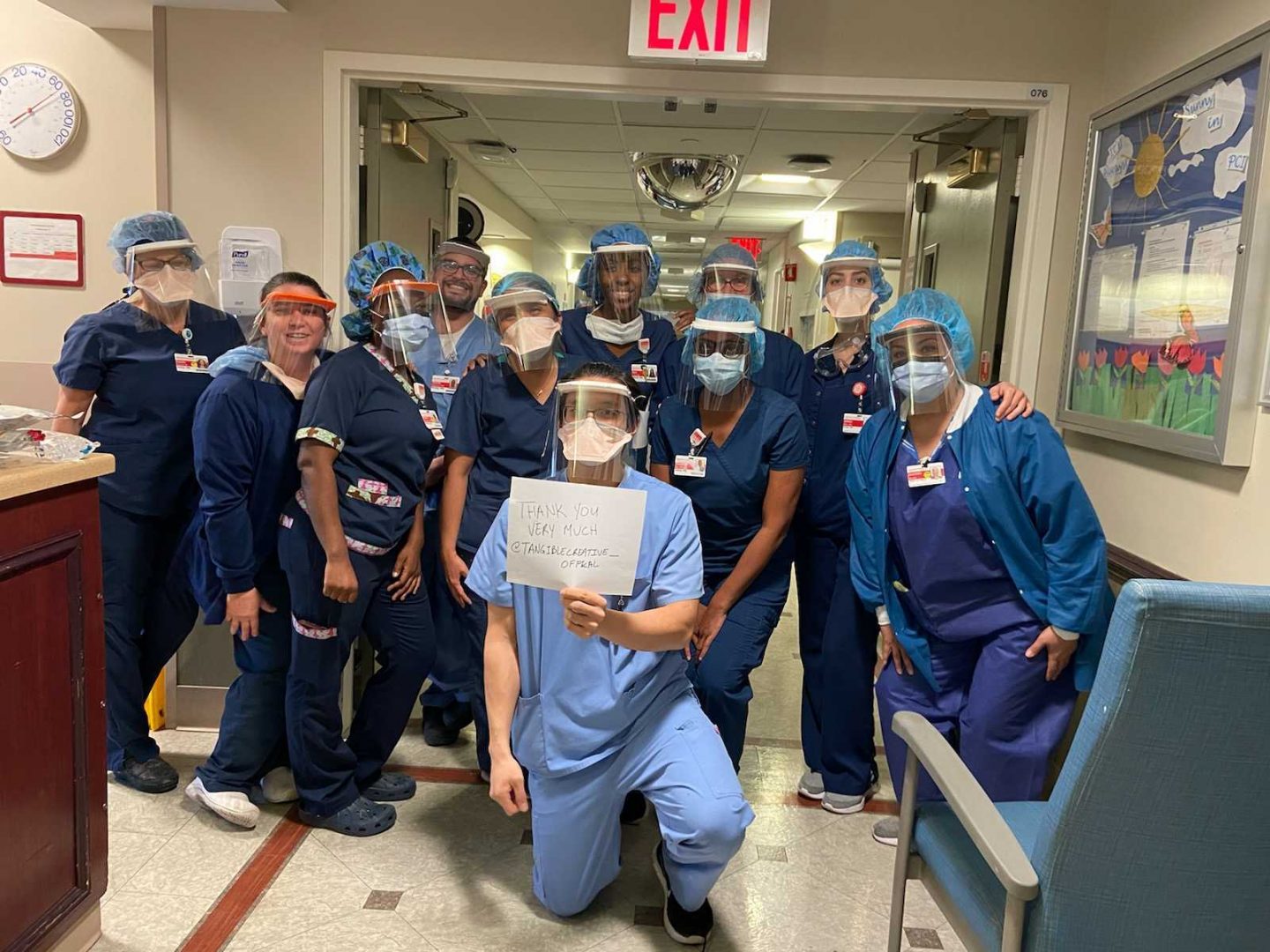 Parsons Alumni Produce and Distribute Thousands of Face Shields to Frontline Health Workers to Fight COVID-19
This spring, at the height of the COVID-19 pandemic in New York City, Parsons graduates Eugene Chang, BFA Product Design '17, and Nevaris A.C., BFA Design and Technology '16, helped meet the dire need for personal protective equipment (PPE) in the city and beyond.
Founders of Tangible Creative, a Newark-based 3D printing manufacturer, Chang and A.C. printed and distributed 25,000 face shields to hospitals throughout the city. When the city began to flatten the curve and the need for personal protective equipment (PPE) in the area declined, they continued with their efforts, printing an additional 18,000 face shields and distributing them throughout the United States. The two printed and distributed another 5,000 to hospitals in Mexico. They also printed a smaller amount of ear savers, ear hooks that improve the fit of surgical masks, making them more comfortable for the wearer. But they have focused overwhelmingly on face shields, producing nearly 50,000.
"We've distributed them to Mexico, California, Texas, Florida, and other areas where cases were climbing as they were coming down in and around New York City," says A.C. "We formed Face Shields para Mexicoin order to help the situation in Mexico while the country was in a major PPE crisis."
This isn't the kind of work the two ever imagined they'd be doing. But since the pandemic began, they've come to realize exactly how vital it is to be able to use technology to help people.
"Not only is this a Parsons story, but it is also a New York story," says Abby Mechanic, the manager of Parsons School of Design's Making Center. "It shows what individuals can do in a time of crisis and might encourage others to activate their talents in different ways to provide relief for the healthcare professionals on the front lines. I'm very proud of Eugene and Nevaris."
When the pandemic began, A.C. and Chang turned their attention to the production of PPE, partnering with librarians at Columbia University and Maker Bot, a Brooklyn-based 3D printer company, to form COVID Maker Response (CMR). Through the creation of CMR, they were able to bring PPE to area hospitals, including Columbia Presbyterian, Elmhurst, Harlem, Jacobi, NYP Cornell, Bronxcare, Mount Sinai, The Brooklyn Hospital, Coney Island Hospitals, NYU Langone, and many others. During the early days of the pandemic, Chang and A.C. also supplied the owner of an area funeral home that needed protection for five employees and sent face shields to the New York City Fire Department.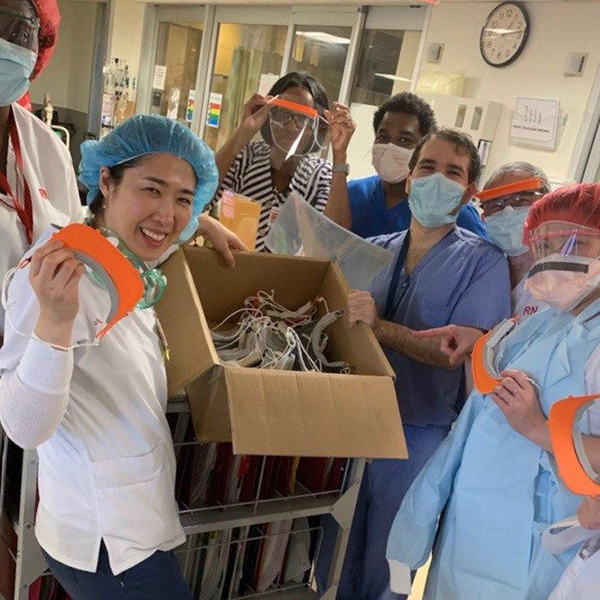 To distribute the shields in a safe and socially distanced way, A.C. and Chang had a volunteer at NYU pick up the PPE in Newark and deliver it to the 92nd Street Y in Manhattan. At the Y, a group of socially distanced medical student volunteers formed a makeshift assembly line to put the face shields together, box them up, and deliver them to area hospitals.
A.C. called the need for PPE at the peak of the pandemic, in March and April, an "urgent, crushing demand." Chang recalled heartbreaking conversations with friends who are nurses describing the desperation felt by medical professionals in area hospitals as the virus began to spread and how they were overwhelmed by the numbers of new COVID patients they were receiving. The two realized that it was small businesses like theirs that could fill the gap in medical supply chain.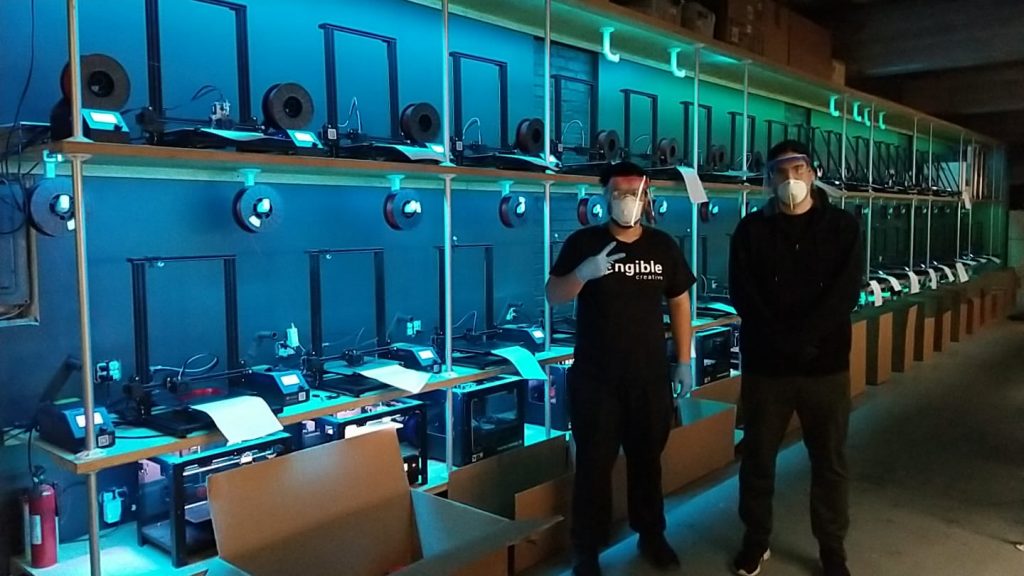 In recent months, the duo have worked with the Irie Foundation and OS Health Network to create and distribute face shields throughout the United States. They've also partnered with SOMA New Jersey 3D Printers alliance, printing visors and helping SOMA's network of volunteers with assembly.
The idea for Tangible Creative emerged while the two were still at Parsons. They discussed the idea in Greenwich Village coffee shops with a third student, Aaron Lehr, MFA Design and Technology '16, who also became a founder. They began operating in the basement of Chang's parents' Queens home before earning enough to move into a 500-square-foot space in Manhattan. The following year, they expanded into their current 7,500-square-foot production space in Newark.
Chang and A.C. recall their years at Parsons as a time of dedication, hard work, and camaraderie. They both say the university prepared them for the challenges of running their own business.
The two are especially passionate about their days working at the Making Center, where they were given the freedom to learn about all aspects of running a shop. They are grateful for the friendship and mentorship of Kyle Li, Assistant Professor of Communication Design and Technology; Ernesto Klar, a Parsons adjunct professor, Ying Ting Lau, a technician; Mick Hondlik, associate director of systems support; and Mike Kelberman. Karen Lorena, MFA Design and Technology '16, and Sofia Von Hauske, MFA Design and Technology '20 and BFA Product Design '17, helped the two manage data for face shields being shipped to Mexico.
"The process of 3D printing in a pandemic has taught me a lot about how technology can be utilized to help humanity, and that, in my view, is the future of technology," says A.C. "I've also learned how quickly you can mobilize when everyone is focused and united with the same goal. That was the most beautiful part of the experience. We wasted no time and had zero time for nonsense. I'd like to carry that focus forward in non-emergency situations."
"It has meant a lot to be able to do something to help during these hard times," adds Chang. "It meant the world to me to be able to help my close friends who are nurses stay safe and healthy during the crisis mode. The pandemic is rough, but it definitely pushed us past our limits. When this is all over, we will emerge smarter and stronger than we ever were."