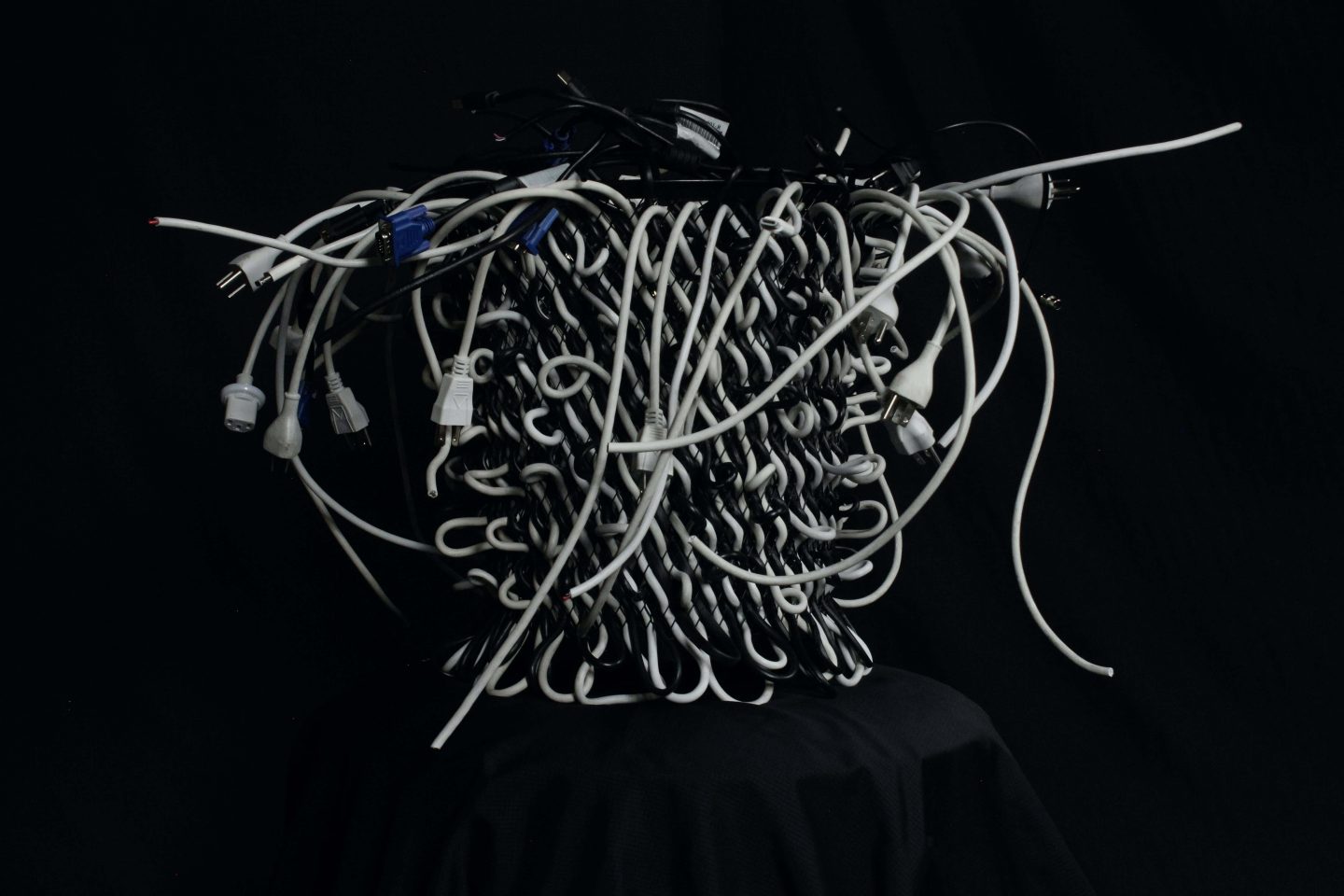 Parsons MFA Textiles Capstone Projects Blend Craft, Technology, and Sustainability
Recent graduates from the MFA Textiles program at Parsons School of Design have debuted their capstone projects, which range from uniting the natural world into textiles through whimsical tapestry weaving, dyeing with natural dyes, botanical and food waste, and imbuing fabric installations with fragrance and movement. They have also created 3D architectural structures using hemp from 2D handloom weaves, designed material innovations in bioplastics and textiles made with kelp, and felted new designs with wool. The students have crafted new sourcing systems, blended activism and social change utilizing crochet and tufting, and addressed issues of cultural sustainability with backstrap loom weaving, material sustainability through hand knitting with e-waste and 3D knitting on the Shima Seiki. Issues related to climate change are present in the projects as well, from knitting landscapes of the Aral Sea, to healing through color, light and form.
The MFA Textiles program was envisioned by Li Edelkoort in 2015, and launched under the leadership of Program Director Preeti Gopinath in 2018. The pioneering graduate program is housed within the top-ranked School of Fashion at Parsons, where students are guided by exceptional faculty to engage with heritage and innovation, seeking to dissolve the boundaries between craft and technology in order to create a new paradigm for textiles in the 21st century.  
"The first graduates of this program have emerged as thoughtful makers with a humane, global perspective who have created spectacular, meaningful, groundbreaking work," said Program Director Preeti Gopinath. "I am incredibly proud of our students for persevering through the Covid-19 pandemic in their final semester. Their work has created a new vernacular for the 21st century through the medium of textiles, and addresses issues related to social justice, sustainability, identity, activism and wellbeing."
Below is a selection of work from the 2020 graduates of the program. Their complete capstone projects can be found here.
"The focus of this collection of experiments is to observe how the material configures itself to reveal new kinds of information in this case the relationship between our production processes and the natural world," said Anubha Sood. "The textile I've created uses fresh seaweed woven into a sculptural form that crystallizes over time in response to its immediate environment that alters its structure and texture. I let the material in both its raw and processed state to inform my making – dyeing matter left in the dye bath is used to create paper, softened kelp is used to create yarn, the leftover kelp is used to create lace. The varied processes I employ are cyclical in making and in their return to the earth."
"This is a showcase of thoughts and realities as a hybrid intersectional identity navigating my relationship with the world and earth," said Jacob Olmedo. "Using labor-intensive methods done by hand such as crocheting and knitting are hybridized with electronic tufting and mold-making to create scenic installations of disembodied figures and topographical landscapes that relay ideas of privilege in the context of access to land, the environment, and minority bodies."
"Traditional textiles are created as flat sheets in long rectangular rolls," said Jeremy Ripley. "By combining color, texture, and form, I bring another layer of interest to textiles. With a balanced mixture of these ingredients, textiles represent cultures, nations, and individuals. I've developed a wide range of textiles. Drawing from an interest in mathematical and geometrical concepts. These textiles are inspired from acoustics, electromagnetics, and fluid dynamics. These textiles are designed to interact with our color spectrum, the sound in our environment and move in a fluid dance. They interact with and define our environment. These textiles are not just cloth, they come to life."
"I use textile making as an introspective tool to examine belonging, home and the in-between and to release myself from the confines of identity, tradition and correctness," said Laura Kung. "I create work that integrates slow methods of making such as floor loom weaving, tapestry weaving, patchworking and natural dyeing into spatial installations that use color, texture and light as perceptual landscapes. The sentiment of living within opposing value systems, rooted in my in-between identity as a first-generation Chinese-American and constant search for belonging, is explored in a fragmented and pieced together environment of perceptual landscapes using color, texture and light. Slow methods of making such as natural dyeing, the weaving of broken threads and hand-knotting activate a meditative state and an opportunity to introspect."

"This work explores the transformative power of previously used textiles through whimsical home objects and masks that are meant to be touched, reclined on and used to reawaken a child-like curiosity for play and exploration," said Lauren Bailey. "Flat weaves are given tactile dimension through the incorporation of stuffed and quilted repurposed fabrics that are stitched into the warp of some and woven into the weft of others to reference layers of lichen on stone or the rocky landscape of a shoreline."
"I begin by creating watercolor paintings as my inspiration and collecting their color tablets, develop naturally dyed (plant-based) fabrics from them, laser cut flower-shapes and sew them onto the dyed ribbon and silk thereby creating new yarns," said Liuxu Luo. "I weave and knit fabrics from these new yarns, imitating my watercolor paintings, resulting in textile illustrations and impressionistic art. The fabrics are designed to cover tent structures to live within or to use alternatively as garments to be worn. Additionally, I combine beading and lighting to illuminate "Wandering Home" transforming into accessories for the same set of garments. These pieces express the freedom and imagination of the wandering, aging nomads, combining my own passion for the natural world and the yearning of my wandering soul."
"Inspired by quilting, landscape and natural color, I construct woven and stitched imperfect plaids which illustrate a location as altered by memory," said Olivia Koval. "I primarily work with recycled silk and wool which I spin and dye using plants collected from the environment. Allowing color to be determined by seasonal changes in plant life, natural vegetation and location, my compositions exist as a journal of the time of year and location the piece was made. The woven and stitched compositions are meant to be used in home interiors and viewed from all sides."
"I have developed a system of incorporating fragrance through natural scent coated and dyed yarn in handweaving and embroidery," said Pallavi Padukone. "Reinterpreting the fragrance industry, I use textiles as aroma therapy to condense time and distance and create an immersive experience to reconnect with nature and nostalgia."
"While remaining grounded in the realities of the present, the starting point for my work is in the distant future," said Peter Salera. "My work imagines post-capitalist, post-Anthropocene scenarios that speculate future modes of production and living. These futures are made tangible through objects that compose imagined domestic spaces, and through contextualizing literature that details the theoretical principles that govern the imagined world. I form these environments through the use of both hand and electronic techniques of textile-making, including weaving, digital knitting using Shima Seiki technology, and hand stitching. Materials vary from collected receipts, to fine-gauge cotton yarn, to electronic waste gathered from a local recycling warehouse. I am greatly interested in the idea of remainder, and the artifacts we create each day through capitalistic processes of valuing and waste-making. By envisioning the future, I seek to interrogate the habitus of the present with both affection and a deadly serious sense of humor."
"While bamboo, cork, mycelium and bioplastics are popular choices in the wave of sustainable building material innovation, the role of textiles has been largely overlooked due to concerns of maintenance," said Sagarika Sundaram. "My project capitalises on felted wool's structural strength, a feature that has been employed to build tents walls for sturdy yurts in Mongolia, China, Kazakhstan and Tibet for millennia. 'Wool Brick' is made from biodegradable sheep wool indigenous to the lower Himalayas where it is produced. Sheep wool is a naturally occurring renewable resource and wool-felt can be reused for multiple life-cycles, reducing material consumption. Wool is naturally sound and temperature insulating and regulates humidity. My project is driven by my passion to sustain traditional craft livelihoods through innovation and fair trade, pushing the traditional craft technique. I encourage its sustainability by combining economic and environmental value propositions into the product offer."
"In my work, the layers of the body shed the stigmas attached to a woman," said Samyuktaa Easwaran. "By this sexuality and strength is expressed from the structures I have formed. I believe we as human beings have a deep and innate connection to our home, the Earth. And there is a part of me that resonates deeply with this bond, and by extension, to the process of collecting used & sourced materials directly from the soil and environment. I imbue my mental self into my work ethic by conceptualizing and manifesting my ideas and beliefs and I imbue my physical self into my work by getting involved in the process of dying, embroidering, embellishing, and sewing."
"By studying intersectionality across past, present, and future I weave flat woven pieces made of natural fibers that transform into diaphanous spatial structures and offer a disconnect from immediate chaotic surroundings to allow for a breath of stillness," said Sanya Sharma. "The flow of geometrical forms and densities across layers demonstrate the narrative of a moment: an infinite flux of emotion from past, present and future intersecting in the mind at a given time as you feel it flow when you close your eyes. I am creating this atmosphere to rouse an ephemeral perception, to be lost yet present and most of all to encourage introspective contemplation."
"To raise interest and build awareness of cultural sustainability, I bring stories and people together through my practice and personal experiences," said Terumi Saito. "Last winter and summer, I had an opportunity to learn and practice weaving and dyeing techniques with local masters in Peru and Guatemala. My work conveys the power of the time-honored craft by practicing a traditional craft technique. I am interested in forming connections with artisans who create beautiful art all over the world. In order to help sustain their creativity, I would like to be a link in passing down these traditions to the future. Combining techniques from different cultures, I am proposing a contemporary hybrid craft not only to preserve these techniques but also to revive and honor them in a new perspective."
"I hand-dye donated and/or repurposed textiles and source only raw or donated materials to weave and machine knit into new materials to compose with," said Tess Murdoch. "I intuitively edit these materials down into color palettes that will become mini or large scale compositions. These compositions become tactile color cards for the viewer to interact with more intimately through encouraged touching, looking, and listening. Hand-stitching, which has become a daily practice of active healing during this time of sheltering-in-place, binds all the materials together. I have found healing in the meditative repetition of stitching coupled with the joy of improvisational mark-making. The evidence of the hand is omnipresent in each piece, no matter the scale. I am ultimately trying to ask questions about the world around me and assess what my place is in it through the abstraction of form, color, and texture."
"I continued exploring the potential of bioplastic and food waste for creating a sustainable and healthy textile system," said Yi Hsuan Song. "As natural polymer, agar can have the shine of sequins, the shimmer of pearls, the thinness of silks, the lightness of foams, the stickiness of glue, the strength of rope, etc. There is no limit to find out what this material can do. Using agar as glue and base, and using food wastes for volume and coloring, I created a collection of organically simulated flowers from 3D-printed and CNC-milled molds. The cast parts wave naturally on their edges during drying process, and I see it as an efficient way of plant simulation. The collection of flowers can not only become flower installation, but the material has its translucency and durability to be used in lamp design."
"I work with knit forms to showcase the fast speed of the climate crisis," said Zhuldyz Tazhimbetova. "I have created a timeline of images coming partially from childhood memory as well as captured at different stages of the Aral sea to create knitted installations that depict the drastic change that landscape made over a period of time. By encapsulating a variety of knitting practices I tell the story though reflecting on changes which earth and our landscapes are shifting and being depleted. I create my work to give more agency and attention to the climate crisis."